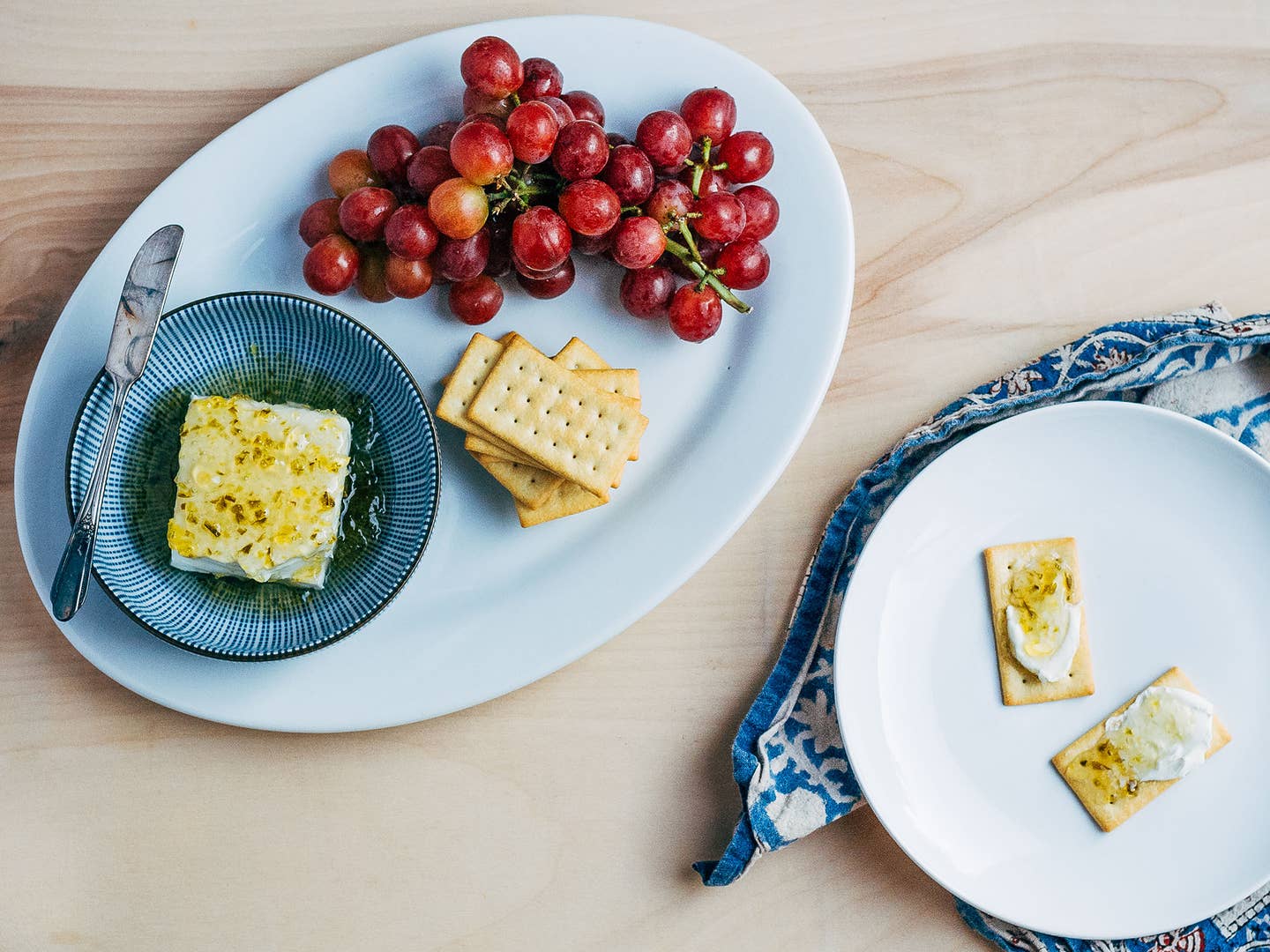 Recipes
Put A Peck of Peppers in Your Jelly
Elizabeth Stark uses not one, two, three, but four types of pepper in this spicy-sweet spread
Mama E, my husband's grandmother, grew up in a North Carolina textile town called Burlington during the Depression. I was a Southern California-raised artist and newly minted Brooklyn resident. From the outset, we were unlikely friends.
Still, the kitchen brought us together. I was learning to grow and preserve food, and cook from scratch (all second nature to Mama E) and we easily slipped into conversation about tomato pests, pickle brines, and flaky pie crusts (she was a Crisco devotee, whereas I prefer all butter).
This summer, the jalapeños taking over my garden conjured a memory of the peppers she tended on her back porch until the very end of her life and the pepper jelly she made with them. We have one last jar of that jelly left—the pantry seems a fitting place for a memento of Mama E. All these years later, swimming in jalapeños, I decided to make a pepper jelly of my own.
My mother-in-law graciously passed me Mama E's recipe. I'd hoped to uncover its roots, and once I started testing, I found them right there on the Certo Pectin insert. Her recipe had only a minor change—Mama E made her jelly with a higher ratio of bell peppers to hot peppers, making for a mildly spiced spread with a classically Southern sweet finish.
For my own pepper jelly recipe, I wanted to highlight a mix of peppers—I swapped green bell peppers for yellow, and added serranos and poblanos to the jalapeños. I'd planned to reduce the sugar, but found the layers of heat needed sweetness for balance. To add a savory bite to the hot and sweet jelly, I added a pinch of sea salt. The resulting jelly is bright, almost buttery, and brimming with fresh pepper flavor and a mild, satisfying heat that sits quite nicely on a cracker, especially one with a smear of cream cheese.