Recipes
Chipá Anguyá (Yuca and Cheese Fritters)
Transform those leftover sweet potatoes into crisp, featherlight bites.
Serves

makes 33

Cook

1 hour 30 minutes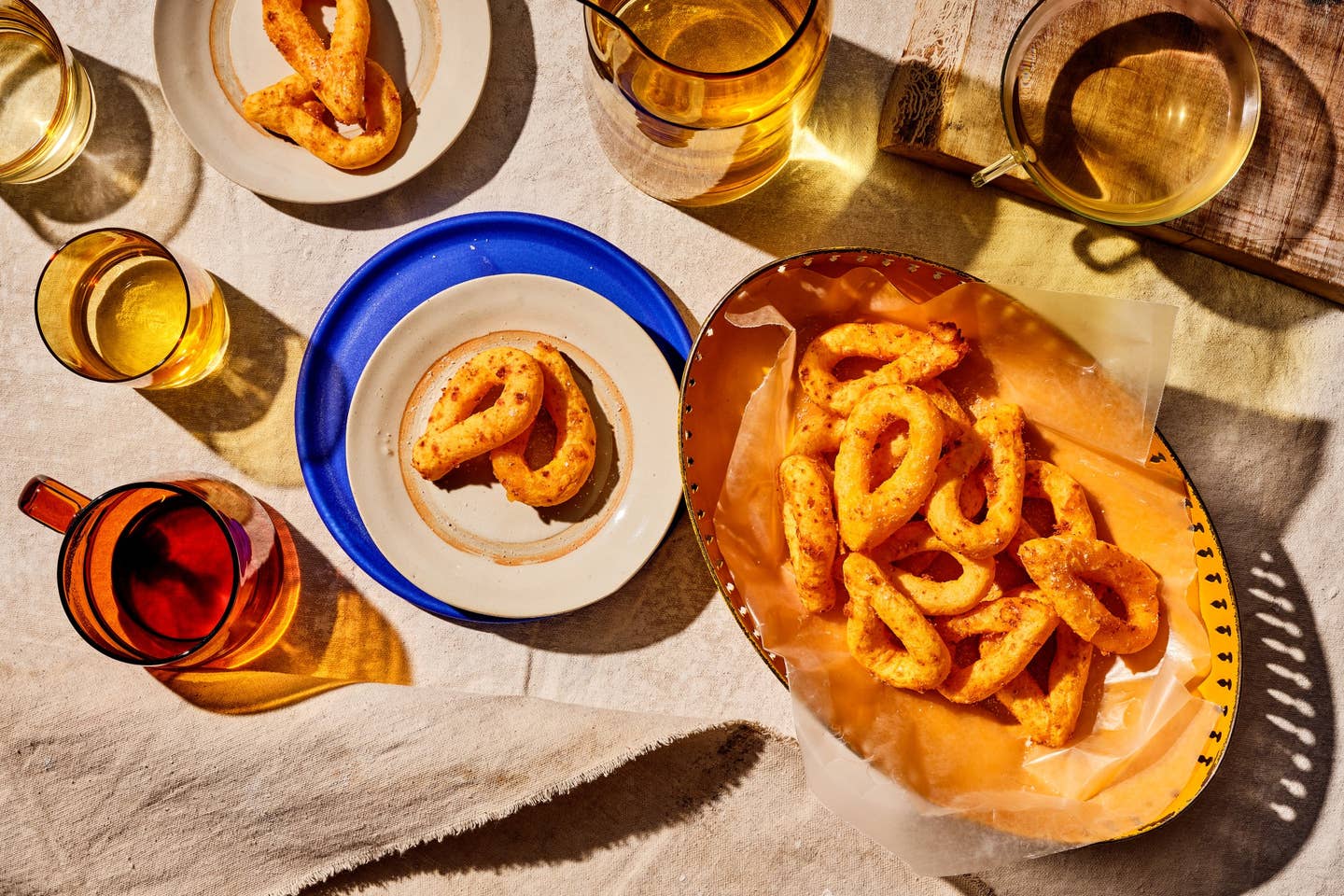 In the Guaraní language, '"anguyá tutú" is the name of a gopher that, to the dismay of many farmers and home gardeners, has an insatiable taste for sweet potatoes and yuca (aka cassava, mandioca, and tapioca). The story goes that one day Marcelina Godoy pulled up her root vegetables only to find them all partially eaten. Unable to sell them, she turned them into bite-size cheesy breads and named the recipe after her garden nemesis. Her granddaughter, cook Marcela Acosta, introduced the family recipe at food fairs across her home province of Corrientes in northeast Argentina, where the dish now has a cult following. Acosta recommends eating these hot, and although they are perfect on their own, try pairing them with a sweet and fruity hot sauce. Time-saving hack: The recipe works wonderfully with leftover cooked sweet potatoes.
Ingredients
1 small yuca (1 lb.), peeled and cut into 1-in. cubes
2 medium yellow or white sweet potatoes (1 lb.), peeled and cut into 1-in. cubes
½ lb. Tybo cheese (or Monterey Jack), half coarsely shredded, half cut into ½-in. cubes
3½ tbsp. unsalted butter or lard, softened
1 tsp. kosher salt, plus more for sprinkling
2 large eggs
3¾ cups yuca starch, divided, plus more as needed
Vegetable oil, for frying
Instructions
Step 1
Bring a large pot filled halfway with water to a boil, then add the yuca. Boil for 5 minutes, then add the sweet potatoes, turn the heat to medium-high, and cook until both vegetables are tender when pierced with a knife, about 15 minutes more. Remove from the heat and use a colander to drain (discard the liquid), then spread onto a few layers of paper towels to dry, about 2 minutes. Transfer the vegetables back to the pot and mash until no lumps remain. Cover loosely and cool to room temperature, about 1 hour.
Step 2
Using a wooden spoon or silicone spatula, stir the cheese, butter, salt, and eggs into the yuca-potato mixture. Add about half of the yuca starch and stir until no white streaks remain. Lightly dust your work surface with yuca flour, then turn the dough out onto it. Start kneading the dough, adding additional starch by the ½ cup as needed until it has a smooth, relatively dry consistency.
Step 3
Roll 1½ ounces of the dough into a ping pong-size ball, then place on a work surface and use your palms to roll it into a 5-inch snake. Pinch the ends together to make a teardrop shape and set aside; repeat with the remaining dough.
Step 4
Into a large pot set over medium-high heat, pour the oil to a depth of 2 inches and attach a deep-fry thermometer. When the temperature reads 350°F, add enough anguyá to the oil without overcrowding and fry, turning once, until golden brown all over, about 2 minutes. Transfer to a paper-towel-lined baking sheet, sprinkle with salt, and repeat with the remaining anguyá. Serve hot.