Recipes
Fish Tamales with Hogao del Pacífico
Bright tomatoes and creamy coconut shine in this Cartagena-based chef's coastal riff on a Colombian specialty.
Serves

serves 4

Cook

1 hour 10 minutes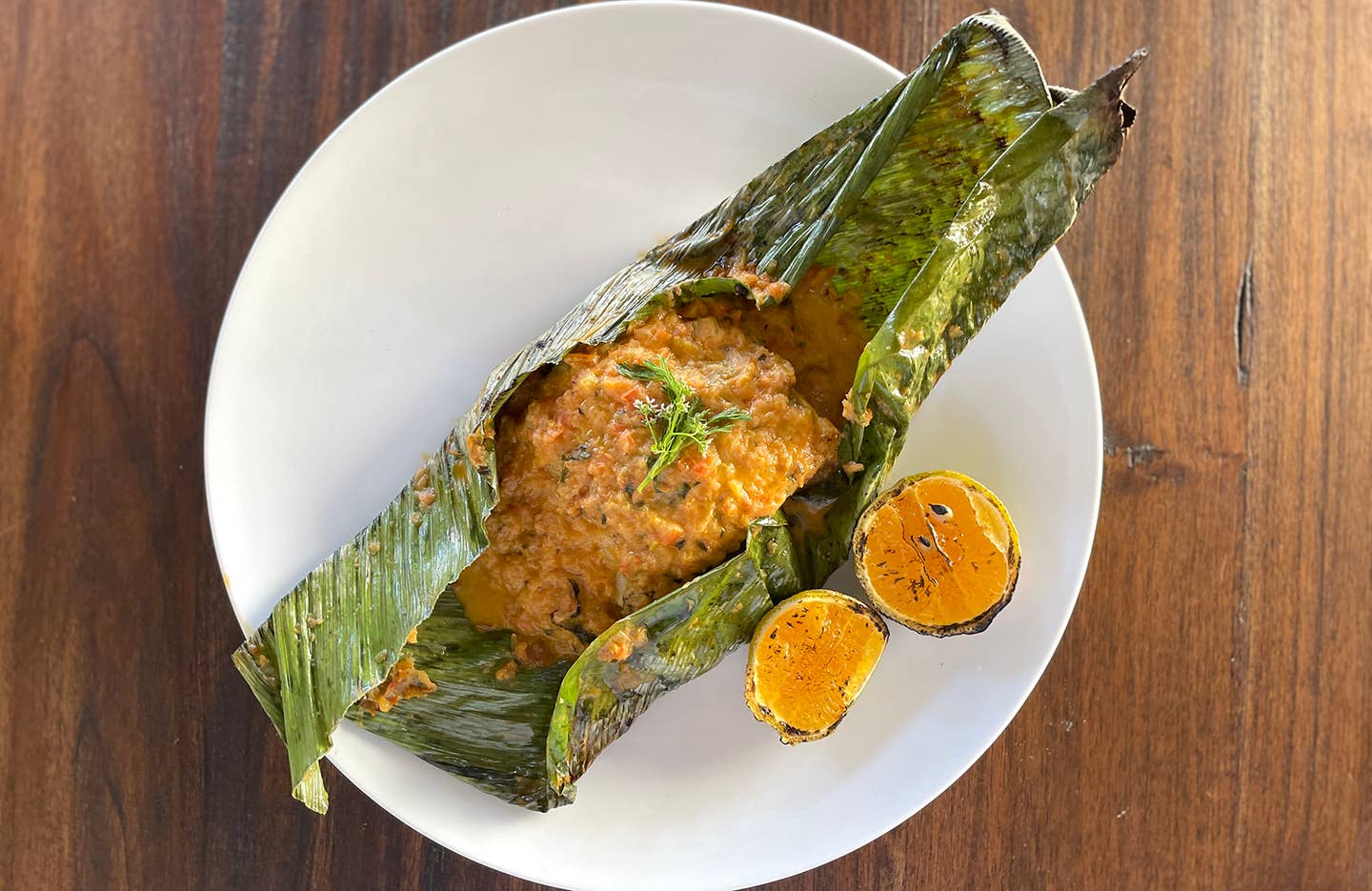 Colombia has a long tradition of wrapping starches, meats, and vegetables in plantain or banana leaves before cooking. This technique likely originated in the convenience of portability, though steaming the enclosed parcels also concentrates their fillings' flavors and juices within as the thick leaves lend the tamales a deeply herbaceous aroma.
Alejandra Cubillos González, head chef at the new Sofitel Barú Calablanca Beach Resort's Bahía Restaurant in Isla Barú (a former peninsula known for its white-sand shoreline, accessible from the port city of Cartagena), wanted to develop a recipe that celebrated this culinary technique while also highlighting the foodways of the Caribbean coast. González's creation differs from more traditional starchy rice-, plantain-, or corn-based tamales in that it contains primarily fresh fish seasoned with hogao del pacífico, a Colombian-style tomato-based sofrito. However, she considers her iteration both a celebration of her country's food-wrapping tradition and also an homage to the culinary specialties of Cartagena.
González serves this dish with a rich and aromatic coastal Colombian-style coconut rice, which is made with warm coconut milk, butter, and sugar. Steamed white rice is a serviceable substitute.
Ingredients
For the hogao sauce:
2 medium plum tomatoes
½ cups vegetable oil or other neutral oil, divided
2 medium yellow onions, coarsely chopped
2 tbsp. finely chopped basil leaves
2 tbsp. finely chopped cilantro
1 tsp. ground cumin
¾ cups coconut milk
For the tamales:
2 lb. skinless sea bass fillets, cut into four 8-oz. portions
Kosher salt and freshly ground black pepper
Fresh or thawed, frozen banana leaves, cut into four 12- by 10-in. rectangles
Instructions
Step 1
Make the hogao sauce: Cut the tomatoes into quarters, then use a small spoon to scrape their seeds and juices into a blender. Add ¼ cup of cool water, then blend on high until smooth; set aside. Coarsely chop the seeded tomatoes and set them aside as well.
Step 2
Season the fish lightly with salt and black pepper and set aside.
Step 3
To a medium skillet over medium heat, add a ¼ cup of the oil. Once hot, add the onions and cook, stirring frequently, until just translucent, 3–4 minutes. Add the chopped tomatoes, and continue cooking, stirring frequently, until the tomatoes begin to soften, 3–4 minutes. Stir in the reserved tomato seeds and liquid, turn the heat down to low, and cook, stirring occasionally, until the mixture is jammy and the onions and tomatoes are very soft, about 20 minutes. Stir in the basil, cilantro, 2 teaspoons each of salt and black pepper, and the cumin, and cook until fragrant, about 1 minute. Stir in the coconut milk, bring to a simmer, then transfer the sauce to a medium bowl and set it by the stove to keep warm.
Step 4
Place a steamer basket in a medium pot, then add enough water to just reach the bottom of the basket. Cover the pot and set over medium heat to bring up to simmer.
Step 5
Meanwhile, rinse out the skillet and set over medium heat. Add 2 tablespoons of the oil and, once it begins to shimmer, add half of the fish and sear, turning once, until lightly golden brown on both sides, about 4 minutes total; use a thin spatula to transfer the fish to a plate. Repeat with the remaining oil and fillets, then set aside.
Step 6
To assemble a tamal, place a 10-by-12-inch banana leaf on your work surface with one of the short sides closest to you. Spread 2 tablespoons of the hogao sauce down the center of the leaf leaving a border of about 3 inches on both the top and bottom. Place one of the fillets atop the line of sauce, then spread 2 more tablespoons of sauce over the fish. Close the tamal: First fold the left and right edges of the banana leaf up over the fish, then fold the top and bottom edges up and over each other to make a tight parcel. Turn the parcel over so it rests seam-side-down. Repeat with the remaining fish, hogao, and banana leaves, then transfer the 4 tamales to the steamer basket, cover, turn the heat to low, and steam until the fish is cooked through, 10–12 minutes. Serve the tamales warm, with steamed white rice on the side.