Recipes
Rogan Josh (Kashmiri Chile-Braised Lamb)
Smoky red chile powder and rich ghee are the foundations for these tender shanks.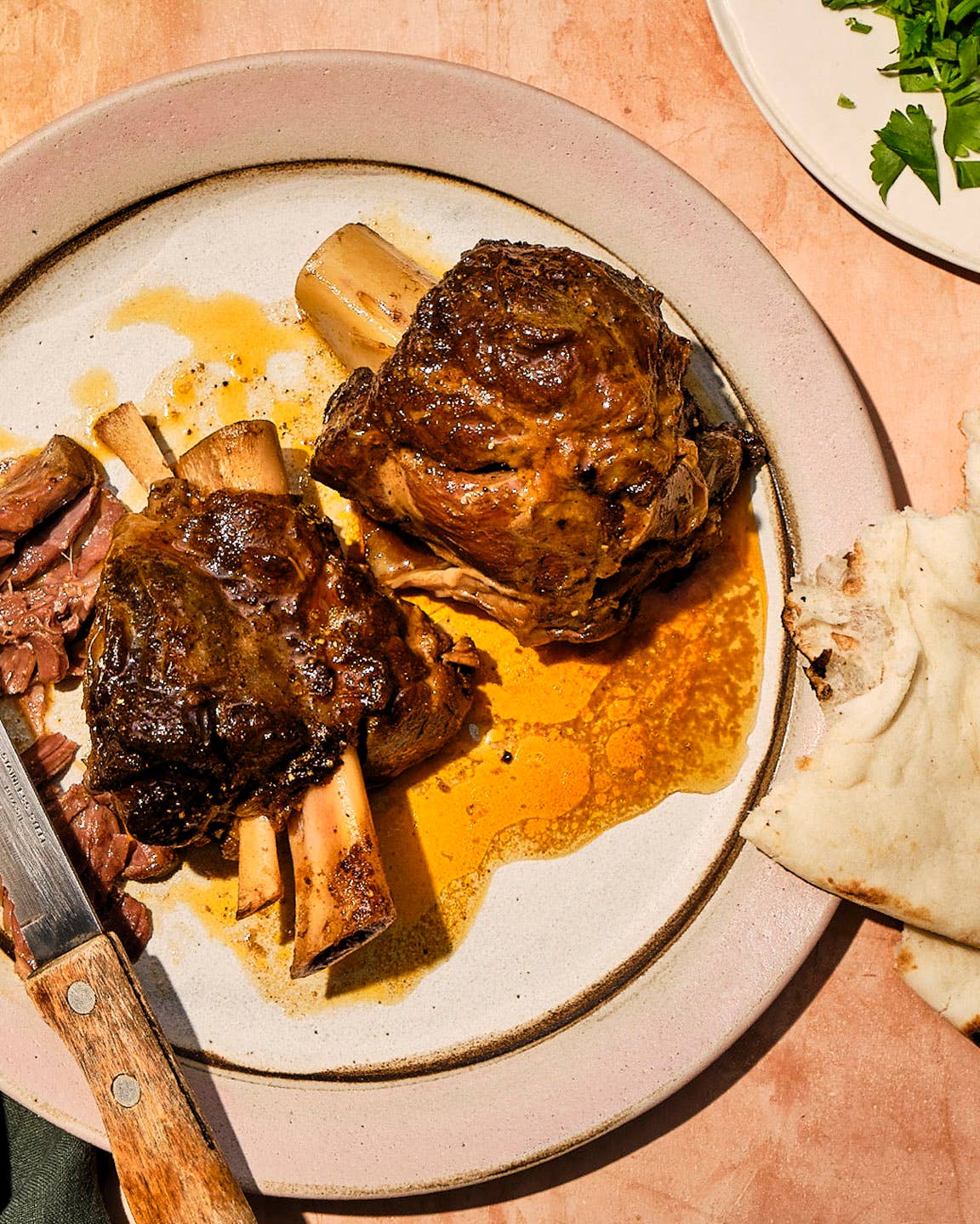 Smoky Kashmiri chile powder and rich ghee are the foundations of this recipe from Ahdoo's Hotel in Srinagar, Kashmir. Cooked for weddings and other auspicious occasions, the Kashmiri feast, or wazwan, can include up to 36 dishes, often including these tender lamb shanks. The cooks who prepare the banquet are supervised by a wouste waze, or master chef, schooled in the art of this meat-centric meal. This rogan josh recipe first appeared in the tablet edition of our August/September 2014 special India issue.
Ingredients
1½ tbsp. Kashmiri chile powder
2 tsp. ground fennel seeds
2 tsp. ground ginger
1 tsp. asafoetida
1 tsp. cumin seeds
8 green cardamom pods
2 blades of mace, or 1 tsp. ground
1 stick cinnamon, halved
⅓ cups ghee
5 black cardamom pods, cracked with the heel of a knife or mortar and pestle
4 lamb shanks, halved crosswise (ask your butcher to do this)
Kosher salt, to taste
¼ tsp. crushed saffron threads
2 tbsp. coarsely chopped cilantro
Cooked white rice or naan bread, for serving (optional)
Instructions
Step 1
In a small bowl, whisk together the Kashmiri chile, fennel, ginger, asafoetida, and ½ cup water to make a paste. In a spice grinder, grind the cumin, green cardamom, mace, and cinnamon into a powder.
Step 2
To a large Dutch oven set over medium-high heat, add the ghee and black cardamom and cook until fragrant, 1–2 minutes. Season the lamb generously with salt and, working in batches, fry it in the ghee, turning once or twice, until browned, 5–7 minutes. Stir in the saffron, reserved paste, and 2 cups of water. When the liquid boils, turn the heat to medium-low, cover, and cook, stirring occasionally, until the lamb is tender, about 55 minutes. Stir in the reserved spice powder, cover, and cook, stirring occasionally, until the lamb is very tender, 40–45 minutes. Garnish with the cilantro, and serve.