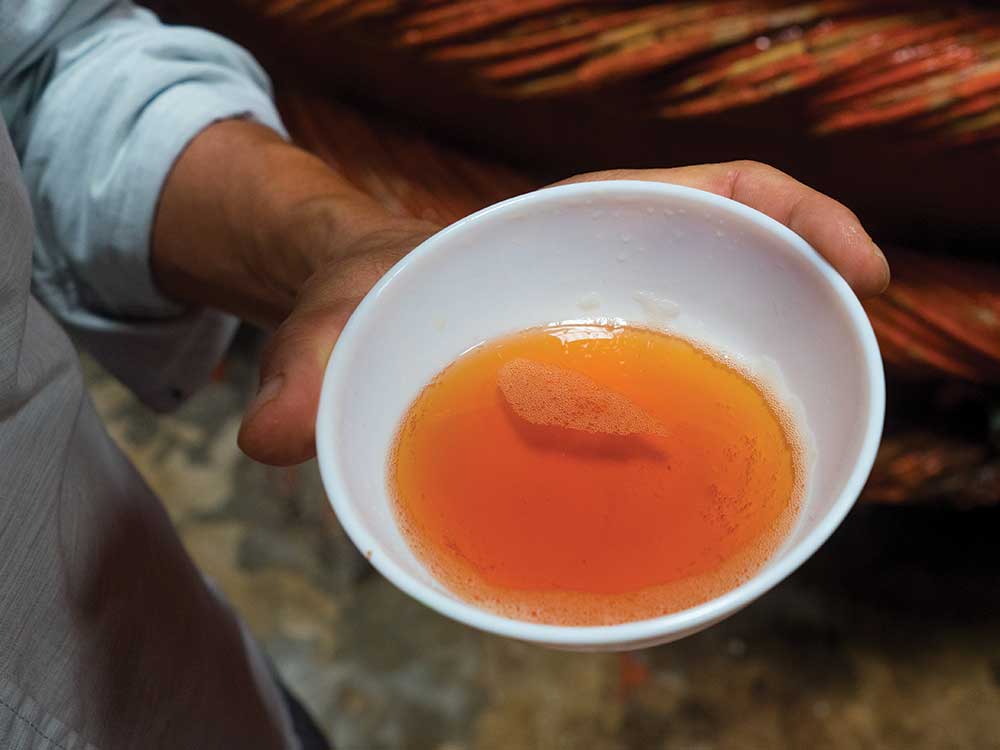 Culture
Family-Produced Fish Sauce in Phú Quốc, Vietnam
What Provence is to rosé, Phú Quốc is to nước mắm, Vietnam's funky, fermented fish sauce
It wasn't long before the tired, poor, and huddled masses of Vietnamese refugees who landed in America in the 1970s would discover that even after losing their country, they'd suffer the further indignation of losing its food. Grateful for a chance to start anew in a free country, but reeling from the fresh trauma of war, they banded together in "Little Saigon" ethnic enclaves, opened Vietnamese churches and temples, and just as they'd done in the old country, cooked for each other and their new neighbors. But something was missing: Vietnamese food, without its golden-amber mother sauce that flows through nearly every dish, is but a half-hearted imitation.
"The nước mắm we had [in America] was nothing like the fish sauce we grew up with," says Red Boat Fish Sauce founder Cuong Pham of the offerings available when he landed in California in 1979. He remembers these predominantly Thai versions as one-dimensional and oversalted—more suitable for the fiery chile-laden cuisine of Thailand than the subtle, fresh plates of Vietnam—their flavors strange to a community desperately yearning for the familiar taste of home.
Vietnamese-American novelist Viet Thanh Nguyen, another refugee, captured that same profound sentiment through the protagonist of his Pulitzer Prize-winning book The Sympathizer, who laments: "Oh, fish sauce! How we missed it, dear Aunt, how nothing tasted right without it, how we longed for the grand cru of Phú Quốc Island and its vats brimming with the finest vintage of pressed anchovies!"
The character refers to the large tear-drop-shaped island off the coast of Cambodia, whose surrounding waters yield the legendary black anchovies that have been salted and pressed to produce fish sauce for centuries. What Provence is to rosé, Phú Quốc is to nước mắm. Pham's childhood memories of the island, where his uncle's fish sauce factory produced special cans used just for family cooking, revolve around the stuff. When he returned in the 2005 to visit a friend's family-run production, Pham says he loved the fish sauce so much that he snuck some home in his luggage for his mother, who, upon tasting it, began to cry. So in 2006, Pham left a nearly three-decade-long, lucrative Silicon Valley job to buy his friend's barrel house and launch what would ultimately become the most widely known fish sauce brand in America: Red Boat.
When I first met Pham on Phú Quốc, we set off for the Duong Dong wet market to pick up fresh mud crabs, hunks of pork belly, and jack mackerel for a traditional lunch prepared by his friend, the Vietnamese culinary ambassador Chef Quoc Vo. As Vo fired the crabs in a wok and simmered pork belly with soft-boiled egg in fish sauce and palm sugar, it became clear how a few dashes of fish sauce here and there brilliantly amped up the sweetness and punchy umami of each dish—whether as a seasoning for soup, a marinade for meat, or a vinegar-laced dipping sauce for fresh rice paper rolls of fish, mint, and basil. It allows the ingredients to assume big flavors without sacrificing the balanced subtlety Vietnamese cuisine is renowned for.
The following day, I visited the Red Boat factory, which, at first glance, is not so unlike the great Cognac houses of France. But instead of grape juice, its 85 towering tropical wood casks are used to ferment fish. The brutal heat and the stench are admittedly jarring (the tin-roofed barrel house is intentionally kept even hotter than the sweat-inducing climes outside), but the operation is nonetheless impressive: Each barrel, numbered by date of the catch, holds a whopping 12 tons of anchovies in various states of fermentation.
An inherently small-batch production, making fish sauce simply requires salting wild-caught black anchovies and allowing nature to do its work—over the course of several months to a year, the salt reacts with enzymes in the fish's guts to break down proteins. But these days, most commercial producers in Vietnam use MSG and other additives to boost the flavor of diluted second or third pressings, or purchase bycatch byproduct from other fishermen to increase their yields, with no consideration for quality. Additionally, some foreign businessmen have been caught buying bulk anchovies from other regions and passing them off as being from Phú Quốc, which received a Protected Designation of Origin status in 2012. Pham, however, sought to honor the methods of the small families, but on a scale that would make the product available to a global audience. The fishermen who operate the company's titular red fishing boats salt the haul on-board, then transfer it immediately to the barrels to ferment. Only the first presses are tapped for sauce and meticulously blended for bottling.
A first taste of Red Boat's fish sauce, which Pham gleefully taps directly from the barrel into porcelain tasting bowls for visitors, delights the palate with its rich, deep blasts of umami and caramel, and distinct lack of fishiness. Sweetness from the wood comes through in almost floral whispers, and the salt, harvested from Vietnam's southern coast, is gentle enough that we sipped the reddish-hued liquid pure. Such is the nature of the sacred first press, which many producers of fish sauce have traditionally kept for themselves. It's a distinction that Pham makes by showcasing his product's high nitrogen grade (°N) on the bottle, which corresponds to the ratio of protein to liquid. The higher the grade out of 40, the better, with Red Boat's standard release sitting at 40 and many commercial varieties falling in the mid-20s range.
Pham sees his work not only as an homage to tradition and the flavors of his childhood, but as a natural next step for Vietnamese cuisine on the global stage. "What inspires me is getting Phú Quốc back on the map. Now, a lot of people realize what true, authentic Phú Quốc fish sauce is. I want it to be a mainstream product, not just an Asian product," he says. To that end, Pham has even created custom "vintages" for several big-name chefs, including Chris Cosentino of Cockscomb in San Francisco and Chris Shepherd of Underbelly in Houston, who employs it in a crispy Brussels sprouts dish for some savory sweetness. Due in part to its significantly higher price point—around $13 a bottle—Red Boat is currently only sold in the United States, but Pham says he hopes to one day be able to sell it in Vietnam.
But for all the food-world acclaim Pham has received, he knew the ultimate test would come from Vietnamese folks like his mother, who would be able to instantly recognize the taste of their youth. He's passed with flying colors.