Drinks
Four Life Lessons From Sasha Petraske's New Book, 'Regarding Cocktails'
The legendary bartender's posthumously-released drinks manual doles out wisdom for life on both sides of the bar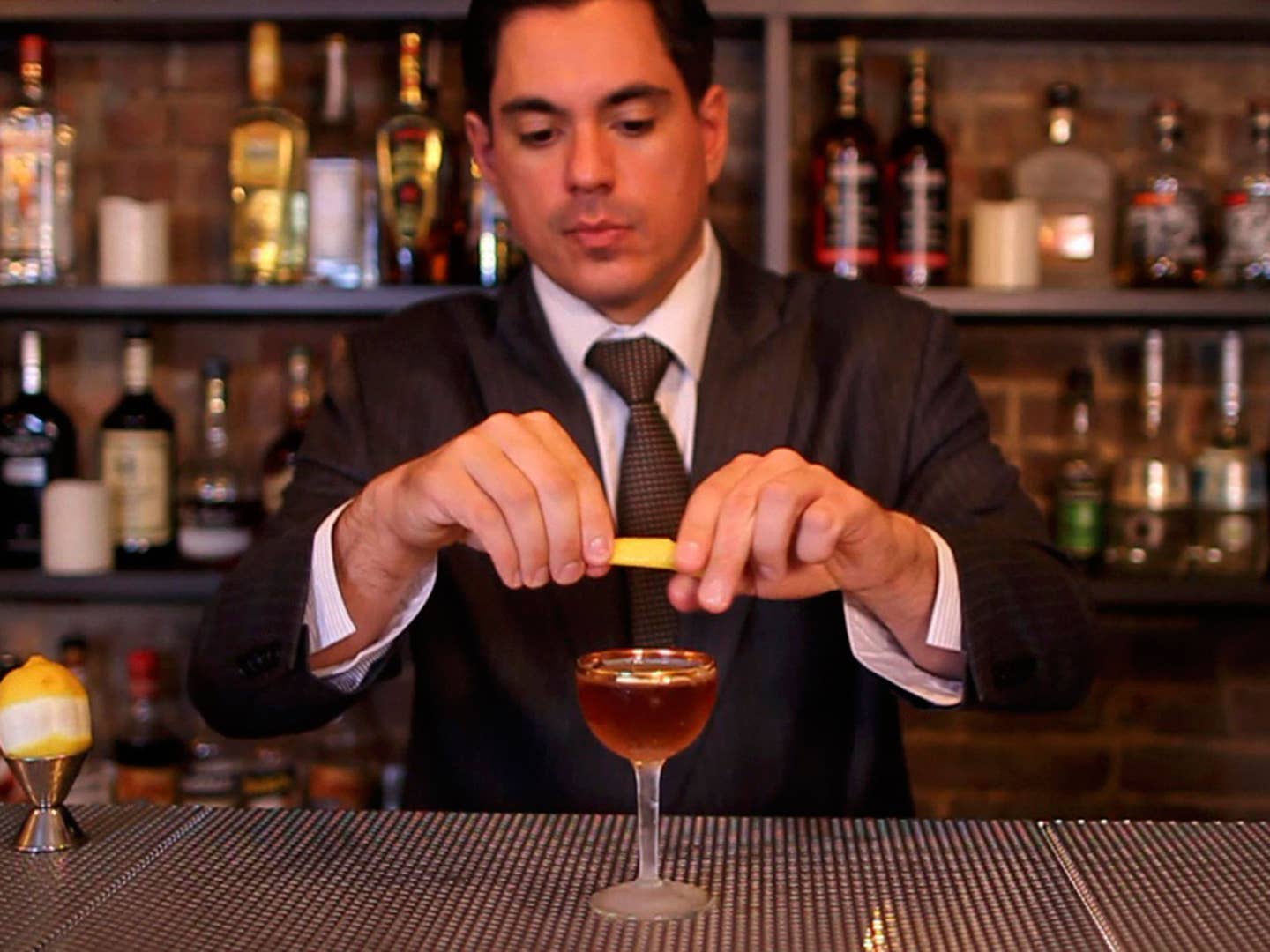 I had only been to Milk & Honey once before it closed. I sipped a Penicillin shaken by a suspender-wearing, bearded bartender, and it was perhaps the first cocktail that made me give a damn about cocktails. I had no idea who Sasha Petraske—proprietor of that bar and, by many accounts, father of the cocktail revolution—was at the time.
Fast forward a few years and I've now been to every New York City bar opened by Petraske and his many acolytes (full disclosure: I now bartend at one). But even before I was a professional eater and drinker, I was an NYU student enamored with the sultry jazzy vibe of Little Branch nearby, "discovering" Dutch Kills in Long Island City, and, after the closing of Milk & Honey, a trusting fan of the bartenders (and their bartender's choices) at Attaboy, which took over that same space.
Petraske passed away unexpectedly last year, and having regrettably never met him, I can say with certainty that his legacy is one that touches those far beyond those he knew and those within the relatively tiny bar world. It's one immortalized not only in brick-and-mortar, but also in the faces of talented drinksmiths around the world, countless glasses of well-balanced cocktails served nightly, and now, in the pages of his first and only written work.
Started by Petraske and ultimately completed after his passing by his wife, the writer Georgette Moger-Petraske, Regarding Cocktails is at it's core, a cocktail recipe book. Each page contains the recipe for a drink invented or popularized at Petraske's bars along with a piece of by beautifully minimalistic linework by Studio Lin—codified with symbols and colors to visually illustrate the amounts of every ingredient in the drink.
But the book is just as much the holy-grail cocktail manual as an in-memoriam for Petraske, the man: every recipe is accompanied by a reflection or anecdote from former bartenders and partners like Sam Ross, Karin Stanley, and Joseph Schwartz, as well as Moger-Petraske. Through these snippets, each drink is contextualized in time and place, but takenas a whole whole, they provide a small window into the creative genius and attention to detail Petraske was known for, attributes of universal significance, whether you make the drinks or just drink them.
Here are four recipes, and their corresponding nuggets of Petraske wisdom, that I'll be keeping near and dear in hopes that I can become a better bartender (and person).
"Do things not for applause or personal gain, but simply because it is the right way to do things"
The classic daiquiri is known, in the bartending community, as a sort of benchmark against which a bartender's technique can be evaluated. Abraham Hawkins (Dutch Kills) recounts how Sasha's insistence on quality gave the drink its reputation.
"Anticipation over gratification, care and quality before convenience, and fairness and generosity governing ambition"
Little Branch partner Joseph Schwartz named the Sugarplum after a pet name given to his wife by her grandmother. Petraske, a traditional gentleman through and through, told him it was a thoughtful element of his courtship duties.
"Know your history before attempting to reinvent the wheel"
Richard Boccato, owner of Fresh Kills, was the longtime doorman at Milk & Honey who later became a bartender there. When describing the Silver Fox cocktail, a riff on the classic Silver Fizz using orgeat instead of simple syrup, he recalls Petraske's insistence on having a foundation in history before seeking innovation.
"Unbutton the bottom button of your coat"
Accompanying the recipe for the citrus-forward, gin-and-Campari Bicycle Thief is a musing from former Dutch kills bar man Zachary Gelnaw-Rubin on Petraske's impeccable sense of fashion, and more importantly, his decency as a human being.