Wake Up to a Better Brew with the 6 Best Coffee Makers
When I drip, you drip, we drip.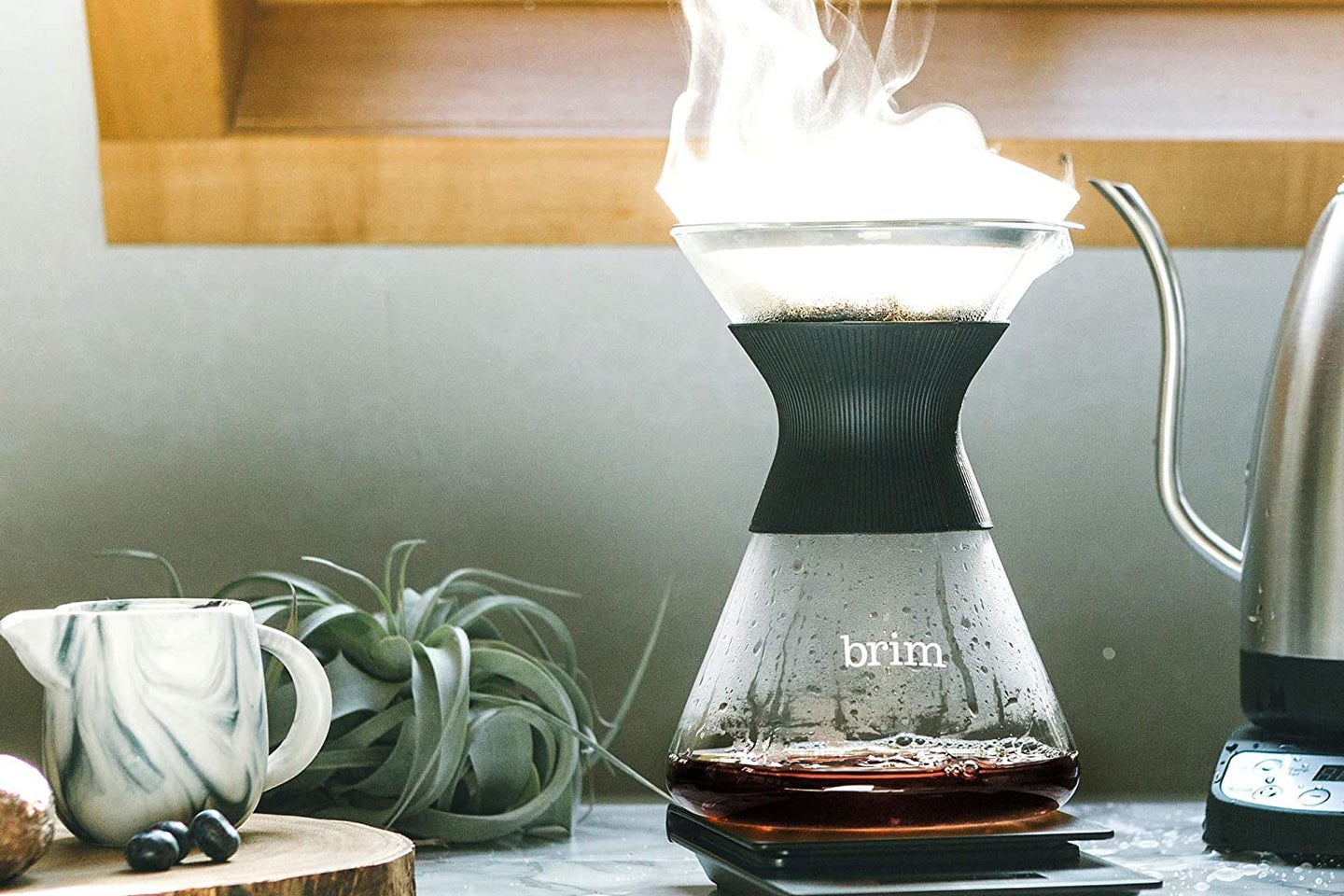 An at-home coffee maker has an important duty for such a little appliance: It's usually responsible for luring us out of bed and keeping us caffeinated throughout the day. Plenty of countertop devices can brew a decent cup, but if you're investing in specialty beans or attempting to quit your expensive to-go habit, it's time to find the best coffee maker for you.
"A good coffee maker gets the water between 195 to 205 degrees Fahrenheit and keeps it there for the duration of the brew," says Emily Davis, Director of Content and Education at Counter Culture Coffee. "It also distributes the water to the bed of ground coffee evenly. Both the water temperature and the way the water is delivered to the grounds impacts the extraction dramatically."

We caught up with baristas and coffee experts to curate the best coffee makers for your specific needs, whether you're a caffeine fiend or just eager to impress guests after dinner.
Features to Keep in Mind 
Capacity
Some specialty coffee makers break out all the bells and whistles for only a single mug's worth of brew. If you're serving a full house or entertain often, pick a coffee maker with a 8–12 cup capacity to get all the brewing done in one go.
Temperature Control
Water temperature can affect the taste of freshly ground coffee beans. While several coffee makers automatically heat water to the ideal brewing temperature, around 200 degrees Fahrenheit, many allow the user to pick a custom temperature for their preferred drinking experience, be it a few degrees cooler or hotter. Some coffee makers also have a lower heating element to keep fresh coffee warm after brewing, although Davis prefers to pour brewed coffee into a thermal carafe to keep it warm without risk of oxidation, which can worsen the taste of a freshly brewed pot over time.  
Our Top Picks
This thermal drip coffee maker is Specialty Coffee Association approved, meaning it meets the preferred brew time and temperature of third-wave coffee experts. It brews up to 60 ounces of coffee at once, with settings for iced coffee or cold brew, too. Customizable settings allow coffee nerds to preset their preferred bloom time, brew temperature, and flow rate for the ideal cup, every time.
If you're looking for a top-quality coffee maker under $100, this Ninja model is your best bet. It features two brewing methods, "classic" or extra bold "rich", plus a 24-hour programmer to set up your morning mug in advance. A portable 60-ounce water tank makes the machine easy to refill, as does an included reusable filter. A warming plate keeps the glass carafe warm for up to four hours, which has an auto-shutoff so you don't have to worry about forgetting to unplug the machine before leaving the house. A small batch option also lets you quickly brew four cups or less for an afternoon boost, and keep any extra water in the machine for later use. 
A stainless steel thermal carafe can keep coffee hot for hours, making it a great solution for those who like to progressively sip coffee throughout the morning or for home entertainers who want a one-and-done solution to after-dinner coffee. The Moccamaster makes a mean cup of home brew, allowing coffee experts to control the brewing speed for optimized coffee extraction. You'll have a full 40-ounce carafe in anywhere from four to six minutes, and because the carafe is thermal, you don't have to transfer the liquid into a thermos or other container to keep it warm. 
Often seen in specialty coffee shops, siphon coffee makers are becoming more common on home kitchen counters, thanks in part to companies like KitchenAid which are adding automatic heating elements rather than requiring an exterior burner. Also known as vacuum brewing, this method features two tightly sealed glass containers: one with boiling water beneath another with coffee grounds, which brew in the rising hot water vapor. It's fun to watch and results in a deeply nuanced cup, with tasting notes evident in every sip. This siphon coffee maker brews 3-8 cups at a time with just the flip of a switch. One downside to siphon brewing: You'll have to thoroughly clean the wet grounds out of the top part of the coffee maker after each use, which can be more tedious than just tossing out a paper filter or dumping a basket.
Best Automatic Pourover Coffee Maker: Brim 8 Cup
Making pourover by hand can be a nice ritual—but heating water, slowly pouring it over freshly brewed grounds by hand, and letting the coffee bloom and drip is a lot to do each morning. Luckily, automatic pourover makers like Brim provide the same robust taste without the work. This model quickly heats water and showers it over the grounds, letting them bloom and drip at the right pace into a glass carafe to make anywhere from four to 12 cups of coffee. 
A lower heating element keeps coffee warm to refill your mug throughout the morning. 
All you really need to make cold brew is a big vessel, coffee grounds, a strainer, and time. But if you need iced coffee in a rush (that is, no extra chilling time needed), a cold coffee maker can be a major asset. This coffee maker, which is Specialty Coffee Association Gold Cup-certified, can be used to make drip or pour over-style coffee, or used to extract a bold cold brew-style coffee to serve directly over ice. The combination of versatility and precision make it a great purchase for year-round use. 
Ask the Experts
How often should you clean your coffee maker? 
A coffee maker has several components, each with different maintenance requirements to ensure optimal taste and performance. Descaling, aka, removing mineral buildup in the water compartment of a coffeemaker, is necessary for any device that heats water.
"You should ideally clean their coffee maker once a month," says Davis. "But let's be honest with ourselves: If you aren't the kind of person who replaces the water filter in your refrigerator regularly, you're probably not going to grab your distilled white vinegar and clean your coffee pot thoroughly once a month." 
Davis uses a commercial grade cleaner on her coffee maker about once every 3-4 months, but a water-vinegar solution works well too. "Because I use my coffee maker every day for survival, I descale every three months," adds Neil Jackson, founder of BRL Coffee Co. "If I don't have a descaler, then diluted white vinegar will do."
The filter basket and carafe should be washed daily, or as often as you use them. Preventing old coffee from drying out and building up inside your carafe "will make a very notable difference on the quality of your brewed coffee," Davis says. 
Are permanent filters better than paper filters for coffee makers? 
"If you don't mind a silty cup, mesh filters are technically a more environmentally sustainable option," says Davis. "But if we're honest, one can easily rob mesh filters of their sustainability points by using an excessive amount of water to keep it clean. Personally, I prefer paper filters. I want the oil to be absorbed and I like a cleaner cup." 
Jackson is also a fan of the paper filters. "There's something about the ritual of starting fresh every day and the smooth taste that feels comforting to me," he says. Ultimately, the best way to brew coffee is whatever you prefer.
Every product is independently selected and vetted by editors. Things you buy through our links may earn us a commission.