Shopping & Reviews
The 5 Best Ice Makers for Serious Home Bartenders
From cylindrical to pebbles and everything in between.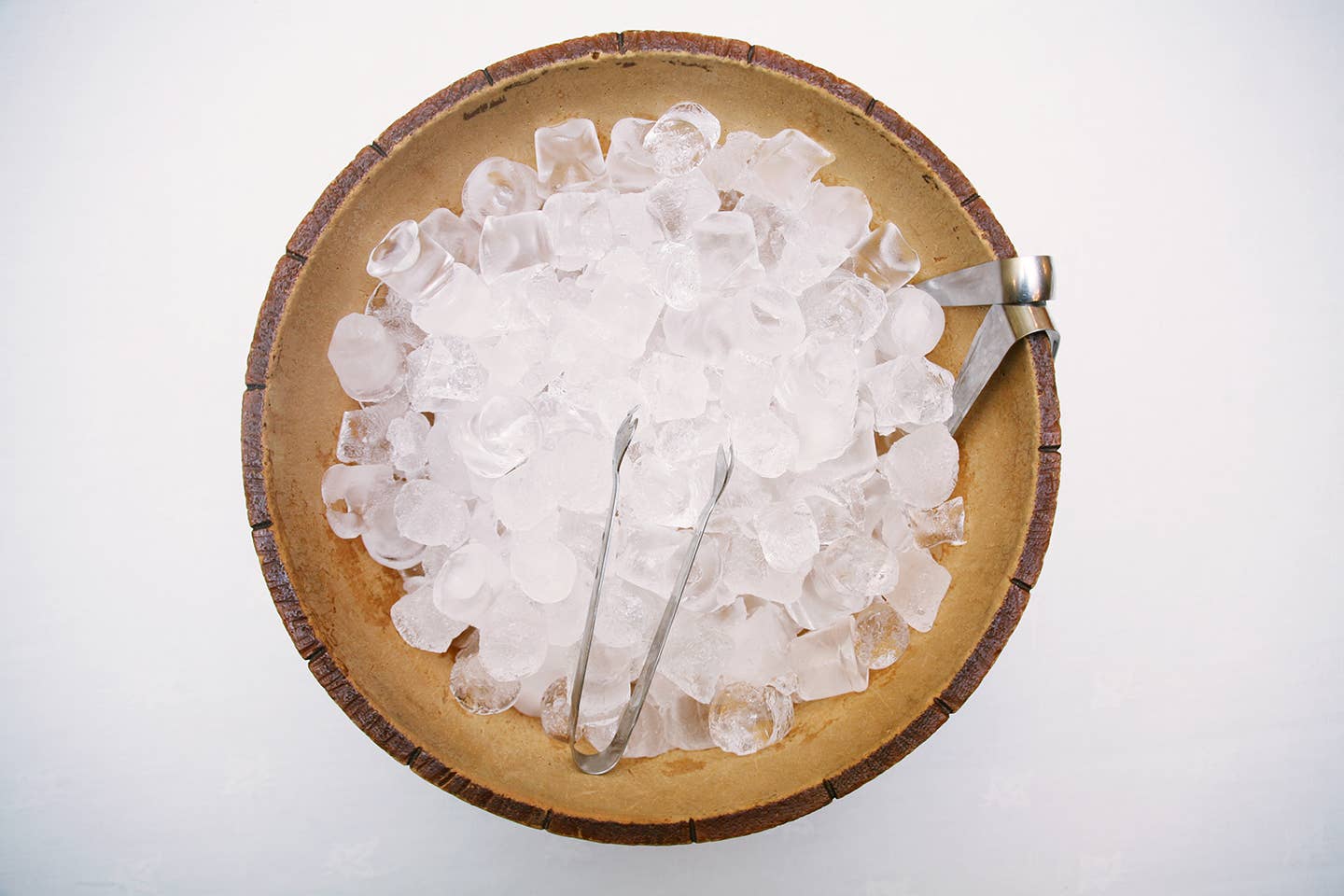 Every bartender, whether professional or practicing at home, relies heavily on ice. Ice, in all its forms, has always been essential to the trade, and with technological advancements over the past few centuries, it's never been easier to access. Even if you're going old school and are manually using and refilling trays of ice, there are options spanning every shape and size, not to mention a solid offering of trays and contraptions designed to yield perfectly clear spheres, cubes, and more. Once you venture into machine territory, there are additional elements to consider, like size, ice shape, and turnaround time. Ice machines certainly make life easier, especially for those who bartend at home often (or who like to entertain). Here are five of the best ice makers for every at-home drinker, from a splurge-worthy machine recommended by bartenders to an affordable but effective entry-level pick.
Much like wine fridges, ice makers can either be used as freestanding units or can be built into cabinetry, depending on where the machine's vents are located. If an ice machine has a front vent, freestanding and built-in application are both fair game, but if the vents are located in the back of the unit, it cannot be blocked or the machine will overheat. Another option is a portable ice maker, which can be displayed on any countertop or other surface and can easily be brought to and from social gatherings.
Each machine produces one of several different ice shapes, from cylindrical to small pebbles, solid one-inch cubes, and everything in between. Some machines allow for size adjustment, while others simply produce one standard option.
Most ice makers use a basket or bin to collect fresh ice; the models on this list range from two-quart storage baskets (the Igloo countertop model) to around 700 pounds (a high-end commercial model like the Hoshizaki IM-500SAB). Countertop ice makers on the smaller side are great for personal use throughout the day or for light entertaining; if you're shopping for a business setting, or for a larger-scale event, you'll want to consider buying a more generously-sized standing model.
Ice machines can typically be drained using a hose or plug. If you're using a portable model, a plug will work just fine, as you should be able to simply place the ice maker in the sink and allow it to drain there. Hoses are typically only necessary with larger freestanding and/or built-in machines.
Best Overall
Clear ice is the benchmark for serious bartenders everywhere—not only does it taste better than cloudy ice, but it also tends to melt more slowly, which is ideal for cocktails (especially on hot summer days). Luma Comfort's top-rated machine produces great clear ice cubes in a smart and affordable package, complete with a basket and a scoop for easy serving. Thanks to the insulated interior, your ice (which is produced every 10 minutes) stays nice and cold for longer than many other comparable machines; the machine can yield up to 28 pounds of ice daily, making it a great option for casual at-home use and entertaining alike. It also features a sink-ready drain plug for easy emptying.
Best Value
If you're looking for something simple, efficient, and affordable, Igloo's countertop model is an all-around solid choice. Available in a variety of colors, this ultra-quiet machine is compact enough to live on any kitchen or bar surface and to bring to events and gatherings—the ice itself can be made in two different sizes (small bullets or a larger, slightly more rounded version) and is cylindrical in shape. If constantly refilled (which must be done manually), the two-quart tank can yield up to 26 pounds of ice in 24 hours, with nine cubes made in as little as seven minutes. It's controlled by an LED-lit panel, which alerts you when the reservoir is empty and the ice basket is full.
Best Splurge
Hoshizaki is a trusted name among professional bartenders—according to Seattle bartender and proprietor Jabriel Donohue, the brand's IM-500SAB model is a bartender's best friend. "[This machine] produces beautiful one-inch cubes, is easy to repair, is a no-frills workhorse, and can knock out up to 500 pounds of ice a day, meaning that it can keep up with extremely high volume shifts," Donohue tells SAVEUR. This stainless steel machine, which is stackable, features a patented digital control display, removable structural panels for easy service access, a three-year parts and labor warranty, and a highly-efficient cooling system (it can be used as a freestanding or built-in unit). The cubes are solid and slow-melting, perfect for those who are serious about their cocktails and other cold drinks.
Best Countertop
Pebble ice, or small pellet-like pieces of ice akin to what you'd get in a soda at Sonic, is somewhat of an obsession within the bartending community. This style of ice is great for tropical cocktails, swizzles, and long drinks, or for snacking, according to a handful of industry pros who enjoy chewing on ice. There are several options out there for countertop nugget ice makers, but TaoTronics' model is perhaps the best—this machine can produce ice in as little as 18 minutes and can easily be connected to a water source in order to automatically refill the reservoir and to deploy the self-cleaning function as needed. The TaoTronics countertop nugget ice maker can produce up to 26 pounds of ice daily.
Best Commercial
Most home bartenders won't need an ice machine quite as heavy-duty as Northair's freestanding commercial stainless steel ice maker, but it's a great option for business settings, from bars and cafés to offices and the like. This commercial ice machine is available in multiple sizes yielding up to 270 pounds of ice over a 24-hour period; one of the Northair commercial ice maker's most appealing features is that it can either be used as a freestanding machine, or built into cabinetry and/or live against a wall, thanks to its front venting system which keeps the machine from overheating. Key features of this ice maker include adjustable feet, a complete set of accessories, an LCD control panel with ice width settings and a self-cleaning option, auto shut-off, and a 55-pound capacity storage bin.
Do portable ice makers use a lot of electricity?
Portable ice makers are the most energy-efficient option given their small size in comparison to, say, a freestanding machine. The average portable ice maker uses approximately 100 watts of power per minute while running.
What's the best way to clean and maintain an ice maker?
Many ice machines feature a self-cleaning option, which primarily uses water to rinse its interior mechanisms. It's important to keep your machine as clean as possible at all times to avoid interior mold growth. Keep it drained when not in use, and when a deep clean is needed, simply use a 1:1 white vinegar and water (distilled or filtered) solution and spray the interior components before wiping down with a clean cloth. To descale, run the solution through the machine, then run a few cycles of regular filtered water to eliminate any residual vinegar smell or taste.