The 6 Best Salad Spinners for Everything From Arugula to Watercress
Because soggy lettuce is no one's friend.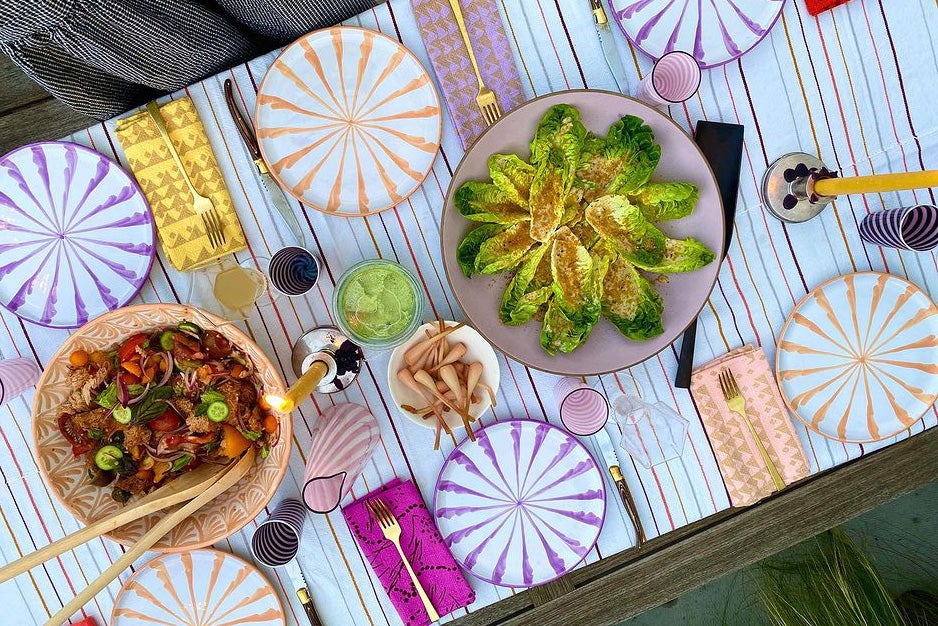 We may earn revenue from the products available on this page and participate in affiliate programs.
When the sun is blazing and the air is thick, the last thing on your mind is cooking over a hot stove. For many of us, summer is synonymous with cool, crisp, refreshing salads. Regardless of which leafy greens you choose—whether arugula and watercress for a crunchy spring salad or basil and mint for grilled watermelon and shrimp—making sure they're clean and moisture-free is essential. Nothing ruins a dish faster than soggy leaves.
But with countless salad spinners to choose from, knowing where to start can be tricky. Overall functionality is a priority, but size, drainage, and durability are also key. And should you choose a pump-operated version over a pull-string? To help streamline your search, we reached out to four chefs for pointers. Here's what we learned about the best salad spinners in every category.
Types of Salad Spinners
Pump operated
Pump-operated spinners typically involve pushing a button to start the spinning cycle. They are considered the most user-friendly since they require the simple push of a button.
Pull string
No buttons here. Pull string spinners require you to pull a cord to initiate the spin. In terms of ease, they're somewhere between a pump-operated and a manual version.
Manual
Manual spinners have a handle you must physically turn to produce the momentum for each spin. They're definitely ideal for smaller servings since they require a little more elbow grease.
Our Top Picks
This pump operated salad spinner is a fan favorite for its ample 6.65 quart capacity and clear, non-slip bowl that secures the spinner while in use. Max Hardy, chef and owner of Coop Detroit and Jed's Detroit, loves its versatility and ease-of-use. "This spinner is one-handed and prepares your produce and veggies in seconds," Hardy says. "You can use the separate basket as a colander and the clear plastic bowl to serve your salad in as soon as it's ready."
This manual salad spinner has a knob that's easy to turn, and we especially love the secure locking mechanism. Plus, the shape is both functional and versatile: "It's built with quality and has grips on the bottom, which prevent it from sliding off the table while in use," says Devan Cameron, chef and owner of Braised & Deglazed. "Another useful feature is the built-in drain spout, which lets you quickly drain the water without having to lift the lid."
If you're preparing a meal for yourself or just a few guests, this affordable salad spinner is a reliable option that stands the test of time. "I have one from 10 years ago that still works," says Tyler Akin of Le Cavalier in Wilmington, Delaware. "I even use the catch to drain pasta if I'm in a pinch and it's closer to the front of my cabinet than the colander. Biggest ups to Ikea—there's nothing wrong with this and it's a perfect size if you're drying greens for two or three."
Short on storage? This salad spinner drains water just as easily as its larger counterparts without taking up tons of valuable real estate. "Because it's collapsible, you can keep this spinner on the kitchen counter for everyday use," Hardy says. "This spinner is space-saving and collapses to half its size for compact storage, and expands to full size for everyday use." As an added bonus, it's dishwasher safe.
This pump operated salad spinner is equal parts practical and stylish. The basket and bowl can be used separately and are dishwasher safe, too. "It's the perfect size to clean my herbs and salad greens," says Jacob Solomon, executive chef of Testaccio in Chicago. "Plus, the stainless steel bottom is super durable, and the inner spinner basket acts as a great colander for rinsing."
While this brightly-colored salad spinner is officially controlled by a pull string, it also features a button stop that lets you adjust and activate the spinning as needed. "They make great products," Akin says of Mueller. "I had the pleasure of using this at a friend's dinner party when I was put to work, and the feel was very durable despite the pump operation. One can't argue with the distinctive design, either."
Ask the Experts
What's the best way to clean a salad spinner?
Clean the basin with dish detergent and a sponge. Use the same approach for the insert, but with the spray function on your faucet to really target between the slots. "A lot of people just rinse out the salad spinner after using it, but this is not actually okay," Cameron says. "Raw salads can sometimes contain dangerous bacteria like E Coli and can lead to food poisoning. I always wash the spinner out with soap and water by hand. You can wash some salad spinners in the dishwasher, but be sure to check the manufacturer's manual first."
Every product is independently selected and vetted by editors. Things you buy through our links may earn us a commission.