The Best Sous Vide Cooker to Make Restaurant-Worthy Dishes at Home
Unlock a delicious world of cooking that's truly set-it-and-forget-it.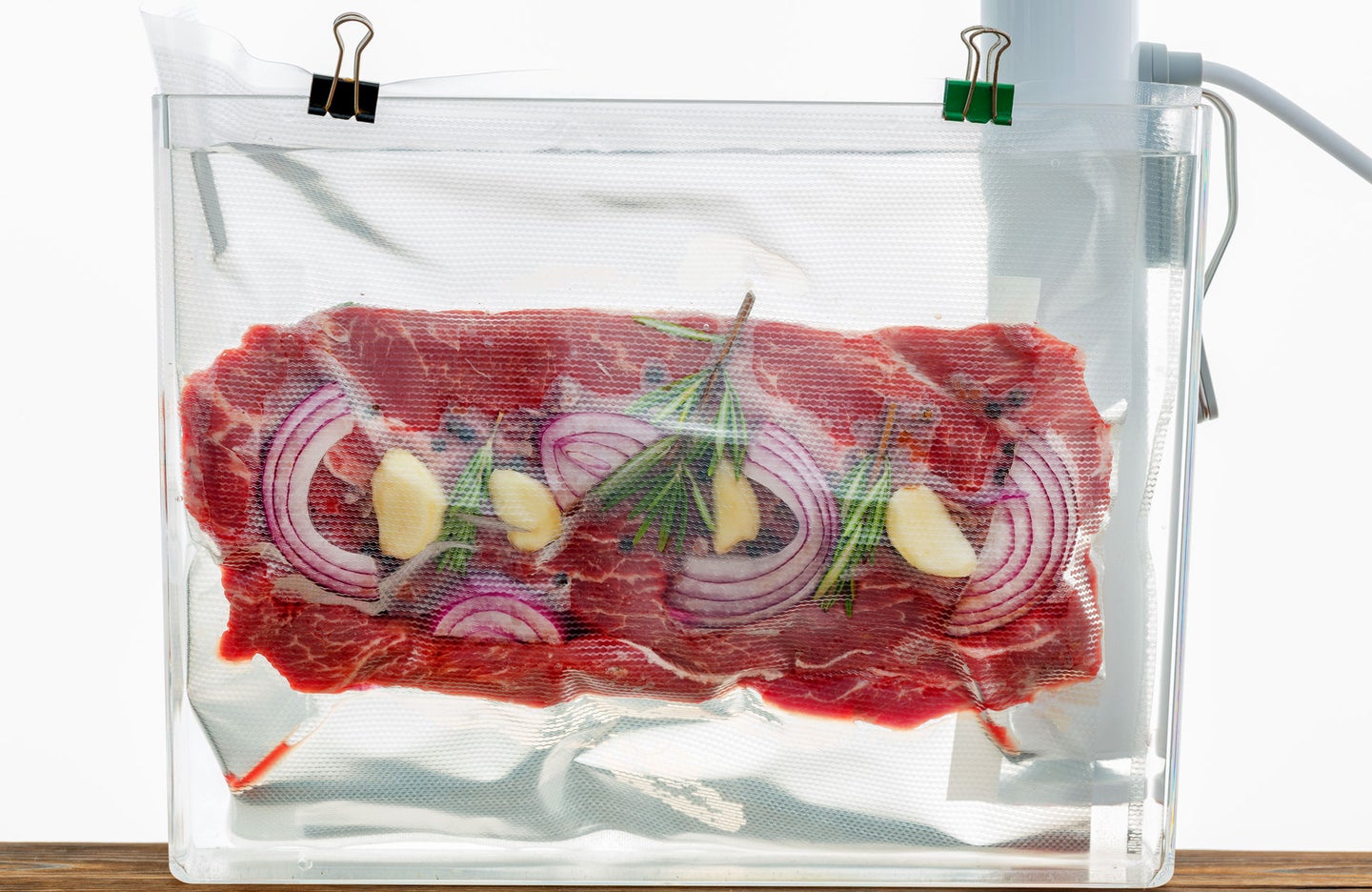 We may earn revenue from the products available on this page and participate in affiliate programs.
Sous vide cooking at home may seem reserved for only the most accomplished of amateur cooks. In reality, few techniques are more hands-off than this; it's literally set-it-and-forget-it cooking. Sous vide cookers heat water to a highly specific degree, so all you need to do is put your preferred food in a waterproof bag and put it in the bath until perfectly cooked. And while you can buy fancy gadgets to shrink-wrap your food before putting it in the water bath, it's certainly not necessary for stunning results. 
Think of a sous vide cooker as a confidence booster. Never cooked salmon before? Your first filet will turn out more flavorful and juicy than you could have dreamed. Have you always wanted to slow-cook ribs but didn't want to have your oven on for 10 hours? Sous vide is your ticket to fall-off-the-bone tender, and countless other dishes that may seem like only restaurant fare.
All you really need to nail this cooking method is a pot of water, a plastic bag, and a quality sous vide device. Don't worry, we've got you covered for that last bit. We've consulted chef experts to research the best sous vide cooker for every type of home chef. Read on to discover six of our favorites.
Features to Keep in Mind
Power Wattage and Speed
"Power wattage can vary and doesn't seem to have much impact on performance," says Alex Piñeiro, chef at the recently opened Bodegon in Cliffside Park, New Jersey. "The benefit of higher wattage is to heat water faster," he says, but notes that most of the time people are using hot water from the faucet, so you might not notice much of a difference. 
Temperature Accuracy
The best sous vide machines heat water evenly and quickly; you don't want hot spots in your water, nor do you want to be waiting around for it to come to temperature. You'll also want to find one that allows you to adjust the temperature as precisely as possible; ideally to at least a degree. After all, just a few degrees difference can turn your steak from perfectly rare to inedible.
Flexibility of Use
For the most part, you'll be using sous vide machines in a pot or Cambro-type container, so any model will work in those. Some models have a magnetic foot, however, which allows them to stand upright in a metal pot instead of clipping into the side.
Controls
Certain brands, like the Joule, rely exclusively on an app for use. Others may use a combination of controls on the machine as well as an app. "What you pick depends on user preference," says Piñeiro. "I, personally, prefer the on-unit control panel so that I am not engaging my cell phone or another smart-device while cooking."
Our Top Picks
If you've been looking for a sous vide cooker, you've probably come across Anova. Their Sous Vide Precision Cooker is popular with many home cooks for good reason: It's whisper quiet, heats water quickly and evenly, and both the control panel and the app are easy for even a novice chef to master. Their newest model is a real upgrade from the previous for good reason. It has a stronger WiFi signal for use with your phone and a more powerful motor that heats water more rapidly, all in a smaller body than before. When you're not sure what to cook for dinner, browse through the accompanying app to find a recipe and then automatically set your device to the needed temperature and cook time.
If you're not sure sous vide cooking is right for you, purchasing a less expensive model is a good way to dip your toe into the, ahem, waters. While the Monoprice model doesn't have the same amount of features as some of the others on this list (there is no WiFi connectivity, for one, meaning you only use controls on the device), it heats up water quickly and keeps it hot, which is the most important task of any sous vide cooker. It also has a sturdy, adjustable clamp to attach to pots and a large LED screen that's intuitive to use. Even though it can't connect to your phone, it'll beep when it's reached the desired water temperature. 
If kitchen space is an issue, opt for a smaller model like Anova Culinary's Nano. This petite cooker is just a bit over 12 inches tall, but like its bigger sibling above, it's brilliant at heating up water quickly and maintaining a constant temperature. It also has a lower wattage of 750, making it unlikely to trip a breaker in a kitchen with finicky electricity. This model pairs with the same app as the other Anovas, so you can cook anything from chicken breast to butter-poached potatoes with easy-to-follow directions.
Joule is another big name in the sous vide game. This unique cooker runs all controls through an accompanying app, making the device itself just a sleek piece of polycarbonate. Its 1,100 watts of power makes this one of the fastest-heating models available, which can cook in only 1.5 inches of water (the Nano, for example, needs 5 inches). A handy magnetic base allows the device to sit upright in a pot like a Dutch oven. Finally, the helpful Joule lets you specify if your meat is fresh or frozen to ensure an accurate cook time. You can even watch videos on your mobile device displaying various levels of doneness (so you know what to aim for). 
Unlike cylindrical cookers, Vesta's smaller and squatter model can easily clamp onto the side of a shallow pot to accommodate large, flat pieces of meat or fish without the need to cut them into smaller chunks. Because of this design, it can work with less liquid than other models, which is useful if you're trying to conserve water. Aside from its unique shape, this model also wins points for its flip display, which keeps the touch screen away from any steam, a WiFi-connected app that allows you to turn on the machine even if you're not at home, and a large screen you can read from across the room.
So you've tried your hand at sous vide cooking and you really like it. If you're ready to upgrade to the sort of tool professional cooks use, Breville Polyscience has your back. The Hydropro Plus, is, in fact, made for professional chefs, but it's also available to consumers who want the most precise machine on the market. It features a unique digital needle probe that is inserted directly into the food to measure the internal temperature in real time. The data from the cooking process can then be stored directly in the device for future cooking experiments. This model also includes a "sous vide toolbox" which uses specially calibrated algorithms to determine cook time and pasteurization for many types of foods. And, it should be no surprise that this is a powerful tool, with a whopping 1,450 watts and three adjustable speeds for water flow.
Ask the Experts
Q: Can I leave a sous vide running when I'm not at home?
A: "Yes, you can leave the circulator running when you are not home," says Piñeiro. "You'll want to watch out for evaporation which may cause the water level to fall below the minimum and cause the circulator to stop running. You can mitigate this, however, by covering the container. But, most circulators now come with a trusty app that allows you to check in on the progress remotely."
Q: How do I finish preparing ingredients after sous vide?
A: "You can finish preparing sous-vide foods in a multitude of ways. Pan-seared, fried, baked, on the grill, or straight from the bag," he says. "It all depends on what it is you're cooking. A steak cooked sous-vide, for example, can be grilled or pan seared. Vegetables can be good to go right from the bag."
The Last Word