The Best Vitamix Blenders Make Impeccable Purees
They're the Cadillac of blenders. Here's how to pick your ride.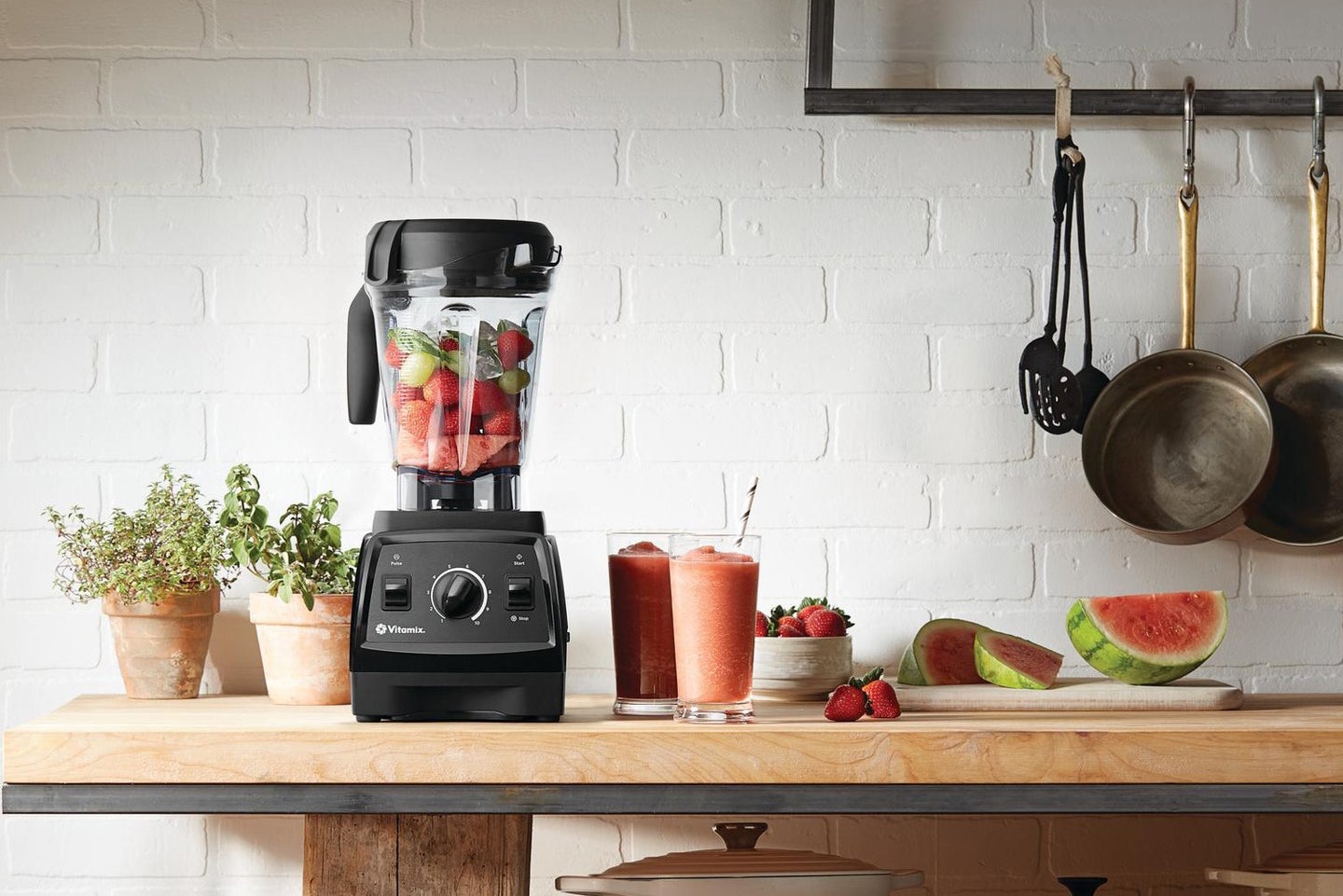 We may earn revenue from the products available on this page and participate in affiliate programs.
Vitamix is the most ubiquitous blender brand in the food industry. It's known as "the Cadillac of blenders," and I've spotted them in restaurants, smoothie bars, test kitchens, and the homes of many industry professionals. With over 100 years of history—and countless cooks, chefs, and food writers singing their praises—it's no surprise that Vitamix blenders have become one of the most coveted kitchen appliances.
It's also no surprise that they come with an enormous price tag compared to other blenders. More expensive doesn't always mean higher quality when it comes to kitchen gear, but buying a Vitamix really is a great investment. No blender I've ever used has ever come close to the level of performance I get from my Vitamix, and Andy Lisnoff, sous chef at Cuisine Solutions, agrees. "I've been in the hospitality industry for 30 years and I have yet to see one come to the end of its lifecycle. That's the reason I purchased a Vitamix," he says.
If buying a Vitamix is a sure bet, navigating the variety of models available can be overwhelming. So I ran each blender through the same series of tests (with the exception of the ONE and the Immersion Blender, both of which I'll explain below), from making smoothies and processing nut butter to turning raw ingredients into hot soup. Each ingredient used was weighed to the gram to help eliminate variables, and the results were sampled by blind taste test with a focus on consistency and texture. During testing, I paid attention to how loud each device was, as well as how easy it was to operate. Finally, I looked at whether the fully assembled blender fit on the counter, under the cabinets, or whether it would have to be stored elsewhere.
Our Top Picks
Capacity: 64 ounces | Horsepower: 2-peak  | Presets: No  | Speeds: 10 variable, high | Warranty: 7-year
Pros
---
Quiet during use
Simple interface
Smooth, homogenous blend
Cons
---
The default container is a bit tall for kitchen counters with less space
Why we chose it: This blender is simple, strong, and made to last through the toughest of blends in home and commercial kitchens.
The 5200 is easily the most highly recommended model Vitamix makes. After testing one out for a couple of weeks and speaking with recipe developer and food writer Sohla El-Waylly, it's very clear why. Despite its powerful, 2 HP motor, the 5200 was the quietest one, even as it obliterated frozen ingredients to make thick, creamy smoothies. "I'm sure every Vitamix can get the job done, but I have had the most experience with this model, so every other model feels wrong to me," says El-Waylly. "My parents have this model in their ice cream store for smoothies and shakes, while every restaurant I've worked in had it as well."
The simple interface has a single dial and two switches: a power switch, and a switch that allows you to alternate between using the variable speed dial or crank the blender up to its highest speed. Of all the batches of almond butter I made, the 5200 produced the smoothest one, despite the Pro 750 and A3500 having stronger motors. Because the blending container is taller and narrower, almonds rarely got trapped under the blades, resulting in a more homogenous blend. The only con about this otherwise perfect blender is that, at about 20-inches tall, it doesn't fit in the standard 18-inch space between my counter and upper cabinets. If that's not a concern for you, I cannot recommend this blender enough; there's also an option to purchase another, low-profile container in the same size. I absolutely love my A3500, but I do feel the tiniest tinge of regret for not opting for the 5200. This model comes with a seven year warranty.
Capacity: 64 ounces | Horsepower: 2   | Presets: No  | Speeds: 10 variable | Warranty: 5-year
Pros
---
Less expensive than other models
Fits under cabinets better because of shorter container
Cons
---
Loud when in use
Shorter warranty than other models
Why we chose it: A great price for a tough blender that stands up to pretty much any task; a smaller container is replaceable with a larger version if necessary.
This blender, which Vitamix calls their entry to high-performance blending, is a full $100 less than the Vitamix 5200 and performs tasks like making smoothies, sauces, and soups just as well. The major differences? It has a 48-ounce container, rather than the standard 64 ounces, and it's about three inches shorter than the 5200, making it easier to store on most countertops when not in use. The Explorian is also noticeably louder than the 5200, despite having the same horsepower. It also has a shorter warranty of just five years, compared to the 5200's seven-year warranty.
Best for Small Kitchens: Vitamix ONE
Capacity: 32 ounces | Horsepower: 1.2  | Presets: No  | Speeds: 10 variable| Warranty: 2-year
Pros
---
Less expensive than other models
Easily stored
Ideal for personal use for smoothies
Cons
---
Small container
Not strong enough to process nut butters or gains
Why we chose it: As a personal blender, the ONE is ideal in size and ability to blend smoothies; it's also still a great option for any other task that's not frozen fruit and ice.
This little 1.2 HP motor blender is almost as good as its Vitamix siblings at blending smoothies, shakes, and sauces. It's the smallest of the blenders I tested, with a 32-ounce capacity pitcher. It fits pretty much everywhere in my tiny kitchen, making it an excellent option for folks with limited counter space. It's also the simplest to operate, with just a single dial to switch on the machine and control the motor's power level. In tests, I was able to make single servings of smoothies that were nearly as smooth and creamy as the ones made in the 5200 and A3500. Unfortunately, this model is not meant for processing nut butters, grinding grains, or blending raw ingredients to create hot soup. In fact, doing so will void its two year warranty. While this is a great choice if you're limited by space in your kitchen, I recommend spending the extra $100 on our value pick above for the greater versatility if you plan on making anything thicker than a milkshake.
Capacity: 64 ounces | Horsepower: 2.2-peak  | Presets: 5  | Speeds: 10 variable, pulse | Warranty: 7-year
Pros
---
Exceptionally strong motor

Great for family use with a large container

Presets make different tasks a breeze
Cons
---
More difficult to process smaller amounts
Why we chose it: For larger blending tasks, this model is incomparable.
This blender was a joy to test. It has a more powerful motor than the 5200 (2.2 HP!), so it blends smoothies and soups smoother and faster. "When I was trying to determine which one would suit my home needs, my first instinct was to buy the E310 since it's the one I've used my entire career," says Lisnoff. "But being a family of four that occasionally hosts small gatherings, I opted for the Pro 750 with its larger pitcher." 
I did notice this model had some difficulty blending smaller amounts, like single serving smoothies. Lisnoff noticed this, too, but it wasn't a dealbreaker for him. "While the larger capacity requires more product to be used in order to get the proper results, I find that it isn't that much more," he says. "I also like the preset functionality of the Pro750. Want a smoothie? Set it to the smoothie setting. Hot soup? It can do that too." During testing, the Pro 750 outperformed the 5200 on most tasks, though I did notice that the almond butter it made was a bit chunkier, because almonds kept getting stuck under the blades. Like the 5200, this model comes with a seven year warranty.
Capacity: 64 ounces | Horsepower: 2.2-peak  | Presets: 5  | Speeds: 10 variable, pulse | Warranty: 7-year
Pros
---
Exceptionally strong motor

Great for family use with a large container

Presets make different tasks a breeze
Low profile container fits easily on countertop
Cons
---
More difficult to process smaller amounts
Expensive
Why we chose it: Presets set this model apart from its equally powerful siblings, making it even easier to make frozen treats, self-clean, or make a hot soup.
This is the first Vitamix I bought, and while my eyes have now wandered to the 5200, I still love it. It has the same 2.2 HP motor as the Pro Series 750, so it performs just as well, though it is a bit louder than both the 5200 and 750. What I love about it are the preset functions, including ones for handling smoothies, hot soup, nut butter, and self-cleaning with the touch of a button. You can easily perform these tasks manually on other models, but I have to admit that I've become a little dependent on being able to just dump in ingredients, hit a couple of buttons, and let it go. It has a beautiful digital touchscreen, and comes in multiple colors and finishes. Convenience and aesthetics do come at a price, though. The A3500 is tied for most expensive Vitamix blender, along with the Pro 750. Because of the wider, low-profile blending container, this model had the same issues with blending almond butter. It also has the longest warranty period of all the blenders tested: a whopping 7 years!
Capacity: N/A | Horsepower: N/A  | Presets: No  | Speeds: 5 variable| Warranty: 3-year
Pros
---
Extremely strong motor for a handheld blender
Wand fits easily into most cups and jars
Solid when locked into position
Comfortable handle
Cons
---
Not for nut butters or harder to blend items
Why we chose it: All of the Vitamix power is imbued in this immersion blender, including a tough motor, sharp blades, and versatile uses.
This model wins this category by default, admittedly, since it's the only immersion blender Vitamix offers. However, of all of the immersion blenders I've used in pro kitchens and at home over the past decade, it's the best one I've ever used. For starters, it has the most comfortable handle and sturdiest locking mechanism I've seen. Where some models feel a little wobbly, even after locking the blending wand to the handle, the Vitamix immersion blender feels like one solid unit. The blending wand is narrow, fitting nicely into wide-mouth mason jars, or any vessel with a 3" wide mouth. It makes quick work of even the most fibrous of frozen fruits (looking at you, frozen pineapple!) and veggies. The two-button controls are really intuitive: one powers the machine on, and the other is a pressure-sensitive variable speed button that increases blending power the harder you press it. Accessories like a blending cup, whisk, and mini-chopper attachment make it even more useful in the kitchen. Like the ONE, I couldn't perform all of the same tests with it, like processing nut butter or using it to cook soup. It is, however, the best immersion blender I've used, and well worth the cost. This model comes with a three-year warranty.
Features to Keep in Mind When Shopping for Vitamix Blenders
Accessories
Vitamix has a healthy selection of different sizes and shapes of containers to achieve different purposes, as well as a 12-cup food processor attachment that sits atop the motor of the Ascent and Venturist lines. Containers come in 32-ounce, 48-ounce, and 64-ounce sizes, some of which are available in a low profile height; a stainless steel container is available in the 64-ounce size as well. For those interested in milling their own flours, like rice or nuts, the dry-grains container comes in various sizes, with the added bonus of processing doughs without clumping around the blades. The Aer container is specially designed to pull in liquids through holes in the disc/blade, making it particularly excellent for emulsified sauces like hollandaise, as well as chopping items like ice and herbs without pureeing. With all attachments and containers, make sure that it is compatible with your line of Vitamix.
Capacity and Size
Most Vitamix blenders come with a 64 oz capacity blending bowl, which, on some models, can make it tricky to blend small portions, like a smoothie for one. Fortunately, Vitamix does offer adapters that allow you to blend smaller amounts. Although most models come with the same capacity blending bowls, some favor a taller, slimmer bowl that may be difficult to store under standard cabinets, while others feature a shorter, wider bowl with the same capacity.
Controls
Any blender should be simple and intuitive to use, no matter how versatile it is. Vitamix blender controls range from simple switches and knobs to digital touch screens with presets for a variety of functions.
Power
Vitamix motors are known for being so powerful that you can blend raw ingredients into silky smooth, piping hot soup in five minutes. But this strong motor isn't just great for the usual blender fare, like smoothies and sauces. Many Vitamix blenders offer the ability to process homemade nut butters and grind grains into flour.
Warranty
With their hefty price tags, you should feel confident that Vitamix blenders are built to last. Any issues that arise from normal wear and tear will be covered for years to come. Vitamix offers warranties on all of their machines, varying by model from two to 10 years. These warranties cover parts, labor, and two-way shipping.
Ask the Experts
Q: How do I clean a Vitamix?
Several models, including the Ascent line, offer a timed, self-clean preset. However, all Vitamix models are easy to clean, ultimately using the same method: Just add a drop of dish soap and fill the container halfway with warm water, turn on the blender and crank it to the highest speed until the remains of your soup or smoothie have been removed. Rinse, dry, and you're done. Putting your Vitamix container in the dishwasher is not recommended. 
Q: Is it expensive to repair my Vitamix blender?
Vitamix's warranty should cover any repairs, but if your warranty has lapsed like it has for El-Waylly, you may be able to repair it yourself. "Depends on what's wrong with it," says El-Waylly. "If you're just changing a gear or the blade and you have a guy (or are the guy) it's about 40 bucks. If it's something more serious with the motor, I recommend buying a new one (but that's very very rare)."
Q: Can I use my Vitamix blender as a food processor?
While you can do some food processor tasks with your Vitamix, like making nut butter, it's best to avoid things like making pie dough or chopping veggies. What about just using the blending cup that comes standard with your model? "No, please don't," warns El-Waylly. "The blades are too small, the canister isn't shaped for that kind of action, and you'll likely burn out the motor." However, if you own an Ascent or Venturist Vitamix, there is a 12-cup food processor attachment that is worth your while. It is interchangeable with the blender container, and sits atop the motor. It comes with a multi-use blade to finely chop, mince, knead, and mix, as well as two shredding/slicing discs for thin or thick slicing and fine or course shredding. It comes with a three-year warranty, and we think it's a great way to make doubly good use of an appliance that is already on your kitchen countertop.
Our Take