Recipes
Smoky Baba Ghannouj with Oil-Cured Black Olives
Serves

makes 3 cups

Cook

1 hour 10 minutes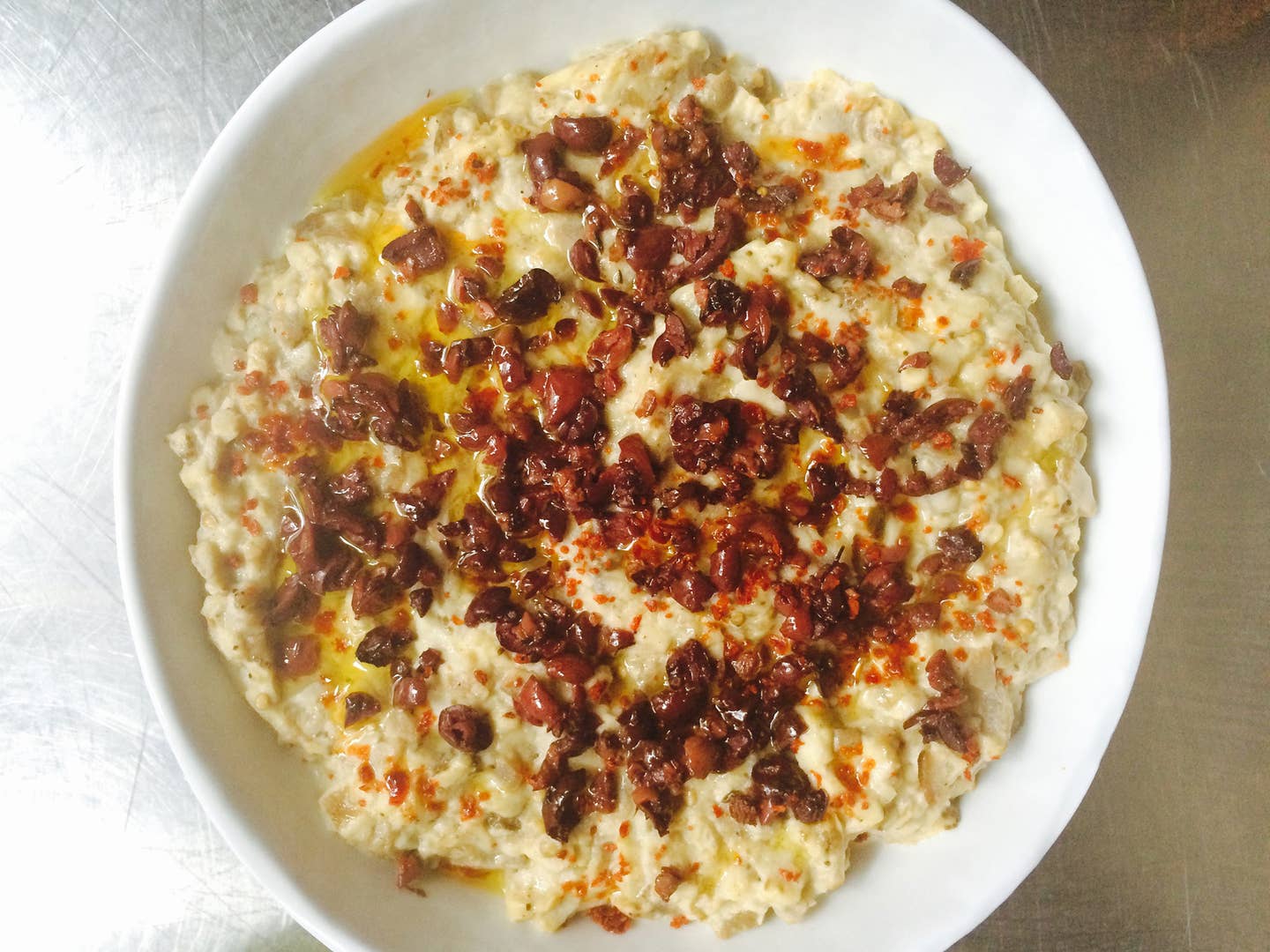 Mayonnaise ensures a creamy, smooth texture in this Midwestern riff on the classic Mediterranean dip by cookbook author Amy Thielen. Chopped cumin seeds add spice and a little crunch to the smoky eggplant.
Ingredients
2 medium eggplants (1 3/4 lbs.)
1⁄2 tsp. whole cumin seeds
1⁄4 cup extra virgin olive oil, plus more to garnish
1 bunch radishes, trimmed
1 large kohlrabi, trimmed
3 tbsp. mayonnaise, preferably homemade
2 tbsp. fresh lemon juice
2 tsp. kosher salt
1⁄4 tsp. freshly ground black pepper
Pinch of cayenne
Pinch of ground cinnamon
1 large garlic clove, finely grated
1⁄4 cup oil-cured niçoise olives, pitted and roughly chopped
Aleppo pepper, to garnish
Instructions
Step 1
Heat the broiler to high. Place the eggplants on a foil-lined baking sheet and broil, turning as needed, until blackened all over and very soft, 20 minutes. Transfer the baking sheet to a rack and let the eggplant cool for 10 minutes.
Step 2
Meanwhile, place the cumin seeds on a cutting board and drizzle with two drops of olive oil. Chop the seeds repeatedly until coarsely ground. Using a mandoline or knife, thinly slice the radishes and kohlrabi and then place in a large bowl of ice water. Let sit until the slices begin to curl, about 10 minutes. Drain and spread the slices out on a towel to dry.
Step 3
Peel and discard the charred eggplant skin and place the flesh on a cutting board. Finely chop the flesh and then scrape into a bowl. Stir in the chopped cumin along with the 1⁄4 cup of olive oil, the mayonnaise, lemon juice, salt, pepper, cayenne, cinnamon, and garlic. Transfer the baba ghannouj to a serving bowl and drizzle with more olive oil. Sprinkle with the olives and Aleppo and serve with the radish and kohlrabi slices.