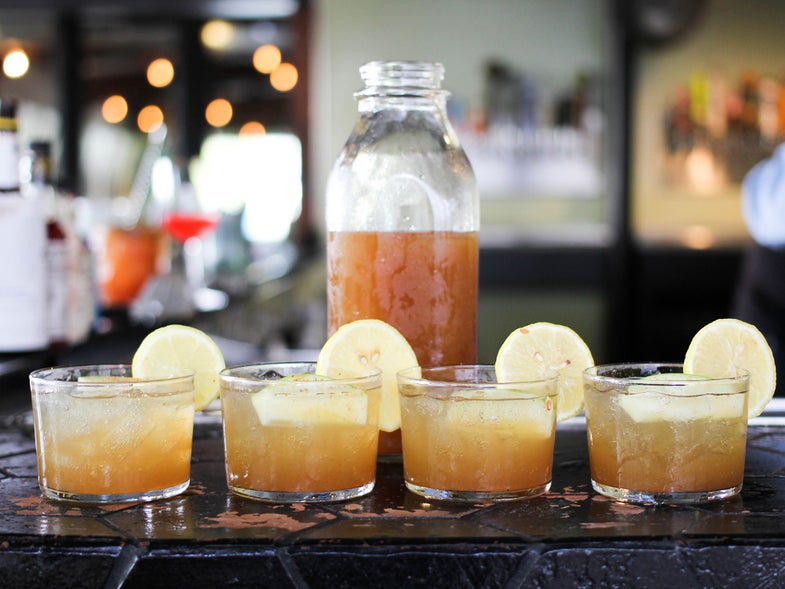 In this recipe, master sommelier Craig Collins of Irene's in Austin, Texas brings together the best of traditional fall flavors and spices: apple cider, cinnamon, clove, and allspice. He recommends enjoying the punch "after your Thanksgiving meal, paired with pumpkin pie!"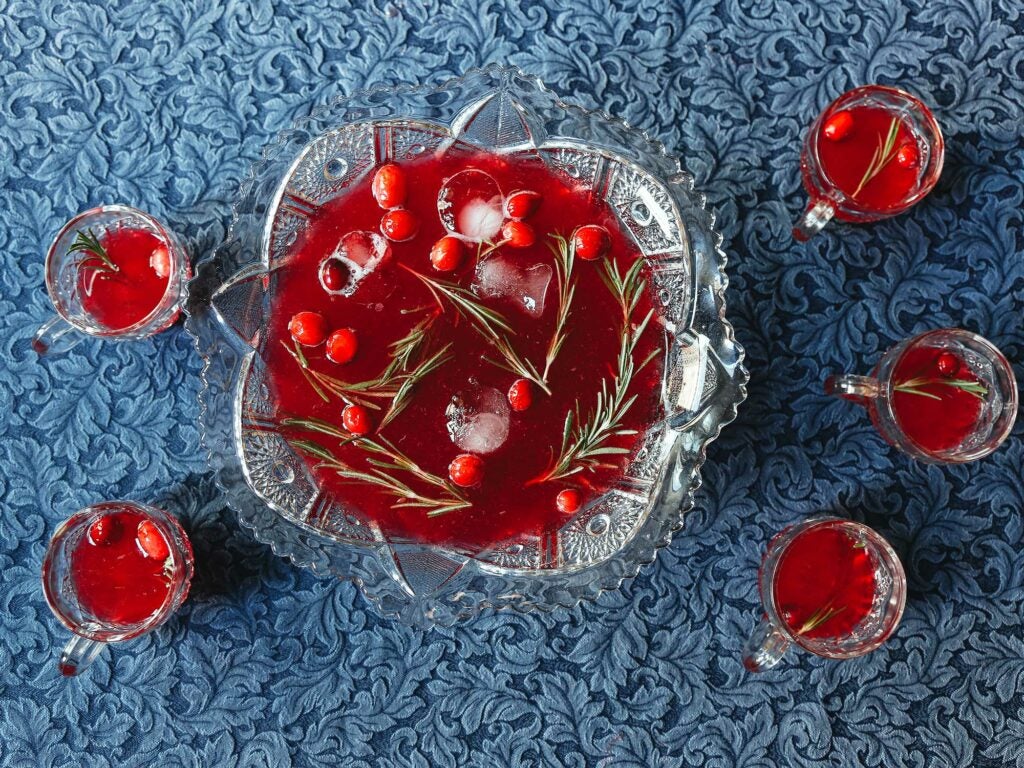 Spiced Apple Punch
At Irene's in Austin, Texas, master sommelier Craig Collins prepares an autumn favorite with apple cider, spiced simple syrup, Gran Marnier, and brandy.
Yield:
makes 12 cocktails
Time: 30 minutes
For the fall spice turbinado simple syrup:
1 cup turbinado sugar
1 stick cinnamon
10 whole cloves
10 whole allspice
For the punch:
1 1⁄4 cups fresh lemon juice
2⁄3 cup fall spice turbinado simple syrup
2 1⁄4 cups brandy, preferably Torres 5 Imperial
2⁄3 cup Gran Gala or Grand Marnier
1 3⁄4 cups hard apple cider, preferably Louisburg
2⁄3 cup ginger beer, preferably Fever Tree or Reed's
Lemon wheels, for garnish
Apple slices, for garnish
Cinnamon sticks, for garnish
Instructions
Make the fall spice turbinado simple syrup: In a small pot, combine turbinado sugar, 1 cup water, cinnamon stick, cloves, and whole allspice. Bring to a boil until sugar has dissolved. Let cool and strain before using.
Combine lemon juice, simple syrup, brandy, and Gran Gala or Grand Marnier in a large punch bowl.
Immediately before serving, add a few generous scoops of ice and top with hard cider and ginger beer. Garnish with lemon wheels, apple slices, and cinnamon sticks.