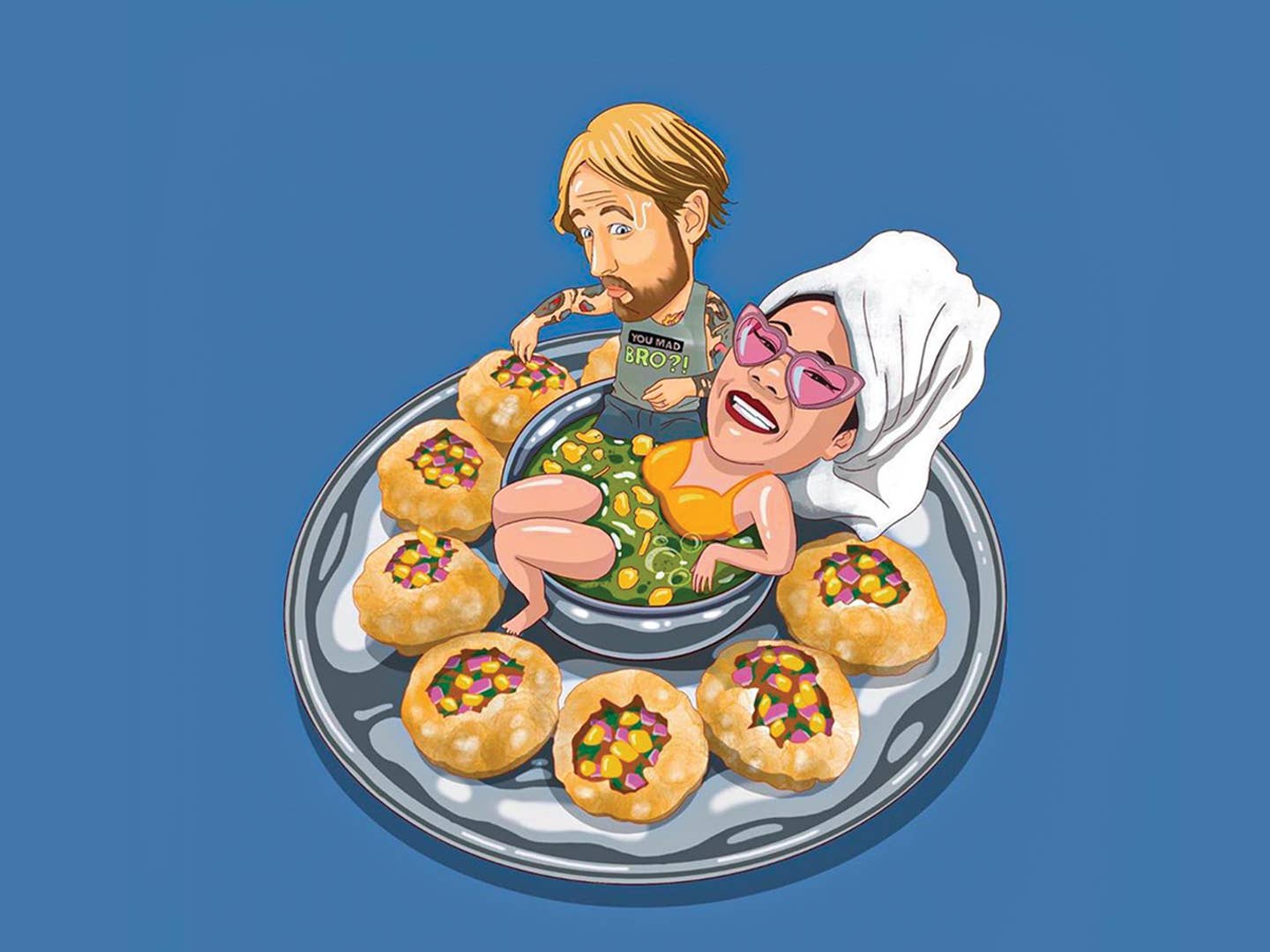 Culture
This Portraiture Is in Good Taste
Forget your stuffy Sunday-best. Australian artist Jeff Segundo will draw you hanging out in your favorite dish.
When COVID-19 halted international travel last spring, Melbourne, Australia-based tattoo artist Jeff Segundo was already navigating a long-distance ­relationship. His girlfriend, Nicole Phung, worked in public relations in Los Angeles. So, when the two found themselves stranded on different continents ­indefinitely, Segundo—long a fan of Japanese animé and, he admits, more than a little obsessed with food—drew her a portrait in an effort to cheer her up. The artist figured a little humor was warranted in these uncertain times, so his gift featured Phung atop a plate of her all-time ­favorite dumplings from Los Angeles' Ding Tai Fung restaurant.
Amuse her it did. Next, he drew his best mate, Timmy, in a bowl of tonkotsu ramen. Then came a picture of Timmy's girlfriend, Amelia, doing a handstand next to chocolate fondue. "Drawing these gives me such a good feeling," the former graphic designer explains. "I just wanted to push those vibes out to everyone." Phung suggested setting up an Instagram account to house the art—and that's when the hobby he'd dubbed Big Food Mood (@big.food.mood) exploded into a full-time gig. Requests for these culinary portraits began coming in from all over the globe, from Singapore to New Orleans.
He's drawn clients soaking, spa-style, in the tamarind-flavored dipping water served alongside the Indian snack pani puri, nestled into a hot pot of Japanese shabu shabu, and even sprawled out on a plate of loaded nacho enchiladas. Whole families have been depicted sitting among the har gow in a slew of bamboo steamer baskets.
"The response has been amazing," Segundo marvels. Almost immediately, the pair decided that something positive should come of the success.
"At first, we partnered with #HashtagLunchbag, an organization that helps to feed the unhoused communities in Los Angeles and Seattle, donating around 20 percent of the commissions," Segundo recalls. Then came the protests over George Floyd's murder, so they added Black Lives Matter to their list. Since March, Big Food Mood has contributed about $2,000 to these and other like-minded organizations.
Portraits start at $200, with an additional $50 for an extra person or a second food, and another $25 to include your pet. Along with procuring a few of your best selfies, Segundo will, of course, need to know your three favorite meals. Why three? "People will tell me, 'I really see myself as a hot dog,'" he says. "But there's only one way to stuff someone into a bun," he explains. "I need a few options to be sure I capture that energy and get it right."