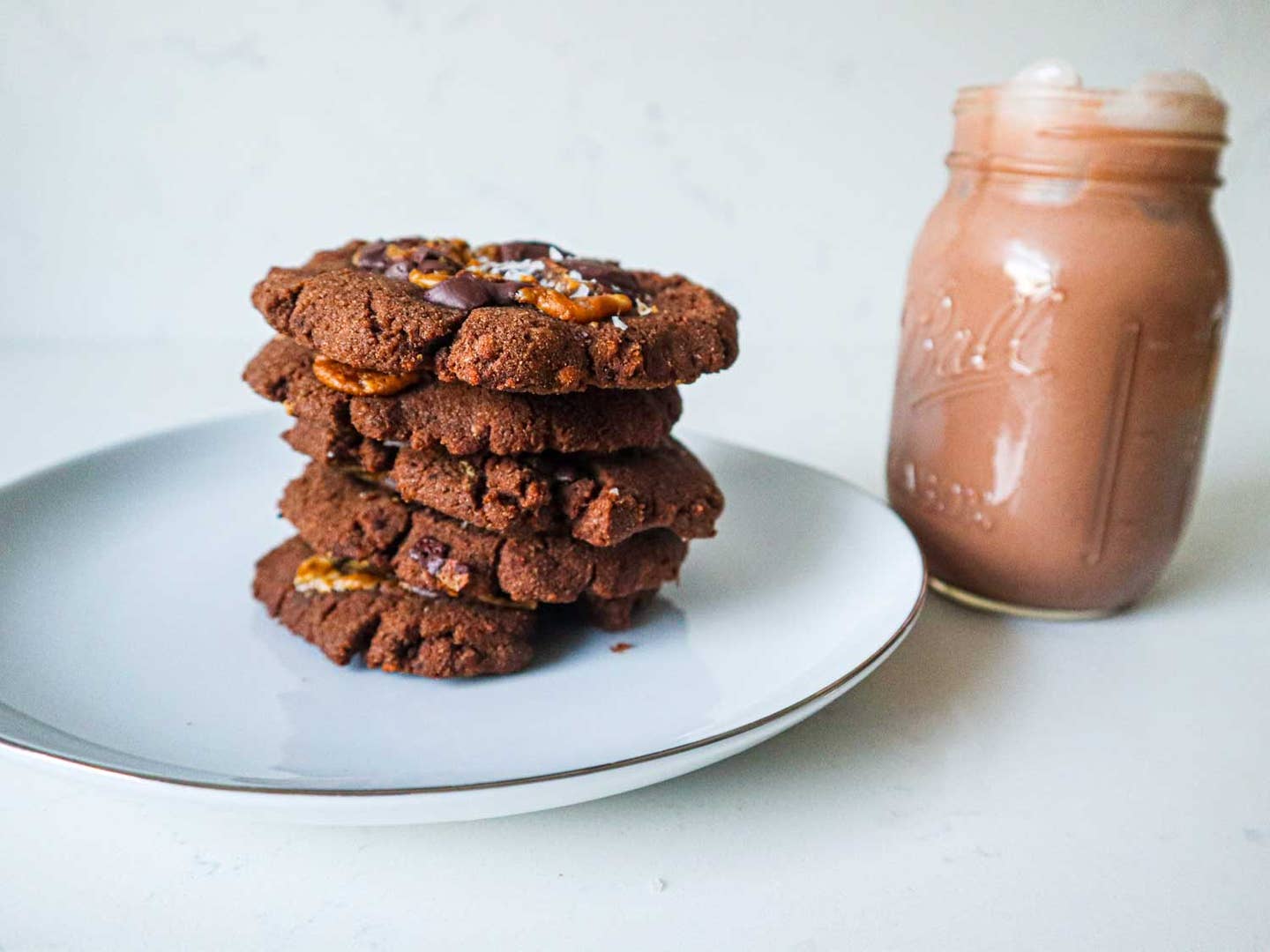 Culture
A Honduran-American Baker's Tustacas Obsession
This salty-sweet cookie, popular in Honduras, is a crave-worthy treat.
If you wander the streets of Honduras on any given afternoon, it's likely you'll encounter the sweet aroma of pastries and breads that permeates the humid air that time of day, wafting out from the ovens of the local bakeries. La merienda, or the afternoon snack, typically consists of black coffee, pan de coco (a bread filled with dried coconut and sugar), semitas (a popular Honduran sweet roll), and—my favorite—the lovely homemade corn cookies called tustacas. My parents immigrated from Honduras before I was born, and I first tried this salty-sweet treat as a child on visits to my mother's native San Pedro Sula, the country's second largest city, where every panaderia (bakery) offered them.
Tustacas are easily the most uniquely flavored cookie I've ever tasted. The buttery dough boasts a slight corn sweetness and sandy texture from the masa harina and a distinctly salty and savory richness from queso fresco. A crisp layer of panela (solid, unrefined cane sugar) coats the surface.
Growing up in New Orleans, a city that's home to a large concentration of Hondurans and Honduran-Americans, I found tustacas at local bodegas in my neighborhood. My father's frequent trips back to Honduras further fueled my obsession. He'd leave with a suitcase filled with toothpastes, colognes, deodorants, and other such items to sell in San Pedro Sula; for the return trip, he filled the empty suitcase with sweets for us. We stayed up waiting for him to arrive home from the airport, and the first thing I'd go for was the tustacas.
My fondness for baked goods inspired a hobby and, eventually, a career. Throughout college, I worked in restaurants and for caterers, often experimenting on my own with the best recipes for classic Honduran cakes and cookies. I eventually moved to Miami to open a wholesale bakery, at first making French fare like baguettes and croissants for local restaurants. It wasn't until I got an overwhelming response to a photo of pan de coco that I posted on my baking blog that I realized it was time to focus on the Honduran foods to which I had a real connection. Today, a large part of my work as a baker is to share the traditional treats that I enjoyed so much as a child.
In Honduras, tustacas show up at the table for large family gatherings (especially around holidays), but they are still most often eaten as an afternoon snack, dunked—even soaked—in the mild, sweetened, locally-sourced black coffee. Though I love this classic combination, I set out to create a unique version of the treat that incorporates one of my favorite ingredients: chocolate. Cacao has pre-Columbian roots in Honduras, of course, and I can hardly ignore chocolate's long association with Valentine's Day. Here, I added cocoa powder to the dough, then topped the cookie with semi-sweet chocolate and a sprinkling of flaky sea salt. Rather than coffee, I like to pair tustacas with another distinctly Honduran classic: horchata, the refreshing rice drink that's infused with cinnamon and sugar, and is occasionally enriched with milk, omnipresent throughout Latin America. A bit of cocoa powder in the rice-soaking liquid creates a faintly chocolatey infusion that complements the chocolate in the cookies. This drink, served ice cold, goes perfectly with the crisp little sweets—the tustacas of my childhood—that I still love so much.