Recipes
Tustacas de Chocolate
Bryan Ford's chocolately riff on a classic Honduran cookie.
Serves

makes 10 tustacas

Cook

30 minutes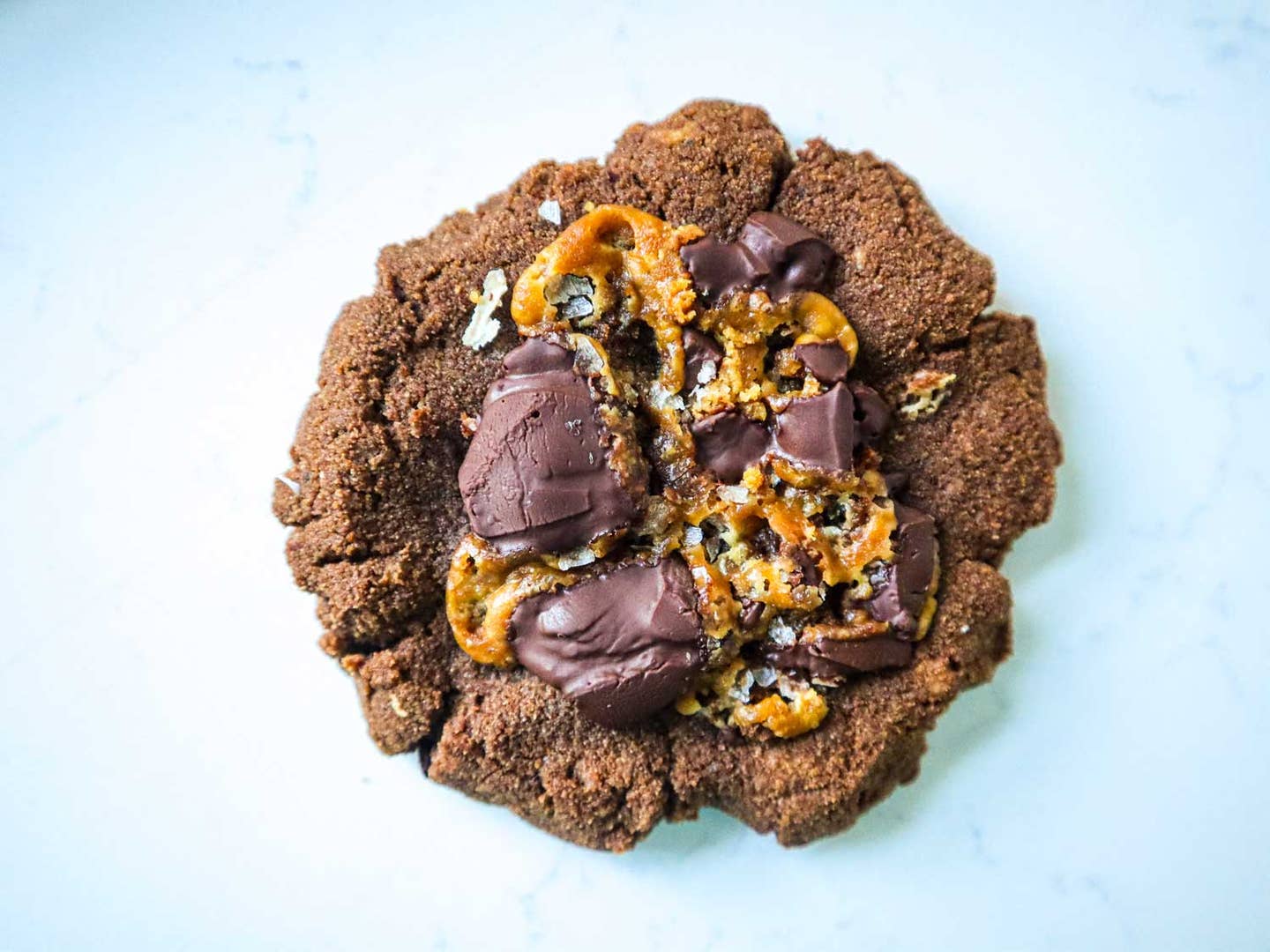 Tustacas are a Honduran cookie often enjoyed as an afternoon snack, or merienda, dipped or soaked in coffee. The simplest, most traditional tustacas are made of a masa harina base and a coating of panela, or unrefined whole cane sugar.
In this version from Honduran-American baker and Saveur Blog Award-winner Bryan Ford, cocoa lends a complimentary bitter note to the masa dough while a generous layer of chocolate melts into the sugar topping. Ford likes to pair these intensely sweet-and-salty treats with horchata, a refreshing rice drink popular throughout Honduras and other Latin American countries.
Ingredients
3¾ cups (450 g) masa harina
¼ cup (20 g) cocoa powder
1½ tsp. baking powder
1½ tsp. baking soda
1 cup (250 g) queso fresco or farmer's cheese
6 Tbsp. (100 g) unsalted butter, softened
¼ cup (50 g) sour cream
2 large eggs
¾ cup (100 g) finely grated panela (or substitute dark brown sugar)
1¼ cups (250 g) bittersweet chocolate, coarsely chopped
Flaky sea salt, for garnish
Instructions
Step 1
Preheat an oven (with one of its racks positioned in the center) to 350°F. Line a large, rimmed baking sheet with parchment paper and set it aside.
Step 2
To a large bowl, add the masa harina, cocoa powder, baking powder, and baking soda and stir to combine. Add the queso fresco or farmer's cheese, butter, sour cream, eggs, and ¼ cup cool water and mix well with your hands until the mixture is slightly crumbly and starting to come together into a shaggy dough.
Step 3
Turn the dough out onto a clean work surface and knead it briefly to bring it together. Press the dough into a tidy square, then use a bench scraper or large chefs knife to divide it into ten even pieces (about 100 grams each). Form each piece into a ball and then gently press it with your palms to form a ¾-inch thick disk. Transfer the disks to the lined baking sheet, leaving at least 2 inches between each of them. Spread a generous tablespoon (10 grams) of panela or brown sugar over each tustaca, then divide the chocolate chunks over them as well. Transfer to the oven and bake until the tustacas are set but still soft and the chocolate is completely melted, 13–15 minutes. Sprinkle with flaky sea salt while the chocolate is still molten, and set aside to cool slightly. Serve warm or at room temperature.