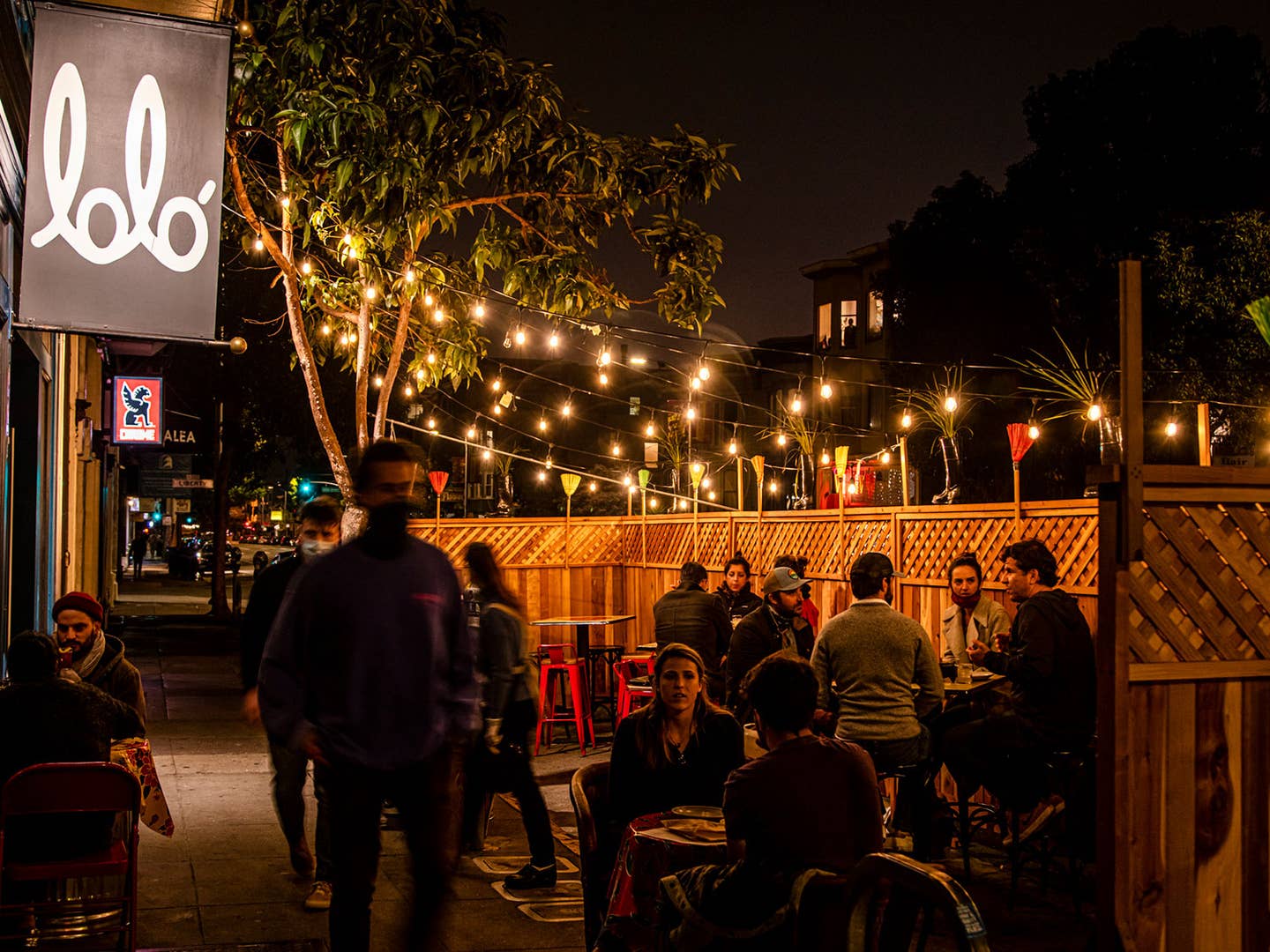 Culture
The Flavor of Resilience: Loló, A Beloved Restaurant in San Francisco's Mission District, Offers Comfort During A Pandemic
The transporting power of food and memories.
A restaurant, according to the Merriam-Webster Dictionary, is "a business establishment where meals or refreshments may be purchased." Ever since March 17th, when California Governor Gavin Newsom called for the—at the time—unimaginable closure of all restaurants for the purposes of dining in, they have been folding with the momentum of falling dominoes. There is an inexorable sense of loss and yes, loneliness, without them. We know now, in case we needed a reminder, that a restaurant is so much more than that clinical definition. It is the beating heart of its community; it is where we come together to take our place around the many tables, as part of a dynamic jigsaw, each service a unique mixing pot of customers and experiences, never to be repeated.
For me, one restaurant that especially embodies this alchemy is Loló, located in San Francisco's Mission district, a neighborhood infused with the spirit and heritage of Mexico. Before shelter-in-place, the Mission was one of the most vibrant pockets of the city, alive with the sounds of music, street vendors, and Spanish exchanges. My daughter would beg me to join the line for esquites at a curbside stand and we would wait, salivating, as the corn was pulled steaming from a bucket, scraped from its cob, tossed with mayonnaise, chili powder, and grated queso fresco, then handed over in a plastic container fogged up with condensation.
Loló is a beloved family-run San Francisco institution serving "Jaliscan-Californian inspired cuisine." When I first moved to the city in 2014, I was intrigued to note that this local neighborhood spot seemed to be the common denominator connecting so many people from various walks of life and disparate parts of town. In a city where restaurants come and go at the best of times, Loló had earned her place as a keeper. The spot, which has been around since 2007, is co-owned by Mexican husband-and-wife team Jorge Martinez Lillard, the chef, and Lorena Zertuche, the designer and artist after whom it's named, as well as their business partner, Caldo Ruelas. Another invaluable member of the team is bar manager León Vasquez, known for his remarkable cocktail menu.
Each wall in Loló is an homage to Mexican popular culture. Zertuche celebrates indigenous women with a wall lined with rows of embroidered aprons she sourced from a specialty shop in Guadalajara. Another wall displays an assortment of colorful plastic baskets used by women throughout Mexico to do their daily shopping.
After spending the last two weeks of March giving Loló a thorough spring clean, the restaurant reopened at the beginning of April to offer takeout for the very first time, a brave undertaking with a steep learning curve in the Covid climate. Over the next three months, the front of the restaurant was boarded up, but the exterior welcomed customers with a poster reading "Miss Seeing Your Face," and a gallery of vintage mirrors on which some of the menu was written by hand: "ceviche, tamales, habanero salsa," and on another "margaritas, palomas and negronis."
For many of us, these strange times are ripe for reflection and nostalgia. Chef Lillard was inspired to put his favorite dish on the restaurant's new to-go menu. Birria, a stew typically made with beef or goat, reminds him of when he lived alone with his father as a child after his parents' divorce. "My dad used to order birria every Saturday morning from a truck stop at a small town outside Guadalajara; he was addicted to it. I usually had a hangover from Friday night, so it was great to eat this warm, spicy stew with some tortillas and be sweating 15 minutes later. I chose birria for the take out menu because I was thinking about meat that would be comforting and work well wrapped in a burrito, be easy to take home and would be the same experience as if you ate it right away in the restaurant." While he cooks, the Guadalajara-born chef finds himself imagining the people who will eat his food. "Part of the fun of cooking is watching the instant gratification of people saying 'Wow, this is really good', or seeing a smile on their face or them sharing it with their friends. Your clients become your extended family."
It's not just Lillard who's been reminiscing, and it's impossible to underestimate the power of food memories to transport you. Ruelas has been missing his hometown of Los Mochis, on the mainland of Mexico opposite Baja California. In particular, he dreams about his mother's rice and beans. "It's pretty much beans boiled in water and salt, then she adds the cooked white rice to the beans, which are all brothy, makes a spicy pico de gallo salsa with a lot of serrano peppers, and tops it with fresh panela cheese," he explains. "When I go home, my mom knows, and that pot is waiting for me. And if she has made fresh tortillas, that's like the epitome."
Ruelas worries about his mother, who lives alone since his father passed away. "My mom always has an open door. She never knew who would come but there was always coffee and bread, and usually a house full of people. So imagine my mom right now." Try as he might, he can never quite replicate those rice and beans. "I am still trying but I believe a lot in who makes a recipe—there's an element of chemistry in who cooks it," he says.
Though his bar stools sit empty, Vasquez continues to pour his talents into cocktails. He first packed to-go drinks in mason jars but more recently, since obtaining a canning machine, the bartender has been making custom cans labeled "Made by Bad Hombres and Nasty Women at Loló SF," which are sold to thirsty patrons from a cooler out front. "I miss the interaction, and the adrenaline. I feel pretty alone here."
For Vasquez, the memory that shines most brightly is of crispy barbacoa tacos from Tacos Juan, his favorite spot in the Santa Tere neighborhood of Guadalajara. Tantalizingly slow-cooked beef or goat served atop a tortilla that's been dipped in the fat and crisped up on the plancha. What is it about these tacos? "Well it's everything," explains Vasquez. "I find it kind of umami because you have the saltiness from the stew, but also the sweetness from the chopped onions, and the sour from the lime squeezed on top. It's perfectly balanced."
In spite of the jaunty bandana covering much of Zertuche's face these days, there is no mistaking the childlike excitement that floods her eyes when she talks about her insatiable appetite for beans. Prepared any way: boiled, blended in a soup, refried, beans are the daily staple she cannot imagine life without. But if she had to single out just one? "Refried! I die, I die... Just with a tortilla, rested over the stove so it tastes like it's from the ranch. That burnt smell of pure corn is the most nostalgic smell for me, I remember so many things." Lillard offers refried beans on his current menu, achieving such an earthy depth and velvety texture that their appeal is undeniable.
At Loló, despite all the stress and uncertainty, holidays are still celebrated. For Cinco de Mayo, Chef Lillard prepared a Mexican national treasure, pozole rojo, an aromatic stew made with pork and hominy, stained red over hours by the seductive presence of such dried chilies as guajillo, serrano, morita, and the smoky ancho from Oaxaca. The Aztecs considered maize, from which hominy is made, a sacred plant and many believed that we mortals were in fact created out of corn. That early May night on deserted Valencia Street, where crowds used to throng, customers came steadily through the early evening in search of comfort and a brief but cheering human exchange.
When early June rolled around, Loló began to offer outside dining with a row of tables on the sidewalk, and once the city gave permission to take over the parking spaces in the front of the restaurant, they created a fenced-in patio area that seats twenty. Atop the fence, Zertuche placed whimsical touches like colorful plastic broom heads and rain boots sprouting plants. When my family and I layered-up recently on a typically chilly San Francisco summer night, I was quite overcome with gratitude and wonder to be there beneath the fairy lights, a margarita in front of me alongside a crispy quesadilla filled with birria and melted Oaxacan cheese. Latin music played from a speaker rigged up in a tree, and I sensed that my fellow diners were also savoring this long awaited moment of coming together—albeit carefully spaced apart and sporting masks—and being taken care of and cooked for. Chef Lillard has been struck by the absence of cell phones at the table and for him, there is something miraculous and deeply encouraging about that change. He sees it as a reawakened desire "to really connect with another human being." None of us knows what the future holds, but for that hour or so I was reminded not only of the joy and solace that I find in this restaurant that I hold so dear, but also of the grit, resourcefulness and commitment that are required behind the scenes to make it possible, now more than ever.
Megan Wetherall is a James Beard award–winning writer and former Saveur editor. Photographer Nicola Parisi is a San Francisco based photographer whose work can be found in the Michelin Guide and Edible San Francisco, among other publications.