These 44 Cinco de Mayo Recipes Feed a Crowd—From Yucatan Tostadas to Oaxacan Mole
Masa to the people, tortillas for all, and a pollo in every pot.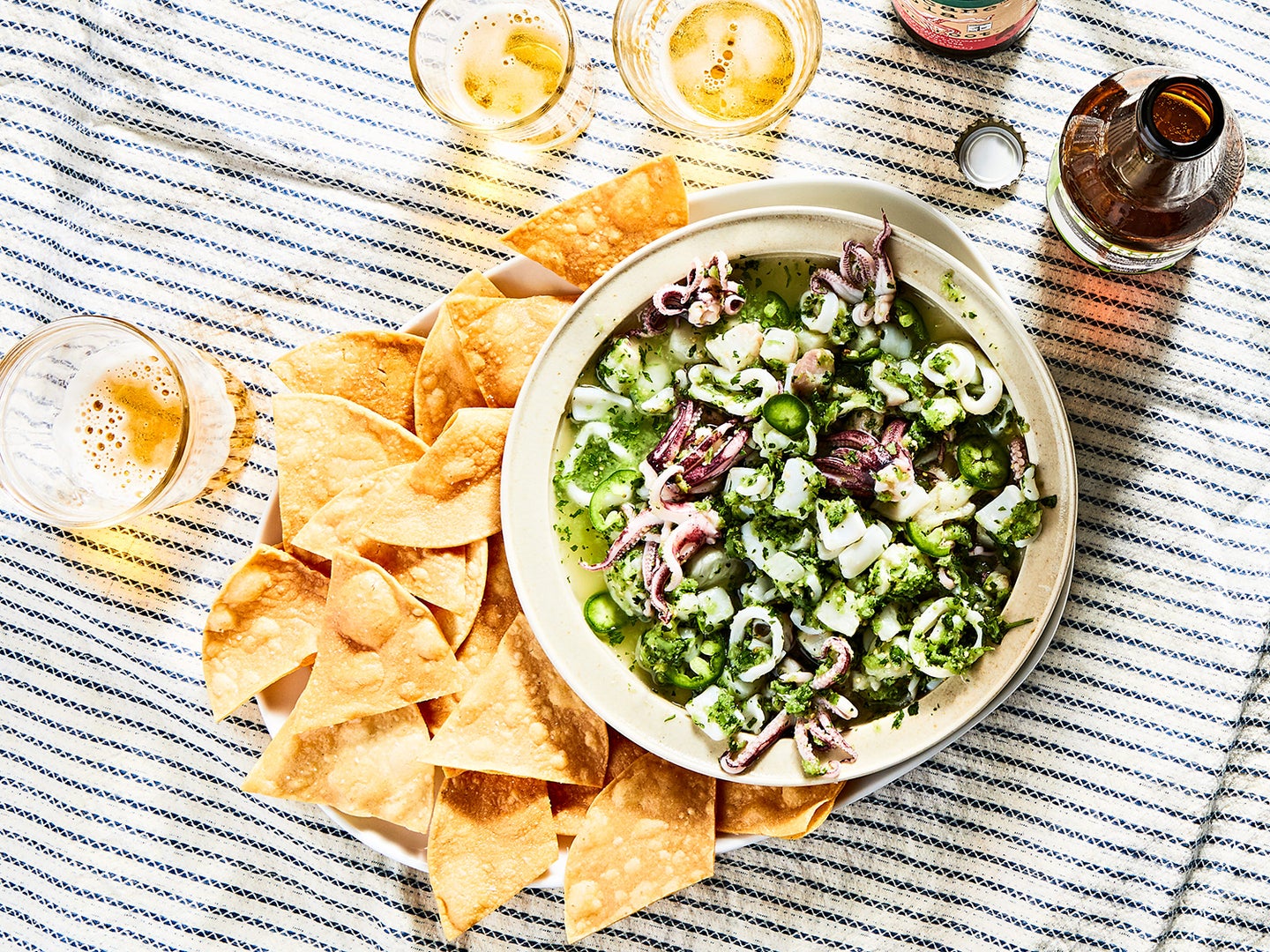 Cinco de Mayo is an excellent reason to surround yourself with tacos and ceviche. In Mexico, the day commemorates the country's 1862 victory over the French in the Battle of Puebla; it's celebrated with parades, music, and dancing. Here in the United States—particularly in areas with large Mexican and Mexican American populations such as Houston, Chicago, and Los Angeles—the fifth of May has evolved into a more general celebration of Mexico's culture and, of course, Mexican food. 
The U.S. has no lack of Mexican culinary talent. From the humble Loncheria Otro Rollo in California, to Fan Fan Doughnuts' delicious treats in Brooklyn, to classic El Naranjo in San Antonio, we are spoiled for great restaurant options. But as enjoyable as it is to have your tacos and tres leches served to you, it can be even more rewarding to spend the afternoon making goat birria or assembling those tamales yourself. From warm tortillas, to fiery salsa and smoky meats, to cold tequila and creamy, cooling desserts, Mexican food has something for just about everyone. So invite some friends over, mix up a pitcher of margaritas, and toast Mexican success with some of our favorite Mexican recipes. 
These crunchy empanadas, featuring shells made with masa, lard, and salt, are filled with tender shredded beef tossed in a spicy salsa. You can prepare the masa and filling in advance, but don't fill or fry the empanadas until just before eating. Get the recipe >
In this elote-inspired riff on corn chowder, grilled corn kernels and their cobs are cooked with milk, cream, and potatoes, then finished with crema, cotija cheese, lime, ancho chile powder, and cilantro. Get the recipe >
The key to moist, flavorful tamales is not being shy about adding fat. Lard is traditional in Mexico, but you can use softened butter for vegetarian versions. Tamales are best eaten doused in salsa or hot sauce. This salsa verde has a fresh, tangy sourness (and kick of heat if you like) that helps cut through the richness of the masa. Get the recipe >
This salsa verde has a fresh, tangy sourness (and kick of heat if you like) that helps cut through richness. Get the recipe >
Behold the glory of mashed potato-y homemade masa, building block of many Mexican favorites. Get the recipe >
This version of the classic Mexican rice-based drink, which writer Sara Deseran adapted from one at Fresno's El Mercado Super, is made with a mix of coconut milk and coconut water for a beverage that is both luxurious and refreshing. Get the recipe >
Every element of this taco—inspired by those at Don Pepe Taqueria in Fresno—is amped up, from the red rice simmered in a blend of chicken stock and puréed tomatoes to the quick-marinated shrimp. Use large flour tortillas as tacos or wrap them into a burrito. Get the recipe >
A homemade Mexican spice rub adds a gentle heat to the chicken and peppers in this uncomplicated dish. Get the recipe >
These dumplings, from Mexican cooking sage Josefina Velázquez de León, get pan-seared, then simmered in a rich cream of tomato soup. Get the recipe >
This simple pasilla chile- and tomato-based soup is ladled onto tortilla chips and topped with creamy avocado, jack cheese, and tangy Mexican crema. Get the recipe >
Alex Stupak's shrimp version of the Mexican classic is a delicious play on the ultimate beginner's sausage. Get the recipe >
Rough-chopped and served on fresh, homemade tortillas is New York City chef Julian Medina's way of showcasing brisket. Get the recipe >
Avocado is an unlikely but delicious pairing for smoked whitefish, and this guacamole is a smokier, creamier spin on classic whitefish salad. Chipotle and habanero add smoke and heat, while pickled onions brighten everything up. Get the recipe >
Braise pork ribs with a homey, vegetable-rich sauce with a touch of heat, and use the leftovers for tacos. This is a classic recipe from Mexican cooking sage Josefina Velázquez de León. Get the recipe >
Pib is the Mayan word for the type of traditional oven—little more than a hole filled with heated stones, on top of which leaf-wrapped meats are cooked—that was once prevalent in the Yucatán. Get the recipe >
A low-and-slow cooking technique used for this birria, which colloquially means "a mess," ensures that the meat is fork-tender and the tomatillo broth infused with a rich, meaty flavor. Swap pork for goat, if you prefer. Get the recipe >
This salsa is spicy—use it sparingly!—as any serious salsa should be. Its flavor is all chili and garlic, and does well atop nachos, burritos, and eggs. If you're feeling daring, go for big scoops with your favorite bag of tortilla chips. Get the recipe >
Carlos Raba, the chef at Bar Clavel, still recalls his uncles cooking all weekend on the family compound in Sinaloa, Mexico, where every feast began with a fresh seafood ceviche. Get the recipe >
The heat of this deep-red ancho chile soup and its pasilla chile garnish is balanced by the addition of cooling crema and thinly sliced avocado. Get the recipe >
This quick breakfast dish is made a la Mexicana with red tomatoes, white onions, and green jalapeños, ingredients that mirror the colors of the Mexican flag. Get the recipe >
Hearty and filling, this easy chicken stew gets its signature smoky flavor from chipotles in adobo. It can also be made with any shredded, leftover meat, including pork or beef. Get the recipe >
This creamy, rich soup is a favorite in Mexico City. In summer it's usually chilled, like a vichyssoise, but it's also served hot, especially in the cooler months. Get the recipe >
This pellizcada recipe comes from the women of Mexico's Yo'on Ixim, a Pueblan school and community center for indigenous Tzotzil Maya. Get the recipe >
Meat and fat are scarce in Chiapas, so the local tamale dough is much leaner than it is in other regions. The most common meatless versions at the markets in southern Chiapas are wrapped in banana leaves and can include greens like hoja santa or chilipin, as well as black beans. At Yo'on Ixim in Puebla, the women make both blue corn and white corn versions, sometimes adding fresh shelling beans. Get the recipe >
The secret to this soup is a flavorful aromatic base of tomatoes, garlic, and onions—called a recado—that is pureed and reduced before the beans go into the pot. Get the recipe >
Using a whole chicken contributes to the intensity of this soup from the indigenous Tsotsil Maya of Puebla's Yo'on Ixim, so if sold with the bird, definitely add the backbone, organ meats, and feet to the pot. The mainstay vegetables for this southern Chiapas caldo de pollo is chayote, an edible gourd, as well as tomatoes and onions. Get the recipe >
There are as many recipes for chilaquiles as there are cooks who make them. This version is served, throughout the day, at the Grand Hotel in Tijuana. Get the recipe >
Corn or flour tortillas that are deep-fried until they puff are a specialty of San Antonio's Tex-Mex cuisine. This recipe for puffy tacos filled with spicy chicken and guacamole comes from Rolando's Super Tacos. Get the recipe >
Silvestre Valencia, former owner of Viva Taco Bus in Turlock, California, adds jalapeño pickling liquid to the pork braise, which tenderizes the meat and keeps it from drying out. Get the recipe >
Inspired by the potato tacos at Loncheria Otro Rollo in Bakersfield, these Tacolicious versions are stuffed with fluffy mashed potatoes and pan-fried until crisp. The accompanying smoky ranchero sauce also would be great as an accompaniment for meat or fish or spooned over eggs. Get the recipe >
Chef Chris Shepherd's take on Mexican-style street corn is served off the cob and comes together easily for a side dish that is especially great for summer entertaining, when corn is in season. Get the recipe >
These classic Oaxacan-style enchiladas are stuffed with chicken and doused in a sweet chile-and-garlic sauce. Get the recipe >
The secret to this mole's pitch-black hue and complex flavor: the deeply toasted and fried ingredients. You don't want to burn them completely, but you should come close. The process is time-consuming, so think twice before scaling down; extra mole keeps well in the freezer. Get the recipe >
Gelatina is a lifestyle in Oaxaca, where it can be found in all shapes, colors, and flavors. Combined with the creamy tres leches layer, sherry creates a boozy and refreshing Creamsicle-like effect. Get the recipe >
While the classic ingredients for this dish are technically warm-weather fare (zucchini is a close approximation for the squash used in Yucatán), you can also swap in sweeter winter varieties like butternut or acorn; just be sure to adjust the cook time accordingly. Get the recipe >
The recipe for this simple salad of grilled zucchini, avocado, and salty, crumbled añjeo cheese was served at a dinner party attended by Mexican composer Carlos Chávez and Nelson Rockefeller. Get the recipe >
Barbacoa is a popular weekend breakfast in Oaxaca and the traditional meaty stew is available from multiple vendors at the Tlacolula marketplace food hall. Doña Adolfa has been serving this version, which many locals consider the best, for over 50 years. Get the recipe >
This thick, satisfying brittle is unique, thanks to the addition of piloncillo, a dark, unrefined Mexican cane sugar that's pressed into molds. It already has its own caramel notes before cooking, plus earthy hints of rum and smoke, which bring complexity to the palanquetas' flavor. Get the recipe >
Though Tex-Mex-style fajitas are unknown in Mexico, grilled skirt steak is eaten with tortillas in Nuevo Leon, under the name arrachera al carbon. Get the recipe >
This tomatillo- and lime-based ceviche was inspired by chef Gonzalo Guzmán from Nopalito, a Mexican restaurant in San Francisco. Though Guzmán grinds his own masa to make chips from scratch, frying store-bought all-corn tortillas is an easy substitute that still yields golden, crispy, and robust chips for scooping. Get the recipe >
Like okra, cactus leaves have a gelatinous interior that lends a creamy mouthfeel to this lightly spicy, sweet-tart granita. Get the recipe >
This dessert, also called chocoflan, gets its name from chocolate cake batter layered on top of flan. Get the recipe >
Popular throughout Latin America, this easy tres leches recipe is thought to have originated in Nicaragua. Get the recipe >
Made with mezcal, grilled pineapple, jalapeño, and lime, this take on the classic margarita is smoky, sweet, and spicy, with an herbaceous kick from cilantro. Get the recipe >