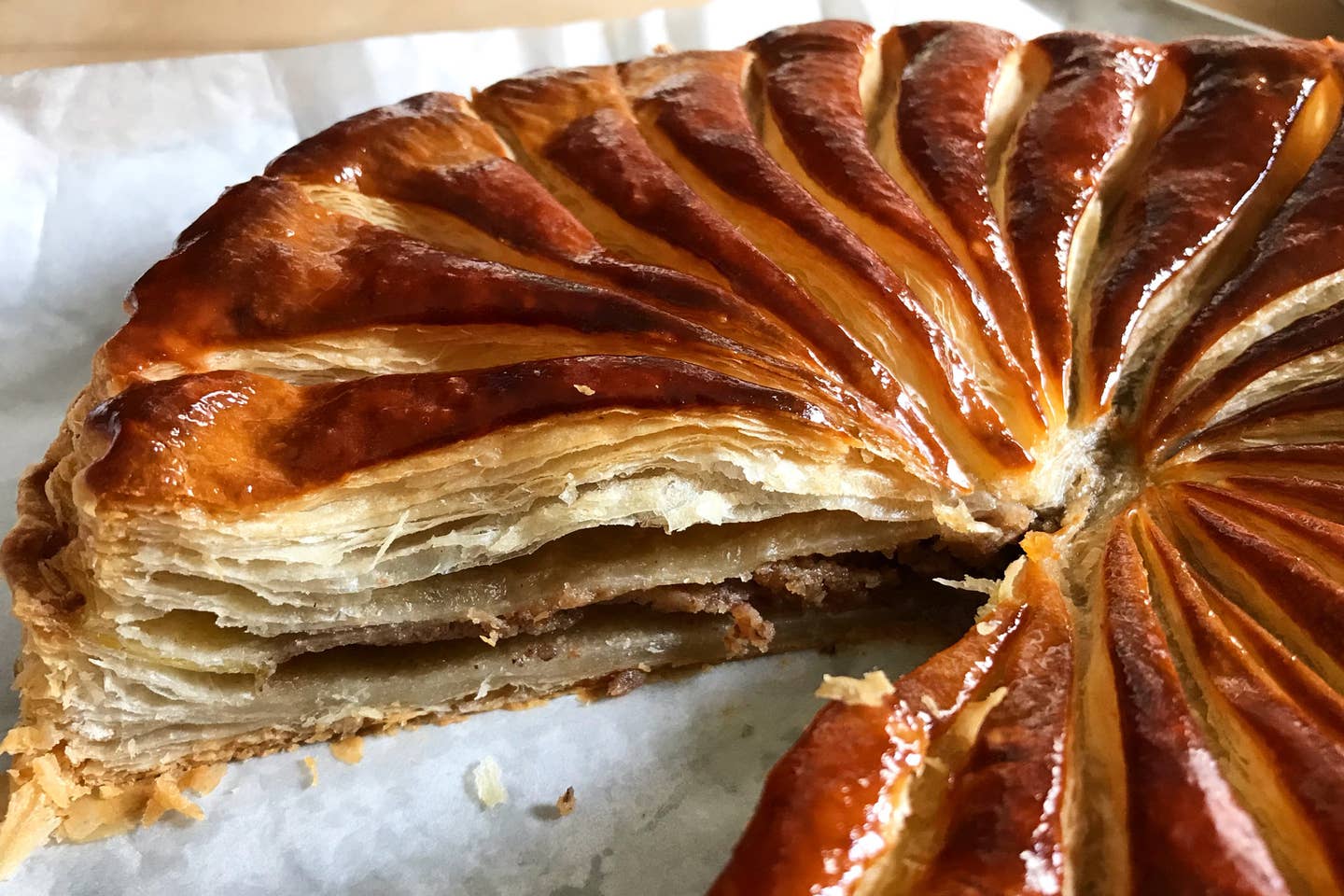 Culture
Queen of the King Cakes
In New Orleans, the customary Mardi Gras dessert gets a feminist rethink.
In New Orleans around Mardi Gras, the king cake options are as plentiful as the post-parade beads lodged in the trees. Do you wake at dawn, schlepp to New Orleans East, and stand in line for an hour at Dong Phuong, the Vietnamese bakeshop that does a brisk sellout of a whipped-cream-cheese-bathed brioche so flaky you'd swear it was a croissant? Or do you swing by Louisiana's homegrown grocery chain, Rouses, for their no-frills, yeasty, cinnamon-roll version—always fresh, always economical—topped with just the right amount of purple, green, and gold sugar crust? Maybe you hit third-generation bakery Haydel's , beloved among some for its annual edition of a painted porcelain charm. Or call ahead to HiVolt Coffee to ask if their shipment of pillowy soft cakes from Hi-Do Bakery in Gretna has arrived. You could go out on a limb this year and try Piety and Desire Chocolate's "Da Crown", filled with earl-grey-and-pink-peppercorn ganache and topped with a satsuma glaze. The berry and chantilly cream filling at Bywater Bakery? Manny Randazzo's pecan praline center? Could there possibly be room for one more king cake in this crowded annual sugarfest?
Three years ago, Christina Balzebre was baking at Willa Jean (owned at the time by John Besh, who was forced to step down later the same year over accusations of sexual harassment) while managing her own pop-up, a sought-after weekly offering of luscious fruit galettes, soft rolls stuffed with prosciutto and gruyere, chocolate chunk cookies, and the like, from the kitchens of the city's popular Mosquito Supper Club. Her operation, dubbed Levee Baking Company, was selling out every Saturday and had already garnered a handful of wholesale clients. Balzebre was just contemplating calling it quits at Willa Jean to go full-time when she decided to add a king cake to the offerings. Meanwhile, news of Besh's behavior was beginning to break, along with a wave of #metoo revelations, finally lifting the curtain on the toxic environment pervasive in so many restaurants. "I thought to myself, 'Why? Why does it have to be a KING cake?'" Balzebre recalls. "I decided I'd call them Queen Cakes. It seemed like just the right time to flip the script."
The recipe takes its inspiration from the French galette des rois, a layer of frangipane sandwiched between two circles of puff pastry. Instead of the almond paste, Balzebre uses Louisiana pecans, toasted until dark and fragrant, then mixed with sugar, butter, eggs, and candied citrus. Whichever fruits the three citrus vendors at the Crescent City Farmers Market have on offer—kumquats, blood oranges, tangelos, Meyer lemons—is what she uses that week.
Levee settled into its first permanent home—a pale green building just off Magazine Street, with exposed brick and an airy, open feel inside—last summer. As a result, this Mardi Gras, Balzebre was able to up their production of Queen Cakes from 20 a week to 20 in a single day. Since the season officially began on January 6th, Levee has sold around 450, each with its own porcelain charm, or fève, handmade by local artist Jackie Brown (@jackiebrownceramics on Instagram).
Are Levee's Queen Cakes popular? Yes. Anyone queuing up at dawn for them? No, as you can call ahead to put your name on one. Still, Levee had to put a cap on orders the week leading up to Mardi Gras this year. Explains Balzebre, "Jackie can only make so many of her beautiful charms in a season. We were starting to run low."