Culture
Singapore Noodles Don't Come From Singapore
This curried rice noodle dish so popular around the world is not, in fact, from Singapore.
Serves

serves 2

Cook

40 minutes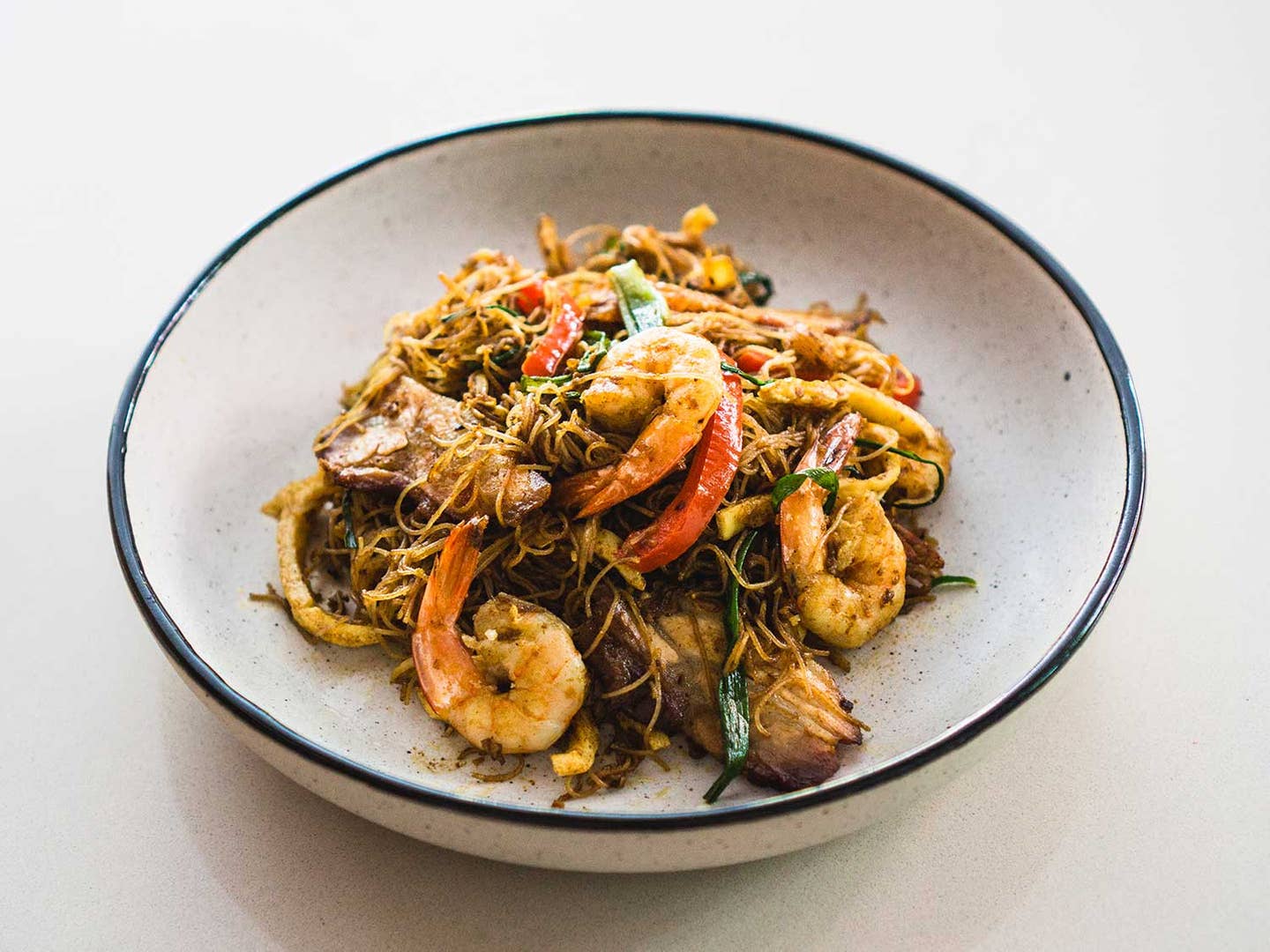 All across the island nation of Singapore, you'll find spicy laksas (curried noodle soup with coconut milk) and piquant hae mee (prawn noodles), the slightly-charred fried kway teows (made with wide but delicate strips of rice cake) and offal-laden bak chor mee (literally translated "minced meat noodles"). But in a region known for its multitude of noodle dishes, the one eponymous to this country isn't even on the list.
Despite their name, Singapore noodles—a curried rice vermicelli that's so popular on menus around the world—did not originate in Singapore. In fact, their origins don't even lie in Southeast Asia. You can trace the history of this dish back to a different island state 1,600 miles north: Hong Kong.
According to Natasha Pack, a food journalist at the South China Morning Post, Singapore noodles were created in the 1950s or '60s by chefs in Hong Kong who may have used the name in order to add panache to their stir-fried noodle dishes. And since Hong Kong was then a British colony and a booming trading hub, spice powders and curries from the previously British-ruled India were readily available, prompting the cooks to use these ingredients in their dishes.
The dish grew in popularity in cha chaan tengs, no-frills eateries known for their sprawling menus and affordable meals. Thanks to the simplicity of Singapore noodles—just slap together a bunch of noodles, meat, and vegetables in a searing hot wok along with a smattering of curry powder, and it's done—the dish was perfect for the fast, frantic laborers and blue-collar workers of 1960s Hong Kong, who needed affordable, carb-heavy meals for sustenance. And as cha chaan tengs grew with the booming working class, Singapore noodles grew right alongside them. Then, as the Chinese diaspora swept across the Western world, this Hong Kong dish travelled with it, and started popping up in Chinese takeout restaurants and Chinatown buffet joints across the United States, United Kingdom, Australia, and wherever the Chinese went.
What Exactly Are Singapore Noodles?
There aren't many rules when it comes to the recipe, but there is a consensus on the noodles: It has to be rice vermicelli, those thin white strands of noodles made from rice flour.) Also, the dish must be flavored with a teaspoon or two of curry powder (usually the spicier Madras), then stir-fried in a scalding-hot wok. Prawns, eggs, and Cantonese-style barbecued pork (char siu) make regular appearances, but beyond that, cha chaan tengs and Chinese takeout shops tend to take an everything-but-the-kitchen-sink approach with the rest of the ingredients, adding anything from bok choy to bell peppers.
The variations are as numerous as the cooks who prepare it: Rather than a simple sauce of Shaoxing rice wine and soy, this recipe by Chinese-American chef Ken Hom involves a more elaborate reduction that also includes chicken stock and coconut milk. British-Taiwanese celebrity chef Ching He Huang adds smoked bacon lardons, shredded chicken, and oyster sauce to her version. Chinese-American author Grace Young, who wrote the James Beard Award-winning Stir-Frying to the Sky's Edge, demonstrates "how dramatically different Singapore noodles are in Southeast Asia" with her inclusion of Nyonya-style (a highly-seasoned fusion cuisine created by Chinese immigrants to Singapore and Malaysia) Singapore noodles that incorporate sambal, ketchup, and kecap manis (a thick, sweetened soy sauce used in the Malay archipelago) into the curry base.
Whatever the additions, the two key elements—a dust cloud of curry powder, and a swirl of stir-fried rice vermicelli—never fail to tie the hodgepodge of proteins and greens together. The result is a deceptively simple, umami-laden, wholly-spiced dish that can be ready in a matter of minutes.
Singapore noodles aren't just an instant takeout classic; they're equally easy to whip up from scratch at home. Here's my own riff on the dish.
How to Make Singapore Noodles
The noodles are the star of this dish, so it's important to use the right kind: rice vermicelli. These thin, delicate rice flour noodles can go from springy and perfectly cooked to gloopy and sticky in an instant. Plop into a large pot of boiling water for 60 seconds, then drain the noodles in a colander, without rinsing. Let the noodles dry in the colander, cover with a cloth, and give them a toss every 5-10 minutes, until cooled to room temperature.
Eggs are a must. Pour beaten eggs into a hot wok, swirling gently so that the egg forms a thin layer along the surface. Once set, transfer the egg to a cutting board, then roll it tightly and cut into thin slices.
Shrimp and Chinese barbecued pork are staples in Singapore noodles, though fried tofu or chicken make for worthy substitutes as well. Whichever you pick, sear them off in the wok with a tablespoon of oil. Once cooked through, remove the proteins from the wok and set aside. (They will be added back at the end.)
As with any good Chinese stir-fry, start by building a base flavor of aromatics—garlic, shallots, and a touch of ginger. Fry them in a sizzling hot wok until softened and fragrant but not yet browned.
Borrowing from the Indian technique of tadka (tempering), mix the curry powder into the base aromatics, along with a bit of turmeric powder to form a ruddy paste. As the paste cooks, the spices will meld with the oil and alliums, bringing out their full flavor and releasing a heady, nose-tickling aroma.
This is where each Chinese takeout joint or Hong Kong cha chaan teng will add their own flair to the dish. Beansprouts, bell peppers, and lanky spring onions are common additions, though it isn't unheard of to find carrots, snow peas, bok choy, mushrooms, or even crunchy water chestnuts in the mix.
Add the cooked, cooled noodles, then add the soy sauce, Shaoxing wine, and a dash of sesame oil. Then, using a pair of chopsticks, lift and loosen the noodles, tossing them through the vegetables to mix. Keep the wok over a high heat throughout to quickly evaporate any excess liquid and to give the dish that nice, stir-fried singe.
Finally, add the cooked proteins and give the noodles a final toss. Transfer to a large plate and top with a few sprigs of cilantro for garnish.
Ingredients
3½ oz. dried rice vermicelli
2 large eggs, lightly beaten
7–8 medium shrimp (3 oz.), shelled and deveined
Kosher salt
2 small shallots, finely minced (¼ cup)
One 1-inch piece of ginger, peeled and minced (1 Tbsp.)
3 medium garlic cloves, finely minced (1 tsp.)
2½ tsp. yellow curry powder
1 tsp. turmeric powder
1⁄2 small yellow onion, thinly sliced with the grain (¼ cup)
1 medium scallion, thinly sliced (¼ cup)
1 stalk Chinese chives, thinly sliced (¼ cup)
1⁄2 red bell pepper, thinly sliced (⅓ cup)
1⁄3 cup soybean sprouts
3 Tbsp. plus 1 tsp vegetable oil, divided
1 Tbsp. Shaoxing wine
1 Tbsp. soy sauce
1 tsp. sesame oil
10-15 slices (about 3 oz.) char siu (Chinese barbecued pork) or lap cheong (Chinese sausage, thinly sliced
Cilantro sprigs, for garnish
Instructions
Step 1
Cook the vermicelli: Bring a large pot of water to a rolling boil, then drop the noodles in, stir well, and cook just until tender, 50–60 seconds. Drain well and set the noodles aside to dry in a large sieve for 20-30 minutes, tossing occasionally to prevent clumping.
Step 2
Meanwhile, heat a wok over medium heat, then add a teaspoon of vegetable oil, swirling to coat the surface. Pour the eggs into the center of the wok, then immediately tilt and swirl the pan to form a thin, even layer. Cook until the egg is thoroughly set, 2-3 minutes, then transfer it to a heat-resistant cutting board and set aside until cool enough to handle. Roll the omelet up tightly, slice into ¼-inch wide strips, and set aside by the stove.
Step 3
Return the wok to high heat and add 1 tablespoon vegetable oil, swirling to coat the surface. When the oil begins to smoke, add the shrimp, season with a pinch of salt, and cook, stirring frequently, until they are pink and just barely cooked through, about 1 minute. Use a slotted spoon or a wok spatula to remove the shrimp from the wok and set them by the stove along with the sliced egg.
Step 4
Use a dry paper towel to wipe the wok clean, then return it to high heat. Add the remaining 2 tablespoon vegetable oil, swirling to coat the surface. When the oil begins to smoke, add the shallots, ginger, and garlic and cook, stirring continuously until fragrant but not yet colored, 30-60 seconds. Add the curry powder, turmeric, and a pinch of salt and continue cooking, stirring continuously, until the spices are completely incorporated into the aromatics and smell faintly toasted, 1-2 minutes. Add the onion and continue cooking just until softened, 2–3 minutes, then, add the scallions, Chinese chives, red bell pepper, and beansprouts and cook, stirring continuously, for 30 seconds. Add the reserved noodles, along with the Shaoxing wine, soy sauce, and sesame oil. Using a pair of chopsticks or tongs, lift and toss the noodles to loosen them, allowing them to fry evenly, and incorporating them with the liquids and vegetables. Add the reserved eggs, the char siu or ham, and the shrimp and give the mixture a few final tosses in the wok until the proteins are heated through. Transfer the noodle mixture to a plate, garnish with a few sprigs of cilantro, and serve immediately.