Recipes
Singapore Noodles
The curried rice noodle dish has seen huge global success, yet so few know where it originated.
Serves

serves 2

Cook

40 minutes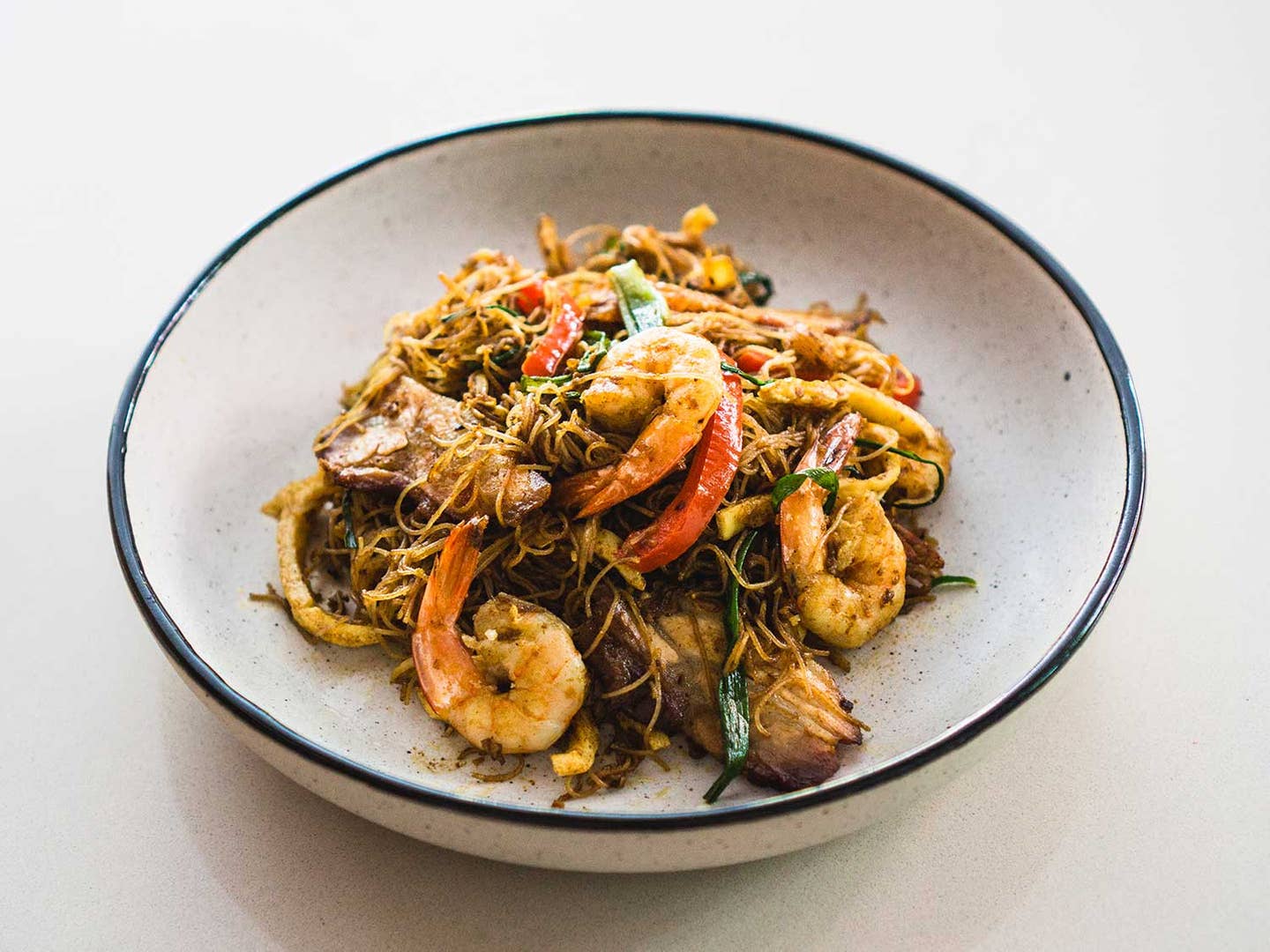 Tangles of rice vermicelli, a fragrant dusting of curry powder, and a medley of Asian vegetables and proteins form the base of this Cantonese—not Singaporean—classic.
Ingredients
3½ oz. dried rice vermicelli
2 large eggs, lightly beaten
7–8 medium shrimp (3 oz.), shelled and deveined
Kosher salt
2 small shallots, finely minced (¼ cup)
One 1-inch piece of ginger, peeled and minced (1 Tbsp.)
3 medium garlic cloves, finely minced (1 tsp.)
2½ tsp. yellow curry powder
1 tsp. turmeric powder
1⁄2 small yellow onion, thinly sliced with the grain (¼ cup)
1 medium scallion, thinly sliced (¼ cup)
1 stalk Chinese chives, thinly sliced (¼ cup)
1⁄2 red bell pepper, thinly sliced (⅓ cup)
1⁄3 cup soybean sprouts
3 Tbsp. plus 1 tsp vegetable oil, divided
1 Tbsp. Shaoxing wine
1 Tbsp. soy sauce
1 tsp. sesame oil
10-15 slices (about 3 oz.) char siu (Chinese barbecued pork) or lap cheong (Chinese sausage, thinly sliced
Cilantro sprigs, for garnish
Instructions
Step 1
Cook the vermicelli: Bring a large pot of water to a rolling boil, then drop the noodles in, stir well, and cook just until tender, 50–60 seconds. Drain well and set the noodles aside to dry in a large sieve for 20-30 minutes, tossing occasionally to prevent clumping.
Step 2
Meanwhile, heat a wok over medium heat, then add a teaspoon of vegetable oil, swirling to coat the surface. Pour the eggs into the center of the wok, then immediately tilt and swirl the pan to form a thin, even layer. Cook until the egg is thoroughly set, 2-3 minutes, then transfer it to a heat-resistant cutting board and set aside until cool enough to handle. Roll the omelet up tightly, slice into ¼-inch wide strips, and set aside by the stove.
Step 3
Return the wok to high heat and add 1 tablespoon vegetable oil, swirling to coat the surface. When the oil begins to smoke, add the shrimp, season with a pinch of salt, and cook, stirring frequently, until they are pink and just barely cooked through, about 1 minute. Use a slotted spoon or a wok spatula to remove the shrimp from the wok and set them by the stove along with the sliced egg.
Step 4
Use a dry paper towel to wipe the wok clean, then return it to high heat. Add the remaining 2 tablespoon vegetable oil, swirling to coat the surface. When the oil begins to smoke, add the shallots, ginger, and garlic and cook, stirring continuously until fragrant but not yet colored, 30-60 seconds. Add the curry powder, turmeric, and a pinch of salt and continue cooking, stirring continuously, until the spices are completely incorporated into the aromatics and smell faintly toasted, 1-2 minutes. Add the onion and continue cooking just until softened, 2–3 minutes, then, add the scallions, Chinese chives, red bell pepper, and beansprouts and cook, stirring continuously, for 30 seconds. Add the reserved noodles, along with the Shaoxing wine, soy sauce, and sesame oil. Using a pair of chopsticks or tongs, lift and toss the noodles to loosen them, allowing them to fry evenly, and incorporating them with the liquids and vegetables. Add the reserved eggs, the char siu or ham, and the shrimp and give the mixture a few final tosses in the wok until the proteins are heated through. Transfer the noodle mixture to a plate, garnish with a few sprigs of cilantro, and serve immediately.