Shopping & Reviews
The Best Bar Mats to Protect Your Home Bar Surface
A simple measure to keep your bar top clean and safe.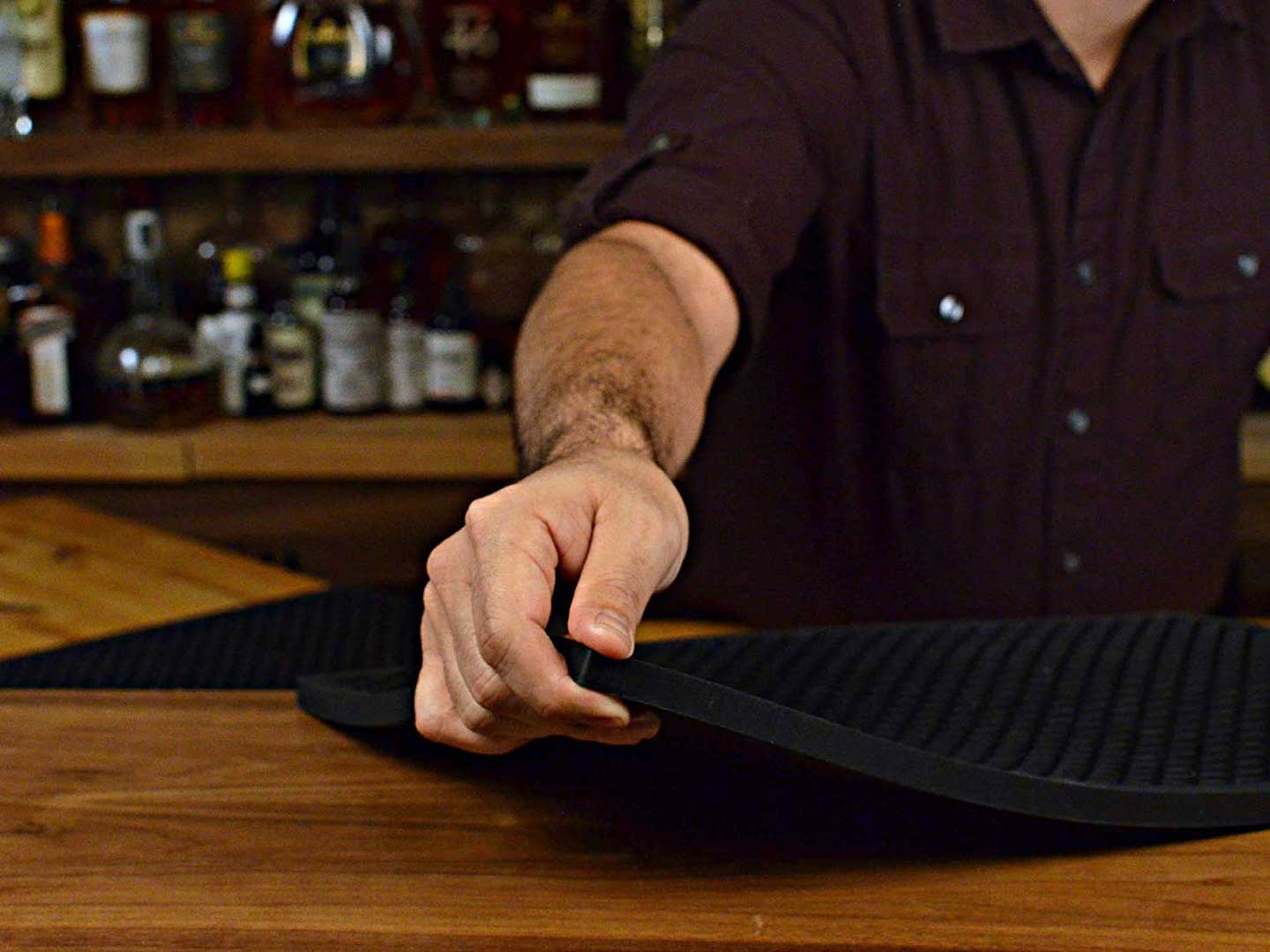 So, you've invested time, energy, and dollars in building your home bar––all that's left to do is protect it from the potential dangers of making a drink. "Cocktails contain many ingredients that could eat away at a surface or are just plain tough to clean up––like acid from citrus juice, dried sugar from syrups, melted ice, condensation," says Megan Ardizoni, East Coast Senior Beverage Director at TAO Group. "Using a bar mat is like using a roasting pan instead of roasting food directly on the oven rack. It means much less effort to clean and keeps your equipment tidy and new-looking."
At almost any bar you might visit, you can bet on seeing mats lined up on the bartender's workstation, It's a simple measure for collecting pooling liquids, and is usually cleaned easily by tossing into a dishwasher.
So what does one look for when shopping for the perfect bar mat? Ardizoni weighs in: "It's most important to select one that is sturdy and solid. If a mat is too soft, cocktails may tip over when stirring, creating a big mess or a broken. I'd also recommend taking note of the dimensions of the surface you plan to put the bar mat onto before purchasing. You'll want one that's sized correctly to lay flat on the area of use––not hanging off a corner or squeezed into a space and creating a bump."
Now that you're ready to go forth and shop, here are our top three bar mat picks for protecting your home bar.
Heavy Duty Silicone Bar Service Mat
This bar mat is built to last. Designed and created by a longtime bartender, this dishwasher-safe mat is available in two different sizes and features non-slip backing, elliptical prongs for added stability, extra depth, and a thicker-than-usual edge. Bonus: when not in cocktail mode, you can use your ultra-sturdy mat for dish drying.
"Make It A Double" Home Bar Mat
For the design-minded home bartender, a graphic option is the way to go. This "Make It A Double" mat is a great option for the less serious home bartender who values form over function––it's a no-frills statement piece ideal for recreational mixing.
Bartender's Cocktail Metallic Bar Mat (Multiple Colors and Sizes)
Add a splash of color to your bar station with these multicolored metallic service mats, available in various sizes. If you're looking to match the finish of your bar tools or generally add a luxe feel to your bar, look no further.