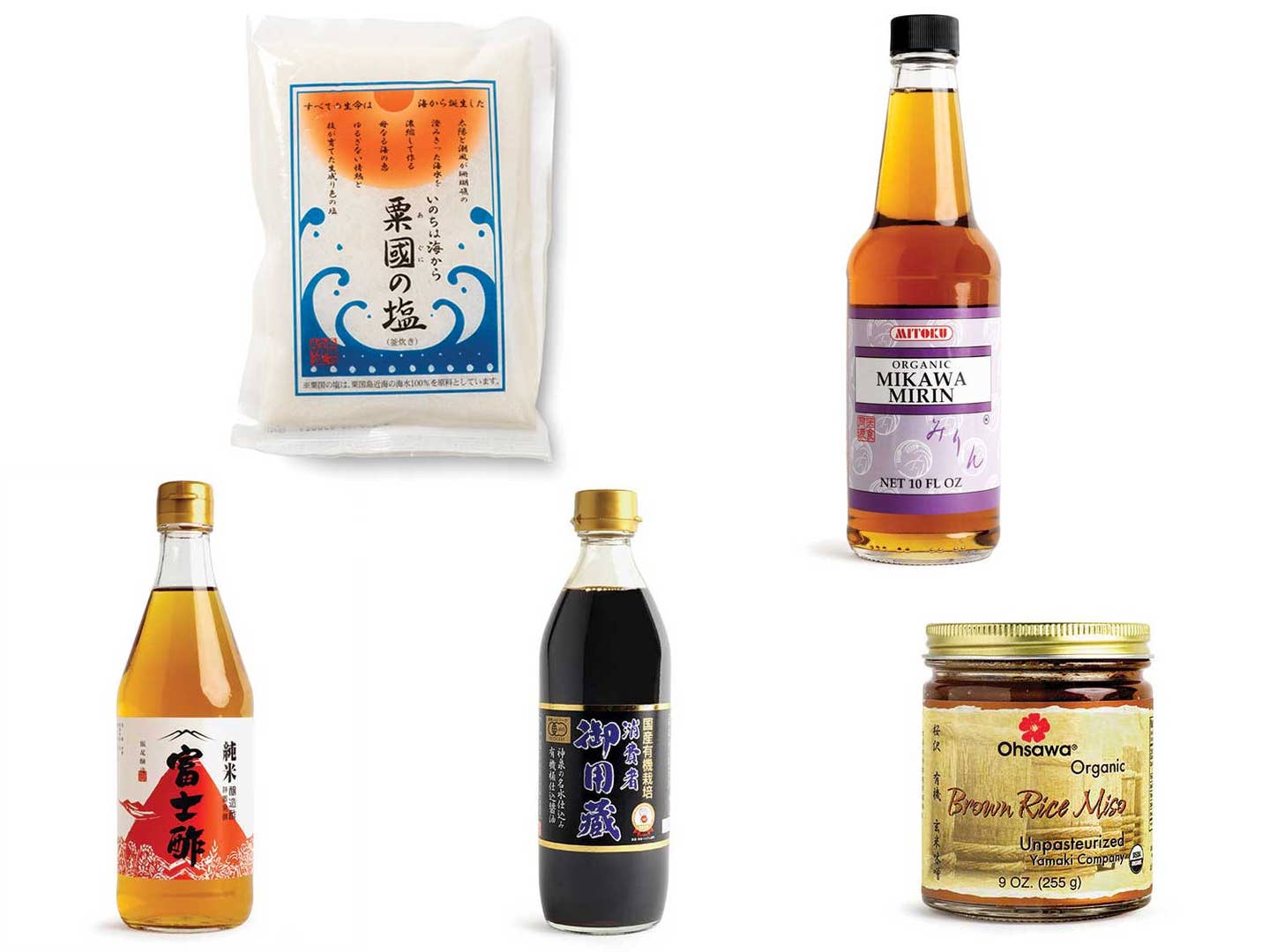 Techniques
How To Stock a Japanese Pantry
These elements are the building blocks of superlative home cooking
Among the foremost English-language experts on Japanese cuisine—and a Saveur contributor—­Nancy Singleton Hachisu has established deep, long-standing relationships with chefs, growers, and craftspeople throughout her adopted country. In Food Artisans of Japan, she profiles her culinary heroes and shares their exactingly authentic recipes. It won't take much reading for you to realize your mass-market soy sauce will no longer cut it. Good thing, then, that Hachisu's picks for miso, mirin, and more are now available stateside.
Since the Japanese government deregulated salt production in the late 1990s, a number of artisanal options have come on the market. This one, from the tiny island of Aguni, is created by dripping seawater down bamboo branches before it evaporates in enormous metal pans.
To judge the quality of mirin, a naturally sweet cooking wine not unlike sake, simply take a sip. The finest examples—Hachisu calls this one "indisputably the best in Japan"—go down like a liqueur.
The current president of Iio Jozo represents the fifth generation of his family to operate this 126-year-old institution—and the third to insist on organic rice production. The brewery processes the grain in-house, then ferments the resulting sake into a vinegar that retains a pronounced rice aroma.
D. Yamaki Jozo Organic Soy Sauce
Most soy sauce is made from ­defatted soybean grits—a by­product of soybean oil ­production—which are heated in order to complete fermentation within six months. Yamaki Jozo, on the other hand, ferments whole, grown-in-Japan soybeans for almost two years, yielding a mellow and complex final product.
E. Ohsawa Yamaki Organic Brown Rice Miso
Yamaki Jozo also creates miso worth seeking out, sourcing ingredients locally instead of relying on Chinese soybeans, as even many high-end organic producers do.