The Best Pressure Cookers for Tender Braises and Creamy Beans
Need a new multitasker for your kitchen? Here are the eight best options out there.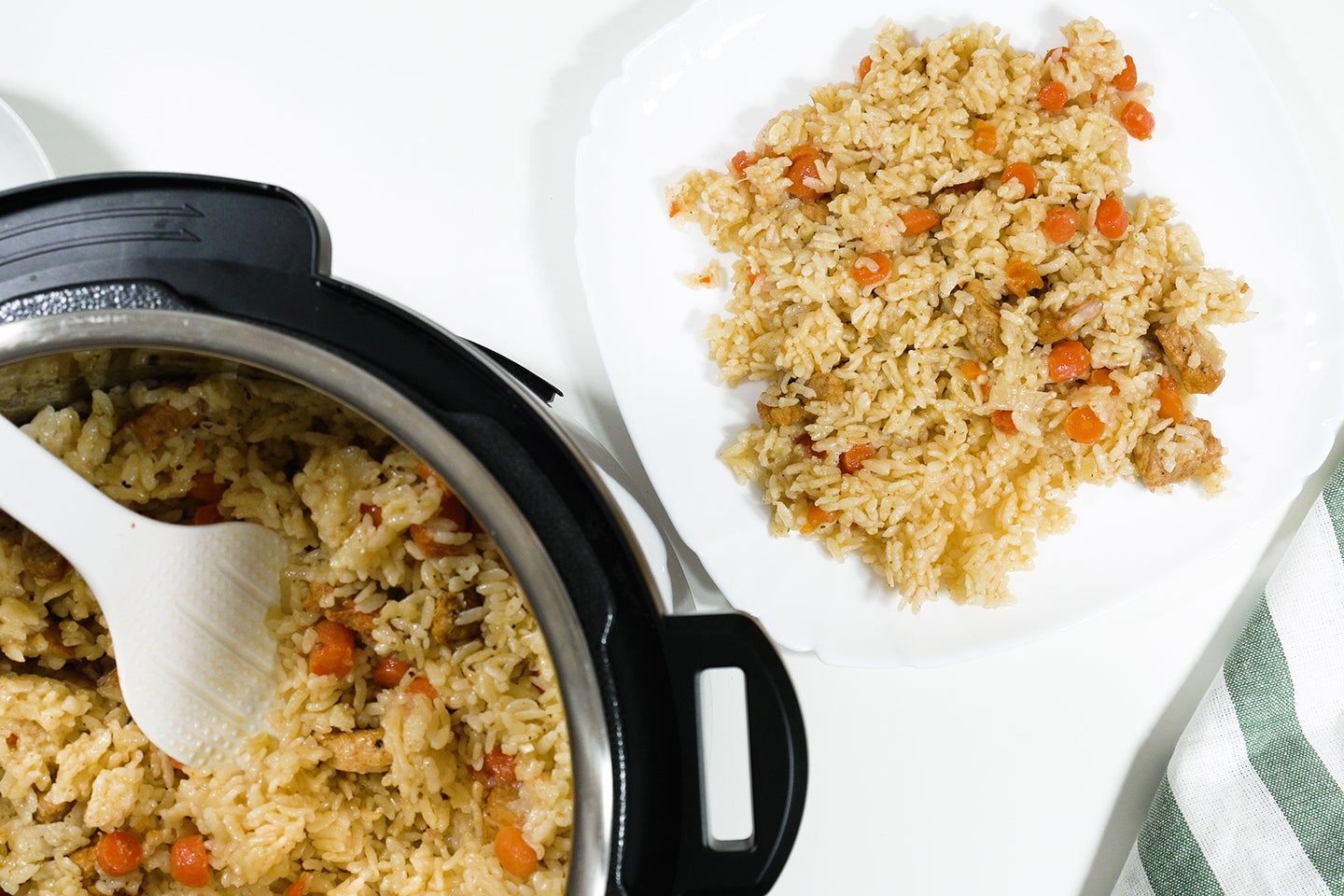 Pressure cooking is a great way to save time in the kitchen, whether you prefer the hands-on approach of a stove-top pressure cooker, or the convenience and multifunctionality of an electric set-it-and-go pressure cooker (or, more accurately, multicooker). Although the concept of pressure cooking was invented in the 17th century, technology has come a very long way and, more importantly, modern offerings—stovetop and electric alike— are much safer today. 
Where pressure cookers really shine is shaving time off longer cooking processes, such as braising meat, simmering beans, and boiling rice (particularly brown rice!). Performing these basic tasks identically and consistently was an important criteria for this selection, as was cost vs. performance, size, functionality and ease of cleaning. For stovetop models, in addition to basic tasks, I looked at how easy it was to secure the lid, how quiet they are during cooking, how quickly they came to pressure, and how easy they were to take apart and clean; the whole point of a multicooker is to make life easier, after all!  
Whether you prefer to set your recipe and walk away, or enjoy being hands-on, I tested eight models from trusted brands to help you decide on the best option for you. 
Our Top Picks
Passing all of my cooking tests with ease, this machine produced fluffy rice, creamy beans, and tender braises, and is perfectly flat for deep, even browning when searing meat. Its interface is simple and intuitive, featuring buttons for each function, and a knob for toggling settings like time, pressure, and temperature, plus the dark screen with white text was the easiest to read of all the electric models. A standout feature is the "Favorites" function, which allows you to create and save up to five custom presets for your go-to recipes.
Despite some relatively minor shortcomings (I wasn't completely sold on the results from the bake and sous vide settings), this machine still outperformed all of the electric models. Its little touches, such as the diffuser cap on the steam vent, a separate switch for releasing pressure, and the stay-cool handles on the cooking pot, are what set it apart from the rest. Plus, it's not that much more expensive than my value pick, making it a fantastic buy.
This was the very first Instant Pot I ever bought, and after five years, it still performs as well as it did on day one. It's also a favorite of Kristina Gill, food photographer and author of Tasting Rome. "I love the hands-off nature which allows me to multitask," she says. "I love using it for dal and legumes in general, and for meats that need long cooking times like short ribs." The interface is intuitive, with one button for each function, and additional buttons used to toggle between high and low pressure and set the cook time.
Overall, it performs almost as well as the Pro model (above), only falling short on the slow cook function (honestly, though, this isn't a dealbreaker for me—I've never used the function until testing the machine for this review). The price really can't be beaten, especially with how versatile and reliable this model is. The Duo also comes in an 8 Quart model, which is great for larger families, and a 3 Quart model, which I love as an option for smaller kitchens.
Stovetop methods have a clear time advantage. As El-Waylly says, they come to pressure much faster than their electric counterparts, and in every test this model only took about a minute or two to reach pressure, vastly outpacing all of the electric models. The 10-inch diameter cooking surface gave me lots of space for searing, and the stainless steel construction offered even browning for maximum maillard goodness. There are clear markings inside the pot to indicate the two maximum fill lines for grains and everything else. (Note: When cooking grains in a pressure cooker, you should only fill it halfway to account for expansion during cooking.) Securing the lid is easy, with arrow-shaped indicators showing how to position it before twisting to lock into place. Cleanup is also simple—the pot is dishwasher safe, with only the lid and gasket requiring hand-washing.
This was the most inexpensive model I tested, and while it doesn't feel quite as heavy duty as the Zavor model, it's a solid piece of cookware, and still handled beans and braises about as well. The most glaring disadvantage is that this model doesn't offer a low pressure setting, which is better for cooking more delicate foods like fish, grains, certain vegetables, and hard-boiled eggs, but this may not be a dealbreaker for some. In fact, a quick search online will show that you can still cook all of these things using high pressure, but for a shorter amount of time than if you were using low pressure.
The pressure gauge is deeply recessed in the handle, making it harder to tell when the correct pressure was reached compared to other models. This was also the only model that required assembly—the handles for the lid and pot arrive detached, but assembly was super simple and fast, taking only a couple of minutes to secure the handles to the pot. While these few small details kept this model from taking the Best Stovetop spot, it performed almost as well as the Zavor, coming to pressure quickly, cooking quietly, and producing tender, creamy beans, and fall-apart braises, making it an excellent value.  
We Also Tested
Overall, the Ninja Foodi performed basic functions as well as all of the other electric pressure cookers—it made short work of rice, beans, braises, and risotto. The interface was great, but the air fryer design lacked functionality. Unfortunately, I wasn't crazy about the anodized, coated cooking pot; it's slightly domed in the center, forcing cooking oil to pool all around the perimeter, which encouraged sticking. 
Performance-wise, the Zavor Lux worked as well as my top pick, but it fell a little short in the interface department. The knob used to toggle through functions and other settings is very sensitive, requiring a more delicate touch, which was frustrating at times. The text on the screen is also smaller and harder to read than my top pick. It's also a bit more expensive than the Instant Pot Pro, while lacking some of the features that put the Pro in the top position, like the stay-cool handles. Just the same, this is still a great machine—the stainless steel cookpot was great for searing and sautéing, and it passed all of the cooking tests with flying colors. 
This is the first electric pressure cooker I ever bought, years before Instant Pot hit the market. The interface is very, very simple, which can be great for someone who doesn't want to deal with a bunch of pre-sets. There are only three buttons, one for toggling through the six functions, one to set the time, and one to start and stop the timer. At the end of the day, this unit can do most of the functions that an Instant Pot can, if you're willing to adjust the settings manually. The nonstick cooking pot does make it a little difficult to get good browning when searing meat, though it makes clean-up very easy. 
This is El-Waylly's pressure cooker of choice. "It has no buttons and could not be more straightforward," she says. "The pot has a heavy bottom, so it sears well." And I agree. It's a good pressure cooker, was very easy to use, quiet, and handled all of my tests well. It's taller and narrower than my top pick, with two short handles, like a stockpot. Through testing different models, however, I discovered I prefer the handle construction on the Zavor and Presto, which both featured one long handle and a shorter "helper" handle.   
Features to Keep in Mind
Types of Pressure Cookers
It's no surprise that electric pressure cookers tend to be more convenient, especially since so many models are enhanced with multiple functions, allowing you to prepare whole meals with just the touch of a button. However, stovetop varieties still have their loyal fans, such as food writer and recipe developer Sohla El-Waylly. "I much prefer a stovetop pressure cooker over an electric one. They come up to pressure significantly faster and I like their lack of buttons," she says. "Another plus—my preferred way to depressurize a cooker is to run it under cool water, which isn't an option for an electric model. This method allows you to quickly cool down a cooker without all the tumult that's caused when you hit the steam release valve, so you can still get a clear broth or intact grains without having to wait for the cooker to cool naturally." 
Capacity
The most common size on the market is 6- and 8-quarts but smaller and larger options are available to best suit your needs. When selecting, consider how much space you have and how many people you're cooking for, plus additional features (such as an air fryer) that may add bulk to the machine. 
Settings & Additional Functions
Most electric pressure cookers offer a variety of settings and functions so you can perform all kinds of tasks, from sautéing and browning veggies and meat before setting up a braise, to cooking rice, making yogurt, and even air-frying and baking. While having a lot of options is great, it's also important that the machine is easy to use with intuitive controls and able to cook with both low and high pressure for maximum versatility (more delicate foods, such as grains, can get obliterated when cooked under high pressure).
Ask the Experts
What should I not cook in my pressure cooker?
"Anything that is shorter/better on the stove," says Gill. "Rice, for example, is convenient in the Instant Pot, but the cooked quality isn't ideal."
Are there accessories that I should purchase for my pressure cooker?
"I bought a silicone roasting rack that sits on the bottom of the pot so you can layer things on," says Gill. "It is useful! I use it when I make ribs and meat so that the fat drains to the bottom. I also use it sometimes to steam vegetables, like pieces of pumpkin—things that won't fall through it. The silicon one doubles as a trivet."
Every product is independently selected and vetted by editors. Things you buy through our links may earn us a commission.