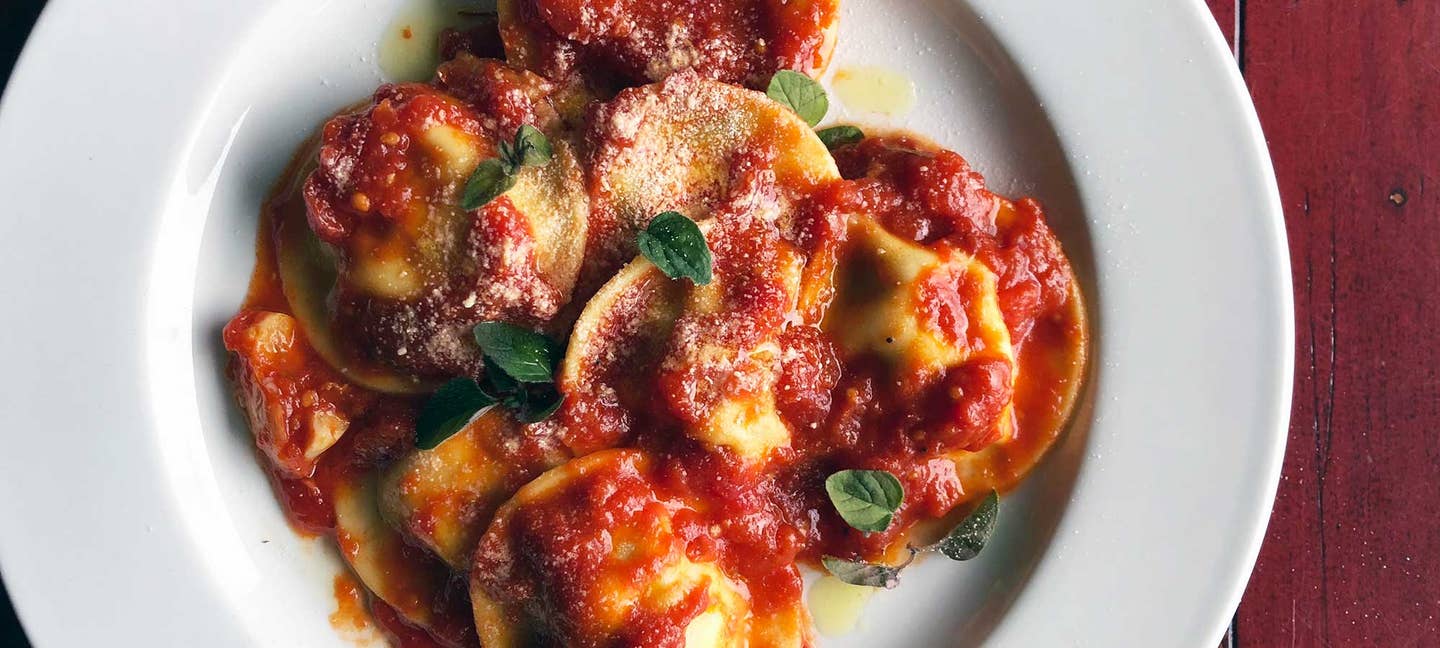 Culture
Stuffed Pasta is an Italian Tradition During the Holidays
To Italian-Americans, pasta can be the most important dish of a holiday meal
Every Italian-American who grew up with parents or grandparents that cooked has one of these memories—the kind where you stood next to the stove or countertop as a kid at half the height of the adults and watched the pasta and "gravy" get made. In my family, southern Italian in lineage on both sides, this sweet memory would usually involve getting to dip a piece of Wonderbread or a spongy Italian roll into the sauce as it simmered, or stirring the pot occasionally for mom or grandma using a long wooden spoon. (I still own and cook with the skinny wooden spoon my mother used throughout my whole childhood.)
As I grew older, simply watching and tasting turned more substantially into helping. For years in grade school, the day before Christmas, my sisters and I would stand at the stove on stepstools, one of us pouring the manicotti batter out of a Pyrex glass measuring cup and another swiveling the nonstick pan quickly and evenly to create a flat circular pasta wrapper. We laugh now that we'd practically scorch our tiny fingertips helping turn the manicotti shells in the pan with our hands—which was simply the most efficient way to do it.
In most Italian-American families, a simple bowl of red-sauce macaroni was a ritual that occurred at least weekly. Our mom would often start the pot of sauce going before we had even left for school. Then we'd push open the door after returning home to find the whole house cloaked in a sweet smell of all-day-cooked tomatoes, basil, and garlic. In those weeknight moments, boxed dried pasta with fresh sauce was plenty satisfying. But on holidays, when mom and grandma would pull out all the stops and be cooking for literal days on end, that's when we made the special pastas and served them as just one of many courses.
In Italy, a primo—usually a starch-based dish such as pasta or rice—is a given course for any formal meal. For many families, it is an indispensable part of the holiday dinner. Stuffed pastas are a go-to choice: On some holiday tables, you might see pumpkin ravioli with sage or ricotta-filled ravioli with red sauce. We often had those handmade manicotti on Christmas, eventually wrapped around a ricotta and herb filling and spooned with ladlefuls of sauce. The pasta was then either baked in the case of the manicotti, or for ravioli, served with snowy-fine gratings of pecorino romano. On Thanksgiving, there was almost always homemade lasagna.
Everyone thinks their grandma made the best lasagna in the world, but mine really did. She learned it from my great grandmother who brought it back with her from home in Calabria. A pot of sauce would be cooked all day with whole pork sausages and an almost foot-long slab of beef at the bottom of the pot (both would later be served family-style on the side of pasta in a bowl of their own). All the women and girls in the family would stand together around the kitchen table rolling tiny, marble-sized meatballs flecked with fresh parsley leaves and grated cheese, grandma chasing after us to re-do any that turned out too big or too small. Those would later be pan-fried in olive oil, then scattered between layers of homemade noodles so thin you could literally see through them. We'd parboil the noodles, and between each would fall just a touch of shredded mozzarella cheese and a slathering of sauce. (In my family, ricotta in lasagna would have been sacrilege, a rule I still stand by.)
The time and efforts of making this amount of food for a holiday may sound crazy to some. For most people, the bird or roast and its trimmings are a more than ample feast, and food enough to land you on the couch in your stretchiest pants for the remainder of the day. But for us, the pasta course—which came after the antipasti course and the soup course, and before the bird and sides—was the best part of the holiday. Making it together is a tradition that reminds us where we came from, and a ritual that's worth maintaining together as the years pass. With the time spent standing around and chatting, wearing aprons and taking turns stirring the sauce, making pasta on holidays feels indispensable after all these years—some might argue, a far more festive, communal, and important element to our celebrations than any bird could ever offer.
More Pasta Recipes To Try: