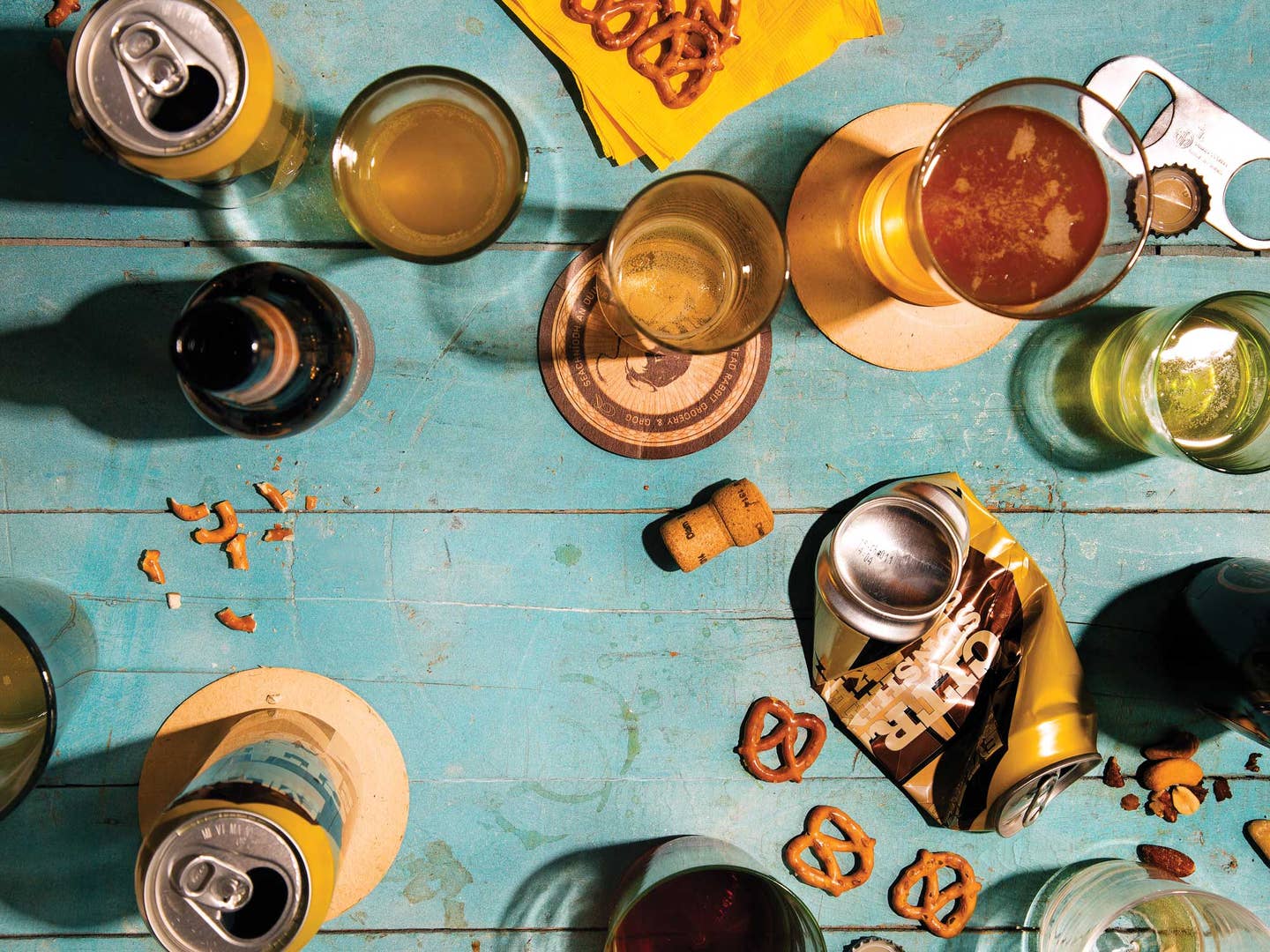 Drinks
Jeppe Jarnit-Bjergsø's 4 Essential Summer Beers
The famed Evil Twin brewer on the bitter, fruity, funky, and sour ways to stay hydrated this summer
If grilling is the essence of summertime entertainment, then beer is the fuel of choice for the fire—light, refreshing, keeping the party going long after the last embers have died. But a thirst-quenching summer beer doesn't need to sacrifice flavor or complexity; the variety is endless, thanks to the mystical alchemy of a few key ingredients. And who better to decode the secrets to summer beer than Jeppe Jarnit-Bjergsø, who runs the beer program at Brooklyn's Tørst and Luksus with chef Daniel Burns?
The two recently released Food & Beer (Phaidon) with coauthor Joshua David Stein. Here, Jeppe breaks down the season's most satisfying beers into four elemental flavors, offers his brewer's insights into the processes that build them, and shares his ultimate picks for a not-to-be-missed brew from each.
Bitterness in beer comes primarily from hops, and in particular from the alpha acids the hops release as they're boiled. "Some would say the hops are the most important component of a beer," Jeppe says. "They can create intensely bitter flavors, but some are more suited for adding complex aromas to the brew." The bitter flavors happen as the hops are introduced to the boil—the longer they're boiled, the more bitterness is brought into the beer.
Perhaps the broadest of the flavors, a lot of beers can be described as fruity, and for different reasons. "Hops, when added more for aroma than bitterness, can cover a range of flavors from strawberry to citrus to coconut," says Jeppe, and depending on the variety, the flavor itself can be as intense as if you'd added some of the fruit itself: "It's extremely popular to add fresh fruit to beer now, and it opens up a whole world of food pairings."
Jeppe recommends: Quelque Chose (Unibroue, 8.0%), a ruby red beer brewed with ripe cherries that plays off both the tartness and the sweetness of the fruit itself.
"While there have always been funky beers," says Jeppe, "it's a relatively new term, and we talk about it mostly with respect to yeast." The yeast's foremost purpose in brewing is to convert sugars to alcohol after the initial boil, but "many wild yeasts, like Brettanomyces, which more and more brewers are experimenting with now, can get very funky," he says, imparting a special farmhouse-y flavor all their own.
Though it goes hand in hand with funk, "when we talk about sourness," says Jeppe, "we're usually talking about lactobacillus," a bacteria that produces lactic acid. Like wild yeasts it can be a bit fickle—you're essentially leaving the process up to nature—but you can learn to control it. "These days," he says, "brewers are making sours out of all sorts of beers; the flavor is often less sharp than the sourness from yeast, and it can play really well together with different varieties of hops."