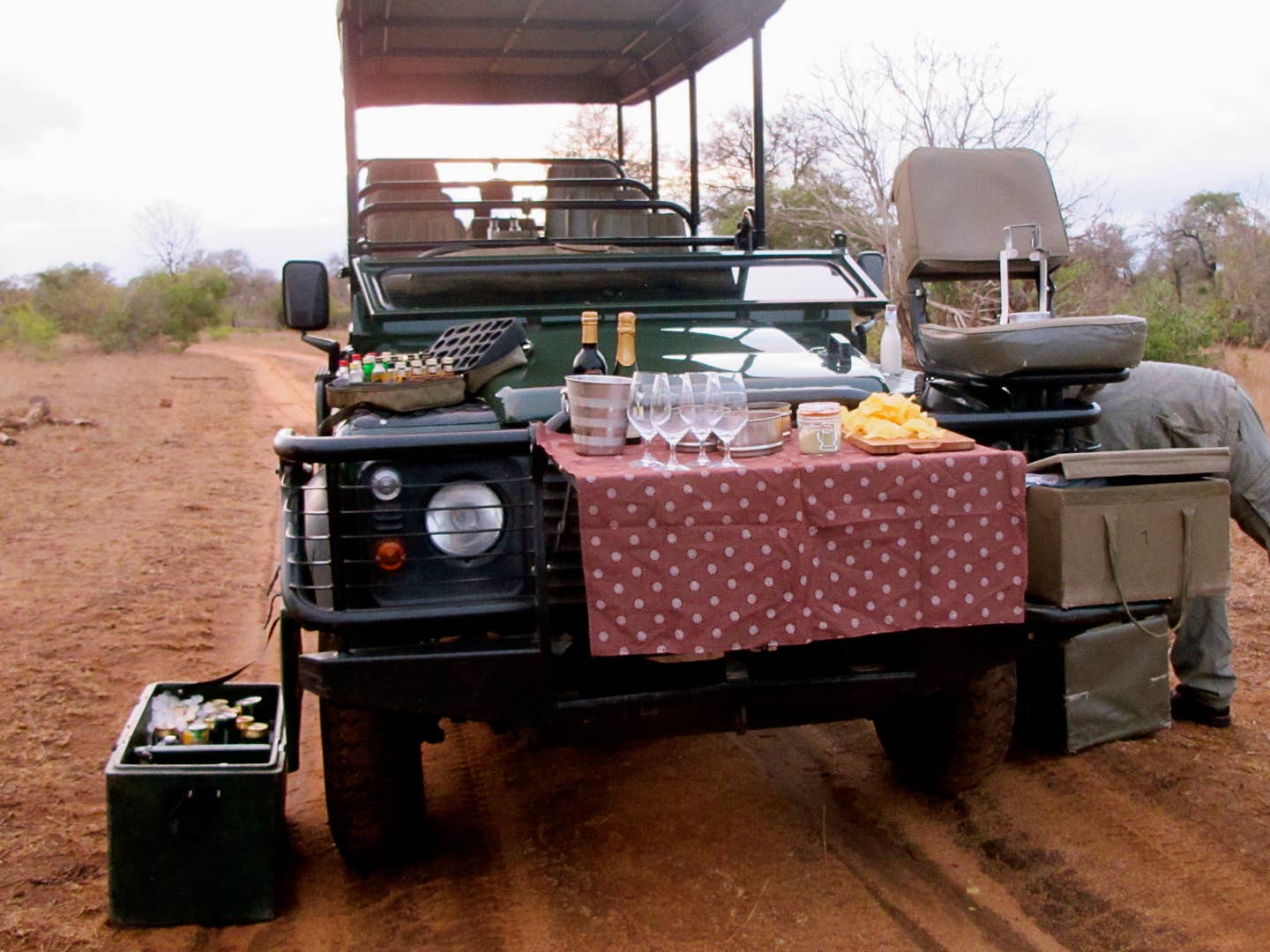 Drinks
How to Toast the End of Your South African Safari
When darkness is nearing, stop what you're doing and make a gin and tonic
I'm riding in an open-air Land Rover on Singita Sabi Sand, a private game reserve in South Africa, and somewhere in the distance there are lions. I know this because earlier we were privy to a pride on a mad and magnificent game ride that included elephants, rhinos, and a leopard whose velvety pelt rippled each time he lifted his leg to mark his territory on an anthill. Soon it will be dark, and when the Land Rover pulls to a stop, the game ride is over. I think.
Our strapping field guide Ian cuts the engine and hops out into the spartan wilderness. "Here looks good," he says, smoothing a polka-dotted cloth on the hood of the vehicle, on top of which he spreads an elaborate picnic: mini bottles of liquor, mixers, wine, chips, cheese, crackers, and biltong, the musky South African cured jerky. Against a sky beginning to turn pink and purple, the setup feels so sumptuous, I'm half expecting to be handed a robe. Instead, Ian offers: "Gin and tonic?"
This is our sundowner: a drinking ritual marking the transition from day to evening, which originated in South Africa during British colonial rule. The purpose of the tipple was two-fold: to wind down the day in a location that takes advantage of the spectacular South African sunset, and, more practically, to stave away malaria with tonic water's quinine. As the origins were partially medicinal, the choice of cocktail was simple: Utilize any type of liquor to make tonic water, a vehicle for bitter quinine, more palatable, and make sure it also tastes good with the scurvy-preventative lime (there were quite a few ailments to contend with back then). This therefore meant whiskey, or gin. It's said that Winston Churchill even once proclaimed, "The gin and tonic has saved more Englishmen's lives, and minds, than all the doctors in the Empire."
Today sundowners are less practical and more fanciful: a showy stop on the game drive of those who went to REI to buy neutral-colored clothing to more authentically play safari out on a private reserve. It is still primarily a ritual associated with being out in the wild, but the word has worked its way into the vernacular worldwide, now casually referring to the pre-dinner drink taken at the end of the day, similar to the Italian "l'aperitivo" or French "l'apértif." Pairing with a spectacular sunset is bonus.
Sundowner tips from Caitlin Hill, manager of Cape Town's popular gin bar Mother's Ruin:
For a safari-style sundowner, use a double measure of Musgrave Gin (which has notes of cardamom and ginger) with Fevertree Tonic. Schweppe's is also great, but Hill likes Fevertree's lower sugar content, which gives your drink "a bit more pizazz." Add a few fresh squeezes of lime, some sage leaves, and a few grinds of ginger.

For Hill's signature G&T, go with a double measure of Tanqueray London Dry (Mother's Ruin's standard gin), two slices of grapefruit (lightly muddled), and Fevertree elderflower tonic.

Add sunset, obviously.