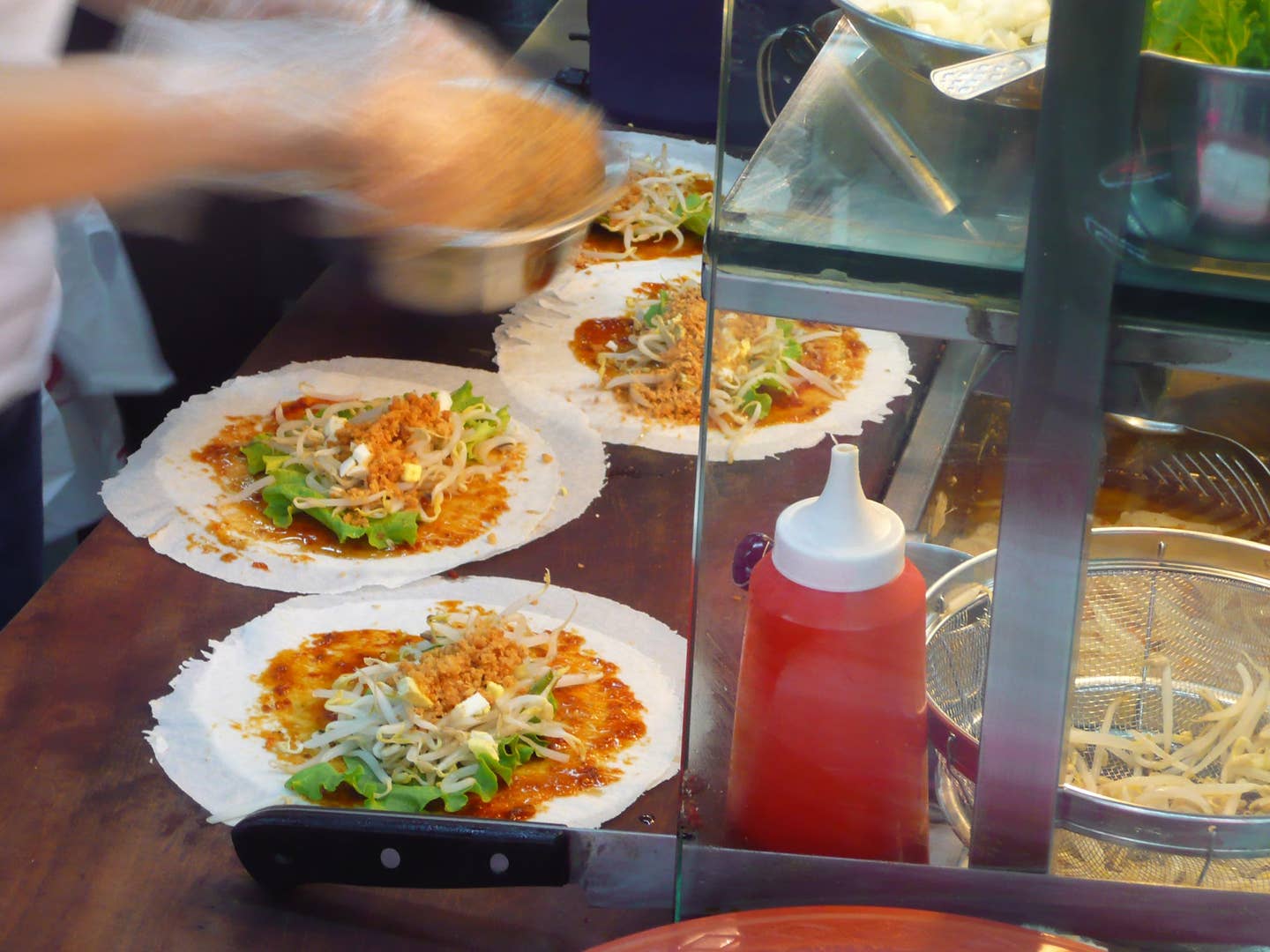 Travel
A Brief Guide to the Delicious Sweet and Salty Snacks of Taiwan
The best way to nosh across the island's cities and mountain forests
Taiwan is an island of snackers.
The country built by a merging of cultures—Chinese, Japanese, Aboriginal, and Western—is powered by open-air produce vendors, street stalls, and night markets. And as a wayfaring tea drinker traveling north to south along the island's oolong tea trail, I was in frequent need of snacks to keep my blood sugar up.
Fortunately, Taiwan is a place where the people are as sweet as the fruit they eat daily, and those I met along the way were more than happy to share their favorite local snacks, which are as varied and regional as the country's geography. In the dense urban mesh of Taipei, stuffed dishes like coffin breads pack sweet and salty into compact grab-and-go's; down south in the lazy sun of Tainan, thick sweet and savory sauces lace snacks for an extra hit of sugar.
But whether you're eating up in the misty mountains or down in the lowland cities, Taiwanese food has two commonalities. For one, it's built on a bounty of incredible ingredients—crisp vegetables, juicy mountain fruits, unique fermented foods, and plenty of fresh seafood. And the most beloved snacks stagger a balance of sweet and salt—such as Taiwanese cane sugar to offset salt-cured funk—to keep you coming back for more.
Here's how to go on a snacker's tour of Taiwan.
One of the simplest—and most satisfying—snacks along city corners and mountain roads is the humble sweet potato, roasted right on the street. Perfectly portable, the gooey starch candied by open fire is the perfect showcase of how good the produce on the island is. It's one of the first things I eat whenever I land in Taiwan, and you can find them almost everywhere.
On this last trip, the jujubes that just came into season were even juicier than I remembered from my Bengali childhood. Yet they still retained a little sourness, which was the perfect excuse to add plum powder. The product of ground sour plums—you can buy it in stores—embellish fruits and raisins as a hit of salt and sweet that enhance Taiwanese fruits' natural flavors. Walking through a night-market, even savory snacks like fried potatoes have a liberal sprinkling of the addictive powder. A pouch of plum powder along the journey goes a long way.
Tainan is especially famous for its small eats. Simple dishes like lu rou fan, minced pork rice, can be found anywhere. Deeply caramelized bits of glistening pork, almost jellied in texture from caramelized sugar, sweeten a simple bowl of rice. It's a common treat in the south, a sweet and savory way to start the day.
Aiyu jelly is a blank canvas for dessert: wobbly and refreshing but subtle on its own. The jelly is made from seeds adorning fig vines. After submerging the seeds in water and deeply massaging them, a tea-colored jelly forms that is then mixed with ice, honey-based syrups, and lemon for a refreshing summery treat. The gelatin dessert is also popular across the Taiwan strait in Malaysia and Singapore, where the vines stretch their roots as well.
Mochi, most commonly known as a Japanese rice cake specialty, has a Taiwanese variant most often filled with red bean paste. A little-known cousin from the Southern city of Tainan skips the flour process of the rice cake altogether. Hawkers sell sticky rice pressed into the shape of muffins and top them with black sesame or peanuts.
Popiah, a spring-roll-like specialty from China's Fujian province, is made by rolling various fillings in a paper-thin, slightly springy pancake that falls somewhere between a crisped crepe and a flaky paratha. In the south of Taiwan, a popiah simply cannot be without a liberal amount of sugar. It's eaten with a sweet bean sauce that blankets many Tainanese snacks. Three scoops of ice cream, crushed peanut brittle, and a hit of coriander stalks turn popiah into an the greatest snack creation—the ice cream burrito.
These enormous dumplings with translucent dough are stuffed with sweet and savory fillings and either boiled or slow-fried into a mushy, chewy rice-cake-like consistency. In Tainan, they're slathered in a sweet and savory sauce topped with a lick of spicy sauce. These gluttonous dumplings are the the kind of gooey, comforting food that fills your cheeks and your stomach in no time.
The pineapple cake is the crown jewel pastry of Taiwan. Buttery sweet, crumbly shortbread encases a moist jam of pineapple of wintermelon that crumbles into happiness on your tongue. Maybe it's the Taiwan sun, or the regal local pineapples that go into the rich jam. But sharing the little cakes brings with it the condensed warmth of its people and the tender hearts that melt your own.