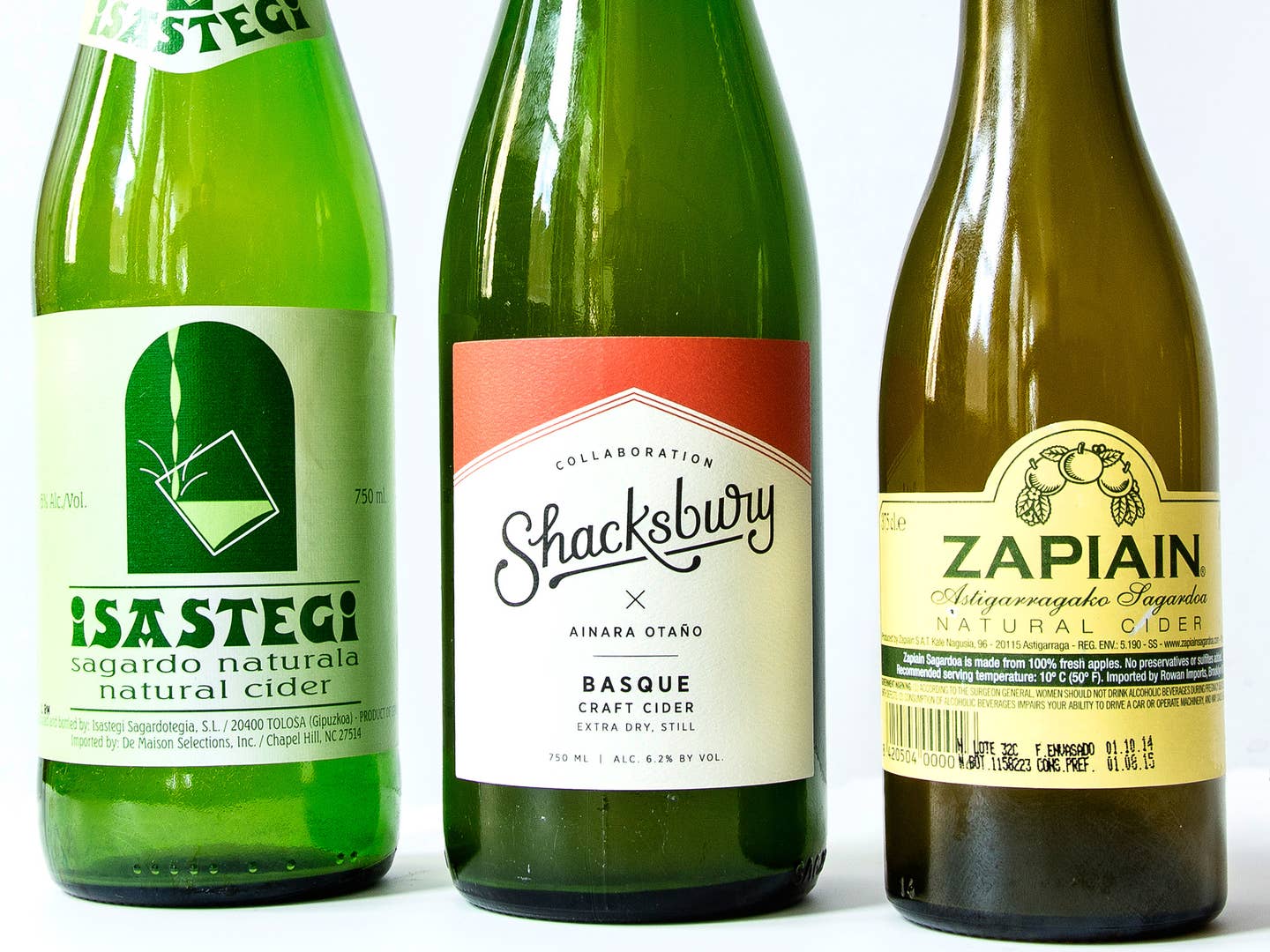 Drinks
Why Apple Cider is the Perfect Thanksgiving Wine
Forget wine or beer; these are the bottles that pair with everything from turkey to pie
The Thanksgiving menu is not up for debate. Maybe you'll have a discussion this year as to whether or not to deep-fry the turkey. Or who'll be cooking it. Or if the mashed potatoes are allowed to have garlic. But these are yes-or-no, one-or-the-other questions. No, the complicated part is the drinks. Yes, there's wine, but you did that last year, and the year before that. Besides, with an average of 13% alcohol by volume, it can be hard to drink wine for hours on end, as Thanksgiving Day requires. Beer works, but there's no guarantee the mixed crowd at your table will all want to drink it. Instead, if you haven't already, it's time to consider cider.
Cider has the same building blocks as wine: astringency from skins, acidity and sweetness from juice, and body (and sometimes bubbles) from fermentation. Like wine grapes, apple varieties number in the hundreds, and there's a style of cider for every kind of wine drinker. And of course, apples are the ambassadors of fall, which means they have a remarkable capacity to pair well with virtually everything else on the Thanksgiving table. Wine and beer can't touch that.
"The roasted and caramelized flavors of food coming out of the oven really go nicely with the flavor of apples," says Mike Reis, the operations manager at the San Francisco-based beverage distribution company Lime Ventures. "For a standalone drink, I gravitate toward drier ciders. But with a meal like Thanksgiving, you have a wide range of character in food on the table," which means sweeter ciders are fair game, too.
For the past hundred years or so, cider's flown under the radar compared to beer and wine. "We're still way behind on growing cider-specific apple orchards," Reis says, "due to Prohibition and cultural factors. So there hasn't been a lot of support for cider." But that's changing fast. It's easier than ever to get great bottles from Europe, and the American hard cider industry has never been bigger or more sophisticated. In many ways it's a throwback to an earlier American era, when cider apples outgrew wine grapes by a substantial margin.
"Apples flourished when they were brought here by European settlers in the 1600s," says Dan Pucci. Pucci is the cider director at Wassail in New York, where he's amassed a selection of 15 or so ciders by the glass and 100 by the bottle. Most of these are still ciders, not sparkling, and many, Pucci notes, would be perfect for Thanksgiving. "A lot of these ciders have full tannins and high acidity, which are great to complement the heavier, richer foods you'll be eating."
You can get good quality cider without paying out the nose, so it makes sense to stock up. That also means you can stage different cider styles for different parts of the meal. Instead of a sparkling wine before diving into the main event, "start with a sparkling cider," Reis offers, "something highly carbonated and celebratory in style." His pick is any of Foggy Ridge's four sparkling ciders. "They're all acid-forward, and a nice aperitif in that regard," he says, "because the acid really wakes up your palate." For sweeter foods, like sweet potatoes and cranberry sauce, "an ultra-dry cider might taste comparatively harsh," Reis warns, so he suggests a semi-dry cider, where fermentation is stopped before the yeast eat all the sugar. The residual sugar makes for a slightly sweeter drink that plays well with gravy and caramelized flavors.
"Best available" is only a starting point; Pucci thinks cider's best days are still ahead. "We've made amazing wines around the world that are unbelievable," he says. "But for cider, we're still figuring out what the next step is. The greatest ciders in the world haven't been made yet." And Americans, he thinks, will be the ones to push it forward, on Thanksgiving and the 364 other days of the year. "The current cider market is being driven by the United States, and nothing is more American than innovation."
For specific bottles to try this Thanksgiving, try one of these favorites from Reis, West, and Pucci.
Foggy Ridge (around $18): Sparkling ciders are a great introduction to cider. They are highly-carbonated and acidic, making them festive and approachable, while offering the traditional flavors of still cider.
E.Z. Orchards Semi Dry (around $16): This cider has a bit of sugar leftover after fermentation. It's another approachable option with all the tart, fresh fruit nuances of a great cider, but without the bubbles.
West County Redfield Cider (around $20) and Snowdrift Red Cider (around $20): "Both of these are made from red-fleshed apples with crabapple parentage," West says. "They have a nice acidity to pair with traditional cranberry dishes." The crabapple heritage makes for tart, nicely tannic, and versatile ciders.
Farnum Hill Semi Dry (around $17): The residual sugar in this cider makes for something complex, rich, and tart, with a long finish that will enhance the savory flavors on your table.
Argus Cidery Malus Cuvée (around $18): An oak-aged cider that emphasizes apple fruitiness. Aging in oak gives it a fuller body and a lot of texture. This one tastes like dried fruits and herbs.
Eve's Cidery Albee Hill (around $20): A perfectly dry cider from a blend of six apple varieties. It's a richer, lush style, with a lot of minerality (which the cidery calls "rain on hot blacktop") and clean apple flavors.