Travel Guide: New York City
Don't let choice overwhelm you—here's where to drink, eat, and stay in New York City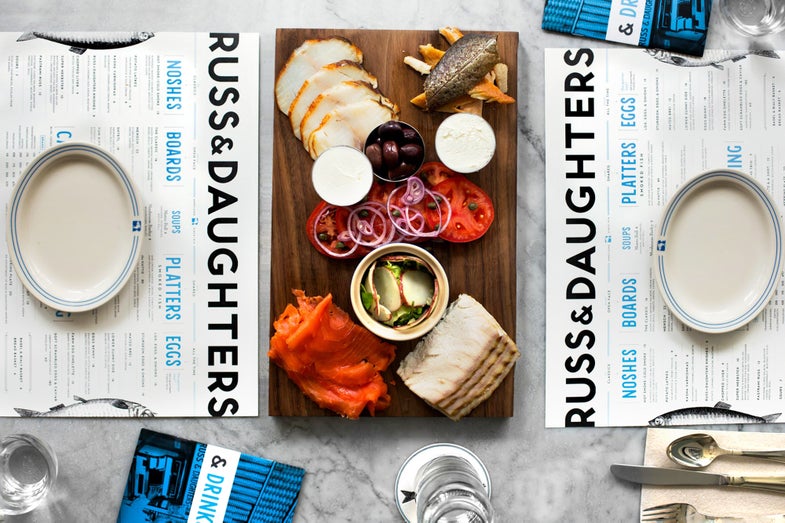 Farm-to-table bistros, craft cocktail bars, Michelin-starred tasting rooms, English gastropubs, pioneering pizzerias, tapas bars, underground supper clubs, world class food halls, rooftop farms, dives, storied literary haunts, and hip new hotels—New York has it all. Food movements are born here and spread around the world. Even the city's nickname—the Big Apple—reflects our obsession with gastronomy.
And we've never had greater variety and higher quality culinary options than we do now. Chefs appear on hit TV shows; bartenders might as well be rock stars. Anthony Bourdain walks onto an elevator and everyone swoons. Any chef worth his salt has a cookbook (or several). The competition is fierce, which is good news for those of us who care about the provenance of our food and the attention paid to its preparation.
But with so many options, where do you begin? Even for New Yorkers, choosing a restaurant from among the myriad offerings can be an overwhelming undertaking. The city is a food lover's paradise and we're spoiled with choices. Though it often seems like New Yorkers worship at the altar of the new, constantly chasing the latest opening, there's a lot to be said for the city's tried and true classics. Whether you're visiting for the first time or the hundredth time, you're sure to discover something amazing in this list of the city's best restaurants, bars, hotels, and culinary experiences.
Restaurants
Carbone
Mario Carbone's namesake restaurant is an ode to the old-school red sauce joints of yore, and a delicious one at that. Entering the blue-walled restaurant where waiters wear maroon dinner jackets and speak with Brooklyn accents feels like walking onto the set of The Godfather. The bread basket alone is reason enough to visit, thanks to Carbone's signature garlic bread, and the offerings keep getting better. By the time they wheel the dessert cart over, you'll probably be stuffed, but don't let that stop you from ordering a slice of the intense tiramisu.
Carbone
181 Thompson Street
New York, NY 10012
(212) 254-3000
Le Bernardin
When it comes to fine dining, it doesn't get any better than Le Bernardin. Opened in 1986 by Maguy and Gilbert Le Coze, the award-winning restaurant's mission has always been to let the fish shine on the plate. When Eric Ripert took over in 1994, he introduced more global flavors, using ingredients like yuzu and miso to complement the seafood and earning countless accolades in the process.
Le Bernardin
155 W 51st Street
New York, NY 10019
(212) 554-1515
Prune
Gabrielle Hamilton opened this tiny East Village bistro in 1999 with the simple goal of cooking for her neighbors. Since then, she has been breaking all the rules of conventional restaurants, including prioritizing homey cuisine over haute (one of the menu's most famous mainstays is a plate of sardines and Triscuits). More than 15 years in, Prune is still a neighborhood staple.
Prune
54 E 1st Street
New York, NY 10003
(212) 677-6221
Prosperity Dumpling
The maze of narrow streets, cramped markets, and indistinguishable restaurants in Chinatown can be hard to navigate. New Yorkers in-the-know flock to this hole in the wall for the best dollar dumplings the neighborhood has to offer. Though pork and chive dumplings are standard, Prosperity is known for excellent vegetable options too.
Prosperity Dumpling
46 Eldridge Street
New York, NY 10002
(212) 343-0683
Roberta's
This pioneering pizzeria was one of the first to draw food lovers to the once-gritty Brooklyn neighborhood of Bushwick. In a no-frills cinder block building with a rooftop garden, Carlo Mirarchi turns out drool-inducing wood-fired pizzas. Order the off-menu Cheesus Christ with three cheeses, mushrooms, and honey. A word to the wise: come early or late, as this place has a no-reservations policy and waits can easily exceed an hour.
Roberta's Pizzeria
261 Moore Street
Brooklyn, NY 11206
(718) 417-1118
Peter Luger Steak House
Established in 1887, Peter Luger's steak house has been a Williamsburg staple since long before the neighborhood became hip. The porterhouse steak is legendary and waiters still wear white aprons and black bowties. Bring lots of cash—this place doesn't accept credit cards.
Peter Luger Steak House
178 Broadway
Brooklyn, NY 11211
(718) 387-7400
Estela
Hailing from Uruguay, chef-owner Ignacio Mattos earned his stripes in master grillman Francis Mallman's kitchen, and on a recent visit, Mallman himself was dining there. In the hip but cozy downtown restaurant, Mattos puts his spin on dishes like arroz negro with squid (a must-try) and mussels escabeche on toast.
Estela
47 E Houston Street
New York, NY 10012
(212) 219-7693
Sushi Yasuda
Expect perfection at Sushi Yasuda. There's no fancy artwork, no music, no wine or cocktail list, nothing in the minimalist dining room to distract from the masterful work of the sushi chefs and the ingredients they bring to the table. Order a la carte if you must, but you'd be wiser to do the omakase, letting the chef select the freshest fish for you.
Sushi Yasuda
204 E 43rd Street
New York, NY 10017
(212) 972-1001
Russ & Daughters
A true Lower East Side institution, Russ & Daughters Appetizing Shop celebrated its centennial in 2014 and finally opened their first eat-in restaurant a few blocks from the shop on Houston Street. Still family-run, this is THE place to get New York Jewish delicacies, like smoked fish, rugelach, and babka. Go for the bagel board with all the fixings.
Russ & Daughters
127 Orchard Street
New York, NY 10002
(212) 475-4881
Momofuku Ssäm Bar
In David Chang's mini-empire, Ssäm Bar stands out from the pack. While the Noodle Bar focuses on modern ramen, Ssäm Bar showcases everything wrapped (its namesake refers to the Korean word for wrapped food). This might mean buffalo pork buns with crispy pork belly, spicy sauce, and blue cheese, or grilled Spanish mackerel with taro root, kohlrabi and pineapple. Expect to be surprised by the odd, yet somehow balanced, items on the ever-changing menu.
Momofuku Ssäm Bar
207 2nd Avenue
New York, NY 1003
(212) 254-3500
Tertulia
It may seem odd that an Irish-American chef is behind the city's most authentic Spanish tapas, but that's New York for you. Chef-owner Seamus Mullen has traveled extensively through Spain, came up through the ranks at Boqueria, and now has two restaurants and a butchery in New York. Tertulia is his first and the coziest. Go for mouthwatering tapas, like the signature arroz a la plancha, jamón iberico, and artisanal cheeses paired with an excellent wine list.
Tertulia
359 6th Avenue
New York, NY 10014
(646) 559-9909
Marlow & Sons
Restaurateur Andrew Tarlow turned Brooklyn into the farm-to-table food destination it is today with his first restaurant, Diner, tucked under the Williamsburg Bridge. Marlow & Sons, right next door, continues the locavore tradition with a daily-changing menu in a space that resembles a turn-of-the-century grocery store. Dishes that look deceptively simple on paper appear as revelations on the plate. One constant: the salted caramel chocolate tart, which is exactly as delicious as it sounds.
Marlow & Sons
81 Broadway
Brooklyn, NY 11249
(718) 384-1441
Eleven Madison Park
It's not an exaggeration to say that at Eleven Madison Park, every detail counts, right down to the way the pillows are fluffed before the guests arrive. Since Daniel Humm took over, the three-Michelin-starred restaurant has won numerous accolades for its playful, inventive takes on American cuisine, its excellent bar program, and its unparalleled service. The restaurant works like a well-oiled machine, with every member of the team, from the maître d' to the sommelier, working together to provide the optimal experience.
Eleven Madison Park
11 Madison Avenue
New York, NY 10019
(212) 889-0905
Streetbird
Marcus Samuelsson's newest restaurant is a reflection of the myriad influences that inspire him, from soul food to Sriracha. More casual than nearby Red Rooster, Streetbird's funky decor (think: colorful vinyl booths, boomboxes, and light fixtures made of bike wheels) is pure Harlem. Rotisserie chicken is the theme and the pulled chicken is a standout. Don't forget a side of cornbread.
Streetbird
2149 Frederick Douglass Boulevard
New York, NY 10027
(212) 256-2257
Pearl Oyster Bar
Pearl claims the distinction of being the first place to introduce the lobster roll to New York City. Chef-owner Rebecca Charles grew up summering in Maine and opened this little Greenwich Village raw bar and seafood bistro in 1997. Plenty of other lobster shacks have popped up since then, but this is still the place for massive lobster rolls with shoestring fries and a slice of blueberry crumble pie for dessert.
Pearl Oyster Bar
18 Cornelia Street
New York, NY 10014
(212) 691-8211
Bars
Bemelman's Bar
It doesn't get more classic New York than Bemelman's Bar in the Carlyle Hotel. Ludwig Bemelmans, author of the Madeline children's book series, painted the whimsical murals in 1947 in exchange for room and board. Ever since, the bar has drawn illustrious guests, including John F. Kennedy, Marilyn Monroe, and George Clooney. Snag a booth to soak up the atmosphere with a classic cocktail.
Bemelman's Bar
35 E 76th Street
New York, NY 10021
(212) 744-1600
The NoMad Bar
With its formidable wooden paneling and low lighting, the NoMad Bar may look like a classic, but it's a relatively recent arrival, and one of the spots that's turned the neighborhood around Madison Square Park into a destination. The bar program is headed up by one of the city's best bartenders, Leo Robitschek, while Daniel Humm is behind the menu of upscale tavern fare.
The NoMad Bar
10 West 28th Street
New York, NY
(212) 796-1500
Old Town Bar & Grill
Opened in 1892, the Old Town Bar & Grill has serious historic cred. In the 120 years since it's been around, it looks like the only update to the décor was the neon sign out front. Don't expect fancy cocktails here. Go for whatever's on tap and dependable pub grub, like mozzarella sticks and fried calamari. A dumbwaiter in the back transports food from the upstairs kitchen to the barroom on the ground floor.
Old Town Bar & Grill
45 E 18th Street
New York, NY 10003
(212) 529-6732
The Long Island Bar
Revered bartender and writer Toby Cecchini took over this neighborhood stalwart and kept the décor exactly as it's always been for the past 50 years. While it may feel like a time capsule, it has all the accoutrements of a modern cocktail bar, including a menu of updated classics. Get the gimlet, which has a subtle hint of ginger.
The Long Island Bar
110 Atlantic Avenue
Brooklyn, NY 11201
(718) 625-8908
Attaboy
If you can get into Attaboy (not an easy feat, as there's no standing room and no reservations), don't bother asking for a menu. There isn't one. Sam Ross and Michael McIlroy (protegés of barman Sasha Petraske) took over the tiny Chinatown space that was once Milk & Honey. The bartenders know every cocktail in the book. Late nights become a who's who of the city's industry insiders.
Attaboy
134 Eldridge Street
New York, NY 10002
The Ear Inn
This storied drinking den is arguably Manhattan's oldest bar, and functioned as a speakeasy during Prohibition with a brothel upstairs. It became known as the Ear Inn when the neon Bar sign stopped working properly, transforming the B into an E. Today locals flock here for a good selection of beers on tap served by gruff, no-nonsense bartenders.
The Ear Inn
326 Spring Street
New York, NY 10013
(212) 226-9060
Tørst
Some may say that serving beer in wine glasses is a bit precious, but it seems fitting for the highbrow craft brews served here. The Scandinavian-inspired spot may be the most civilized beer bar in New York, with a marble counter, 21 taps and a chill local crowd. Hidden behind it is chef-owner (and Noma alum) Daniel Burns' Nordic tasting room, Luksus—the world's only Michelin-starred restaurant without a wine list.
Tørst
615 Manhattan Avenue
Brooklyn, NY 11222
(718) 389-6034
Jimmy's No. 43
This subterranean spot has one of the best craft beer selections in the city, a tiny kitchen that hosts rotating guest chefs (currently Tito King is serving up Filipino dishes), and a hidden back room where live bands play. If you come by for a beer, be sure to introduce yourself to the bar's gregarious owner Jimmy, who will regale you with stories of the pre-gentrification East Village.
Jimmy's No. 43
43 E 7th Street
New York, NY 10003
(212) 982-3006
Terroir
Don't be intimidated by the wine list (or rather, binder full of wacky graphics and offbeat stream-of-consciousness ramblings). Just surrender your palate to owner-sommelier Paul Grieco, known for his idiosyncratic menus meant to educate, not pander to the masses. It's his mission to make people reconsider rieslings. If you just want a crisp sauvignon blanc, this is not the place for you.
Terroir
24 Harrison Street
New York, NY 10013
(212) 625-9463
Aldo Sohm Wine Bar
Sometimes referred to as Le Bernardin's little brother, the Aldo Sohm Wine Bar aims for a more casual but still refined vibe with tables at a low sofa in the center of the room and colorful Keith Haring paintings on the walls. The staff aims to please and will graciously help you find the wine you're in the mood for (including that crisp sauvignon blanc) and pair it with cured meats from Brooklyn or a selection of Murray's cheese.
Aldo Sohm Wine Bar
151 W 51st Street
New York, NY 10019
(212) 554-1143
Sunny's Bar
Once a mariner's bar, this Red Hook watering hole now draws a hip crowd for bottled beer (there's no tap) and live bluegrass. An old timey, pseudo-divey aesthetic prevails with worn leather booths and kitschy statuettes above the bar. On warm nights, the small backyard fills up with a chill crowd lounging on 1950s garden chairs under the night sky.
Sunny's Bar
253 Conover Street
Brooklyn, NY 11231
(718) 625-8211
Ten Bells
For the city's best selection of natural and sustainable wines, look no further than Ten Bells. This place is cozy and unpretentious, as are its owners. Meet the winemaker events are less like formal lectures on terroir and more like casual conversations in a corner of the bar. At happy hour, you can get dollar oysters and a $15 carafe of the house wine.
Ten Bells
247 Broome Street
New York, NY 10002
(212) 228-4450
Mayahuel
This unmarked drinking den in the East Village is an ode to tequila by the partners behind Amor y Amargo bitters bar, Cienfuegos rum bar, and Gin Palace. The list, which stars tequila and mezcal-based cocktails, goes way beyond the standard margarita, from the relatively familiar spicy paloma to the more creative greenhouse garden with tequila, Thai basil-infused vermouth, ginger, lemon and ancho bitters.
Mayahuel
304 E 6th Street
New York, NY 10003
(212) 253-5888
Maison Premiere
Inspired by weathered New Orleans saloons, Maison Premiere has an entire menu page dedicated to absinthe cocktails shaken by bartenders wearing suspenders and bowties. They pair especially well with the oysters and seafood towers served on antique platters. The hidden garden in back is a romantic hideaway with white garden tables and ferns that will whisk you away to a more picturesque time and place.
Maison Premiere
289 Bedford Avenue
Brooklyn, NY 11211
(347) 355-0446
Raines Law Room at the William
The expert team behind the speakeasy-style Raines Law Room in Chelsea opened a second location inside Midtown's William Hotel and it's even better than the original. Both take inspiration from Victorian parlors, with plush sofas and service bells you ring to get a waiter's attention. Both serve superb takes on the classics, combined with originals by head bartender Meaghan Dorman. The second location has the added bonus of a few barstools for those who like to chat with their bartenders and a more secluded room resembling a library. You can't go wrong with either.
Raines Law Room at the William
24 E 39th Street
New York, NY 10016
Hotels
Ace Hotel New York
These days, many hotels claim to be the living room of their neighborhood, but the Ace actually functions as a hangout space and dining room for locals and visitors alike. Creative types work on laptops in the lobby, which doubles as a bar, while office workers beeline to the John Dory Oyster Bar at happy hour for cocktails and bivalves. The Breslin is the hotel's crowning jewel by gastronomic royalty April Bloomfield and Ken Friedman. A coffee bar by Stumptown rounds out the offerings.
Ace Hotel New York
20 W 29th Street
New York, NY 10019
(212) 679-2222
High Line Hotel
Legendary design firm Roman & Williams created a Gothic-inspired masterpiece in part of the General Theological Seminary. Entering the hotel feels like stepping into a Wes Anderson film full of taxidermy, Oriental rugs, antique furniture, and rotary phones. Inside, you'll find the Intelligentsia coffee bar, which becomes a cocktail bar by night. In the warmer months, Alta Linea takes up residence in the courtyard, serving Italian aperitivi.
High Line Hotel
180 10th Avenue
New York, NY 10011
(212) 929-3888
Viceroy New York
The Viceroy is the cool kid on the block known as Billionare's Row—a street with no shortage of luxe digs—thanks to its downtown vibe and the collaboration between famed chef Marc Murphy and the Gerber Group. Start with a drink on the Roof, which draws a big after-work crowd for cocktails with a view of Central Park. Then head to Kingside, on the ground floor, where Murphy serves a menu of New American dishes, like lobster toast and pan-seared scallops with fava beans and mint.
Viceroy New York
120 W 57th Street
New York, NY 10019
(212) 830-8000
Wythe Hotel
When the Wythe Hotel opened in Williamsburg in 2012, it was a sure sign that the neighborhood had officially arrived. The hip hotel in a former cooperage exudes the artisanal, creative vibe Brooklyn is known for, down to the custom Brooklyn toile wallpaper and contemporary art curated by painter Kimia Ferdowsi Kline. Andrew Tarlow brought his signature farm-to-table fare to the ground-floor restaurant Reynard, where even the granola is made in house. The Ides rooftop bar boasts incomparable views of the Manhattan skyline. There's no room service, but the minibars are stocked with local treats, including a limited edition chocolate bar by the Mast Brothers.
Wythe Hotel
80 Wythe Avenue
Brooklyn, NY 11249
(718) 460-8000
The NoMad Hotel
With its Art Nouveau cupola and 1920s Parisian vibe, the NoMad Hotel is nothing short of dramatic. French architect Jacques Garcia was tapped to design the property, which includes a gorgeous library where you can sip tea while reading the paper, an airy main dining room illuminated by a skylight, a red dining room with pressed leaves from Paris's famous Deyrolle shop adorning the walls, and of course the iconic NoMad Bar. With Daniel Humm and Leo Robitscheck heading up the food and beverage program, you can be sure that any meal at the NoMad will be memorable.
The NoMad Hotel
1170 Broadway
New York, NY 10001
(212) 796-1500
Crosby Street Hotel
The Crosby Street Hotel's crowning jewel is the rooftop garden where Chef Anthony Paris raises chickens and grows garnishes, like zucchini blossoms that might appear on a plate lightly fried. London's Kit Kemp brought her whimsical design touches to Firmdale's first New York property, from the colors and textures in the individually designed rooms to the custom china adorned by sea monsters. In proper English fashion, the restaurant serves a renowned afternoon tea with cucumber sandwiches and petit fours. As a bonus, the hotel opens up its private cinema to the public once a month for dinner and a movie.
Crosby Street Hotel
79 Crosby Street
New York, NY 10012
(212) 226-6400
Gramercy Park Hotel
Ian Schrager and Julian Schnabel's masterpiece hotel is known for its unparalleled art collection and swanky Rose Bar. Rooms are opulently decorated in rich, deep hues and many come with bar carts. Capping off the hotel's culinary attractions is Maialino, Danny Meyer's Roman-inspired trattoria complete with blue-and-white gingham tablecloths, a 17th-century map of the Eternal City, and inventive Roman fare. The cacio e pepe soft scrambled eggs and olive oil muffin definitely beat the standard hotel breakfast. Bonus: guests can borrow a key to Gramercy Park.
Gramercy Park Hotel
2 Lexington Avenue
New York, NY 10010
(212) 920-3300
The New York Edition
At Ian Schrager's just-opened New York Edition in the former Met Life Insurance Building at Madison Square Park, much of the buzz surrounds British chef Jason Atherton's first restaurant on this side of the pond. In the aptly-named Clocktower restaurant, Atherton's artful platings complement the rarified setting in the former executives' board room, which Schrager decorated with photos from his Studio 54 days. Atherton's fish and chips with mushy peas is an inspired take on the English classic and the vegetable tartine arrives looking like a Flemish still life on toast. Don't miss the gold leaf-lined bar.
The New York Edition
5 Madison Avenue
New York, NY 10010
(212) 413-4200
Smyth, a Thompson Hotel
Visitors to the Smyth will find two excellent reasons to rejoice. At Little Park, Andrew Carmellini's latest venture, seasonal small plates are simple but original in their execution. (The burrata comes not with tomatoes, but with strawberries, and arctic char is garnished with pea pods and kumquats.) For a nitecap, there's Evening Bar, where you'll find updated classics in a space that resembles a mid-century living room, an aesthetic that prevails throughout the property.
Smyth, a Thompson Hotel
85 West Broadway
New York, NY 10007
(212) 587-7000
Martha Washington Hotel
Formerly a women's-only hotel, the landmarked Renaissance Revival building was recently restored by Chelsea Hotels. The rebirth included a return to its original name; a clean, streamlined design; and—best of all—Marta, a casual pizzeria by Danny Meyer serving Roman-style thin crust pies. Chef Nick Anderer works with local farms to get the best produce, like the zucchini blossoms that top the Fiore di Zucca pizza.
Martha Washington Hotel
29 E 29th Street
New York, NY 10016
(212) 689-1900
Culinary Experiences
Gotham West Market
Skip touristy Chelsea Market and head up to Hell's Kitchen for the food lover's paradise known as Gotham West Market. This food hall features an outpost of Ivan Ramen, Michelin-starred chef Brad Farmerie's California diner-inspired Genuine Roadside, and Seamus Mullen's wine and tapas bar El Colmado, to name just a few.
Gotham West Market
600 11th Avenue
New York, NY 10036
(212) 582-7940
Brooklyn Grange
Brooklyn Grange comprises not one but two rooftop farms—one in Brooklyn, one in Queens—that together form the world's largest rooftop soil farms. Over 50,000 pounds of organically cultivated produce are grown here yearly and sold to restaurants and locals via CSA and farm stands. Brooklyn Grange considers educating the public part of its mission, and you can tour the rooftop farms to learn more about urban agriculture.
Brooklyn Grange
37-18 Northern Boulevard
Long Island City, NY 11101
(347) 670-3660
Golden Mall Food Court
New Yorkers know the more authentic Chinatown isn't the one in Lower Manhattan; it's at the end of the 7 train in Flushing, Queens. Asian restaurants, shops, and markets line the streets, but the most epic experience is the Golden Mall, an underground warren of snaking corridors leading to hand-pulled noodle stalls, dumpling spots, and more serving authentic Chinese delicacies. Look for the original outpost of Xi-An Famous Foods and Lan Zhou Hand Pulled Noodles.
Golden Mall
41-28 Main Street
Flushing, Queens 11355
La Boîte à Épices
Inspired by his travels and experiences cooking around the world, Lior Lev Sercaz founded La Boîte à Épices, where he sells unique spices and blends. It's considered a go-to spot for industry insiders; some of the city's best chefs and bartenders, including Eric Ripert, Seamus Mullen, and Jim Meehan, have collaborated with Sercaz to create their own blends.
La Boîte à Épices
724 11th Avenue
New York, NY 11019
(212) 247-4407
Kitchen Arts & Letters
For cookbooks and more, look no further than this little Upper East Side bookshop, which has been around for over thirty years. You'll find all the latest cookbooks by your favorite chefs, a wide range of magazines, hard-to-find and out-of-print titles, and even unpublished proofs for browsing.
Kitchen Arts & Letters
1435 Lexington Avenue
New York, NY 10128
(212) 876-5550
Red Hook Food Trucks
For an under-the-radar alternative to Williamsburg's Smorgasburg, make the trek to Red Hook, on the fringes of Brooklyn. Every weekend in spring and summer, Latin American food trucks (some of which have been around since the 1970s) serve up tacos, arepas, pupusas, and other specialties at the ballpark. Snag one of the picnic tables and have a street food feast.
Red Hook Food Trucks
Bay Street between Columbia Street and Clinton Street, Brooklyn, NY
New York Distilling Company
This Williamsburg distillery was one of New York City's first craft distilleries and it's one of the best places to learn about the trade. Their Dorothy Parker gin appears in cocktail bars all over the city and they recently opened their first barrels of rye. Go on the weekend, when they give free tours, and stay for a cocktail at the attached bar, the Shanty.
New York Distilling Company
79 Richardson Street
Brooklyn, NY 11211
(718) 412-0874
Mast Brothers Chocolate Factory
A factory tour at Williamsburg's artisanal bean-to-bar chocolatiers is a must for any chocolate fan. The Mast Brothers are best known for their single origin barely-sweet bars, which you can sample in the shop, though they also make tasty truffles. Check out their brew bar a few doors down, where they brew iced chocolate that tastes like no other chocolate drink you've ever tried.
Mast Brothers Chocolate Factory
111 N. 3rd Street
Brooklyn, NY 11211
(718) 388-2625
Union Square Greenmarket
New York has many, many farmers' markets, but the one at Union Square is the Greenmarket flagship. It started in 1976 and has grown to include 140 vendors in peak season, including local favorites Ronnybrook Farms and Red Jacket Orchards. This is where New York's top chefs, like Michael Anthony and Nick Anderer, shop for seasonal produce that appears on the menus of Gramercy Tavern, Maialino, and Marta.
Union Square Greenmarket
North and west sides of Union Square Park Mondays, Wednesdays, Fridays and Saturdays
EatWith Supper Clubs
More intimate than any restaurant, supper clubs offer a glimpse into New Yorkers' private homes and the chance to share a unique meal with a group of like-minded individuals. EatWith connects diners to hosts, like Ai, who serves a Japanese tasting menu in her Williamsburg loft with veggies and herbs grown on her rooftop garden. Check the listings for dozens of events around the city.
EatWith
locations vary