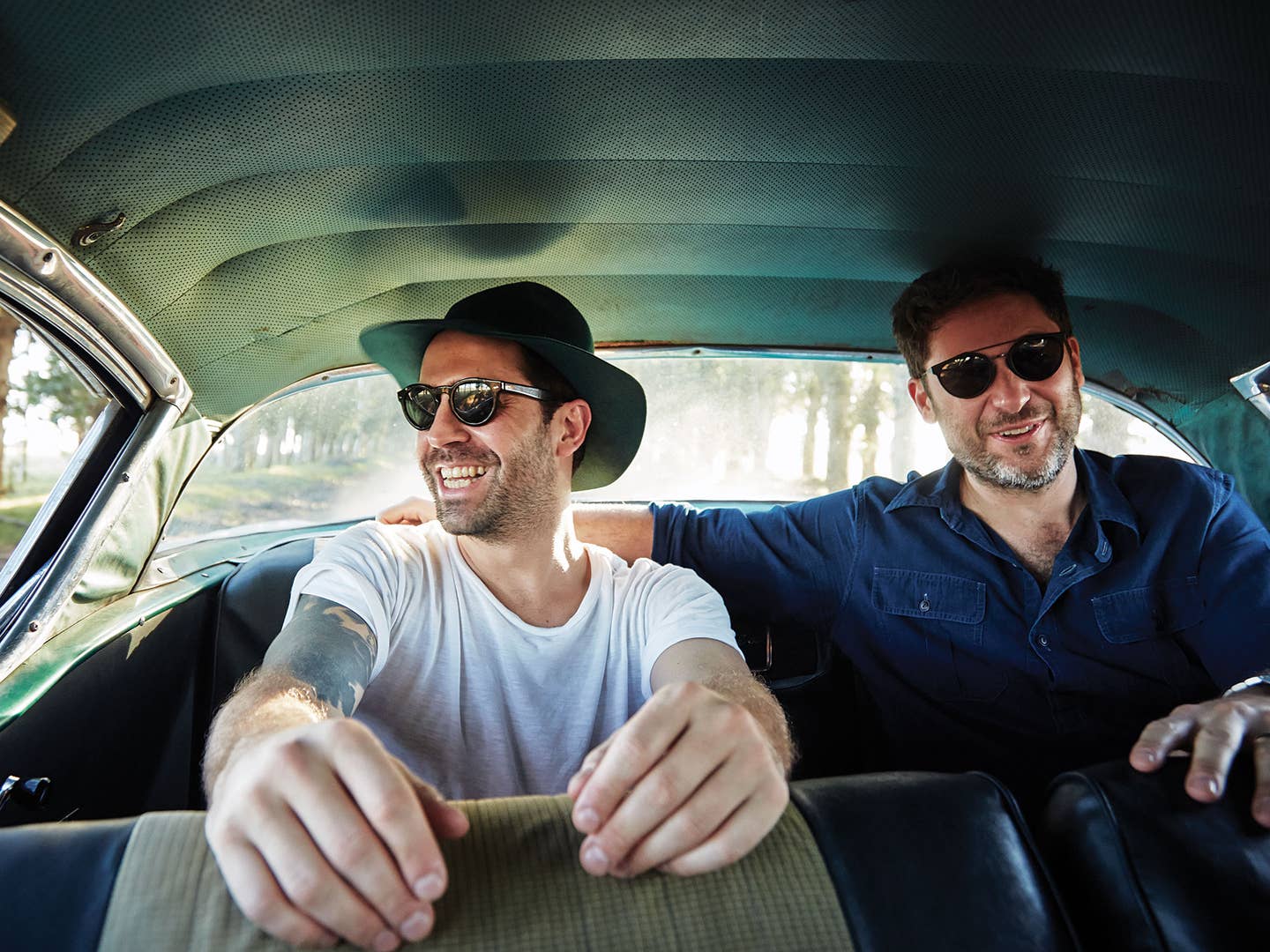 Travel
An Eating Adventure in Uruguay
New York City chef Ignacio "Nacho" Mattos drives to a beachside town for a long weekend of wood-fired feasts and cooking with friends
"I bet you idiots didn't even know that Jesus Christ was born in Uruguay."
Ignacio Mattos is on a roll, making up facts about his homeland and entertaining us with mock-rhapsodic commentary as we drive directly from Montevideo's international airport to the first stop on our journey: Bar Arocena, a dusty snack bar near the beach.
"There's much you don't know about these majestic lands," Mattos says. Which is indisputable, as the itinerary he's put together has been light on specifics. The three-day plan consists of a handful of bullet points, with activities ranging from "we could go here" to "maybe we stop at a bar in this area."
About this first stop, though, we are well informed. Mattos has been talking it up since we boarded the plane in New York, where (with the dapper sommelier Thomas Carter) he runs Estela, an always-packed, two-year-old Manhattan restaurant. In Estela's tiny kitchen, Mattos cooks food that's comforting and straightforward, but with deft little surprises here and there that make it alluring and completely his own. It's a bustling downtown spot where the bar is always at least two-deep and the Obamas shared a date night last fall.
Carter's never been to Uruguay before, but he takes the wheel of the rental and somehow we make it to Bar Arocena without incident. We've arrived for our first lesson about this hallowed land, in the form of the massive, mythical chivito, the unofficial national sandwich of Uruguay.
Next door to the city's Baroque-inspired, palatial Hotel Carrasco, Bar Arocena is a world apart. It's a narrow dive, and nothing inside—from the ceiling fans to the soccer banners that adorn the walls—seems to have been altered since it opened in 1923. They serve a variety of substantial dishes 24 hours a day, including milanesas (schnitzel, basically) and entrecôte steaks to share. But you go to Arocena to face off against the chivito, an impressive pile of ham, lettuce, tomato, melted mozzarella, hard-boiled eggs, pickled red peppers, beef tenderloin, pancetta, and mayo.
It's not the first thing you'd think to eat on a hot day. Yet it's somehow a completely energizing ritual: Tackling the thing is precarious and engaging as you parry with it, wondering how many bites it'll take for everything to fall apart. Once it does, you barrel through with your hands, a fork and knife—whatever it takes—intermittently digging into the plate of fries at the center of the table and keeping yourself going the whole way with ice-cold glasses of Patricia Red, the country's popular light lager. The trick, I learn, is never to take a break.
Fortified and properly oriented in the ways of the chivito, we have a general plan to make our way to the town of José Ignacio, on the southern coast. Over the last few decades, it has become South America's version of Montauk: a coastal village peppered with inns and resorts, popular mostly in the high season (Christmas to mid-February), where vacationers like to hang on the beach and throw the occasional party.
It's here that Mattos came into his own as a chef. In the late 1990s, before he ever dreamed of moving to the States, he worked summers in the kitchen of Los Negros, the restaurant of grilling luminary Francis Mallmann. And it's probably here that he picked up the nickname "Nacho."
"I need a shower," Carter says, breaking the silence as we get up to leave. He crumples the last of the napkins and tosses it onto the plate. We set off for the coast.
It takes about two and a half hours to get to where we're going. The green and arid motorway is populated by mini-malls and auto shops that suddenly give way to the blue and tropical scenes in and around the city of Punta del Este. Each village we pass gets smaller and beachier than the last, until finally we arrive at Posada Paradiso, in José Ignacio. It's exactly what you want from a low-key bohemian beach inn: 23 simply appointed rooms surrounding a pool. There's mate tea available at all hours of the day. And once night falls, there is complete silence.
It's late now, but Mattos assures us we needn't rush. "Around here, it's normal to sit down for dinner at 11 p.m.," he says. It takes all of what seems like two minutes to drive over to Marismo, a candlelit, open-air restaurant, for a laid-back feast. Almost everything, from the traditional provoleta (crisped provolone cheese with pickled vegetables) to the meltingly tender eggplant and lamb shank, is cooked over an open flame. As we'll find out during the course of the next few days, that's the way they like to do things here.
La Caracola is a chic day club about 10 minutes northeast of José Ignacio. It sits on a sliver of land flanked by lagoon and ocean, accessible only by a small dinghy across choppy waters. Normally the beach hut is packed with vacationing swimmers, but today it's closed, so Nacho has taken over the place.
What Mattos had described in his understated way as "cook a lunch for friends at the beach" turns out to be a more significant production. After being bounced around and drenched on the dinghy, Carter and I are greeted by waitresses arranging tables and bartenders fixing drinks. Toward the back, in the slender kitchen, Mattos is wearing all white and a floppy green hat that instantly brings to mind a cross between Pharrell and Chico Marx. His eyes are tearing up from the heat of the huge brick oven where he'll soon be roasting whole fish that are currently hanging on a wire at the entrance of the restaurant.
We are introduced to the supporting cast of cooks arranging the radiant mise-en-place for the affair. Fernando Aciar pours olive oil from three feet above a bowl, making mayonnaise like an Asturian pours cider. Gonzalo Zubiri grew up with Mattos: "He took me out of Santa Lucía when I didn't know what rosemary looked like and taught me how to work in a kitchen." Zubiri tells me this almost instantly, pausing from scaling fish to make sure I take note of the visiting chef's significance around here. Santiago Garat, a lanky man with the appearance of a Cuban revolutionary, tells me, "When I started organizing this lunch, people came out of the woodwork telling me they wanted to hang out with Nacho." As guests loosen up over caipirinhas, the chefs talk through the finishing touches of what they're going to serve. It's an improvisational process, a kind of informal reflection of how Mattos likes to work in New York. Today in José Ignacio, the main attraction is the black corvina, sea bass, stuffed with lemon and herbs and roasted whole over a wood fire. There's also addictive crab toast, bright with the flavors of capers and chile; a bit of tomato-and-basil salad; and some citrusy corvina cruda that features Mattos' trademark use of thinly sliced vegetables—in this case turnips—layered on top of the fish, not just to add some bite, but also to give the diner a feeling of discovery. By the time we eat "lunch," it's nearing 6 p.m.
More than 40 people, friends and friends of friends, have descended on La Caracola."When you're with Ignacio around these parts," Garat says, "there is no such thing as a small affair." After the food is cleared, almost everyone sticks around to drink Campari and nap.
The next day we drive inland to a 1930s cattle ranch, La Rinconada, lined with massive eucalyptus trees. Beams of sunlight poke through the foliage and horses roam freely throughout the grounds. There's a nice pool, as well as a trampoline for us to use just in case we're in the mood for jumping on it between meals (we are). Lunch today is for a smaller but still lively gathering of friends. Many familiar faces from La Caracola are gathered around the patio. In the outdoor kitchen, Mattos, Aciar, and Garat kick off the traditional South American grilling ritual, the asado. "You can smell firewood and smoke everywhere around this country," Mattos says, applying slabs of coronilla, eucalyptus, and acacia wood to the hearth. The meats are to be cooked over the red embers raked to the right of the grill, with the logs burning into charcoal on the left side. This will allow the meat to cook slowly, but ensure it isn't overwhelmed by the flavor of smoke.
The plan is at some point to sit around a table set out on the grass, but food starts coming to us as it's ready. Sweetbreads are the first to arrive, crisp on the outside, perfectly smooth within. Mattos liberally administers lemon and salt to almost everything he's making. The relentless assault continues with two types of blood sausage, chorizo, tri-tip, short ribs, and a decadent cut called the arañita, from the rump, which we're told the local butcher prepares only for select customers. "The meat is pleasantly fatty and full of character," Mattos says. "It has that chewiness we love in Uruguay."
The only condiment you need for all of this is chimichurri, that iconic South American sauce made with oregano, garlic, olive oil, vinegar, and chile flakes. Garat has laid out flaky, freshly baked galletas de campo (savory biscuits whose name literally translates to "cracker from the woods") so that we can fix ourselves small, open-faced sandwiches and dip into the juices.
The flavors today are heavier and certainly meatier than what Mattos champions in New York, but I can see the same purity and simplicity that form the foundation of his cooking at Estela. Carter suggests we make this trip every year. He's got a bit of chimichurried bread between his fingers. "There's a community in this place that's just incredible," he says. "You could talk to these people for hours."
That's exactly what we do after sitting around the long table on the lawn to finish off the Malbec and dig into the flan that Clo, the owner of the inn, has prepared for dessert.
Nacho is finally done cooking for the weekend and sits with us. He's not usually given to nostalgia, but these reunion feasts have put him in a reflective mood. "When I started cooking in José Ignacio, I was questioning whether I wanted to work in kitchens for the rest of my life," he says. "But I was embraced here in a way that triggered whatever it is my life has become." Everyone seems sated, running their fingers around the rims of plates to get those last few bites of sweetness.