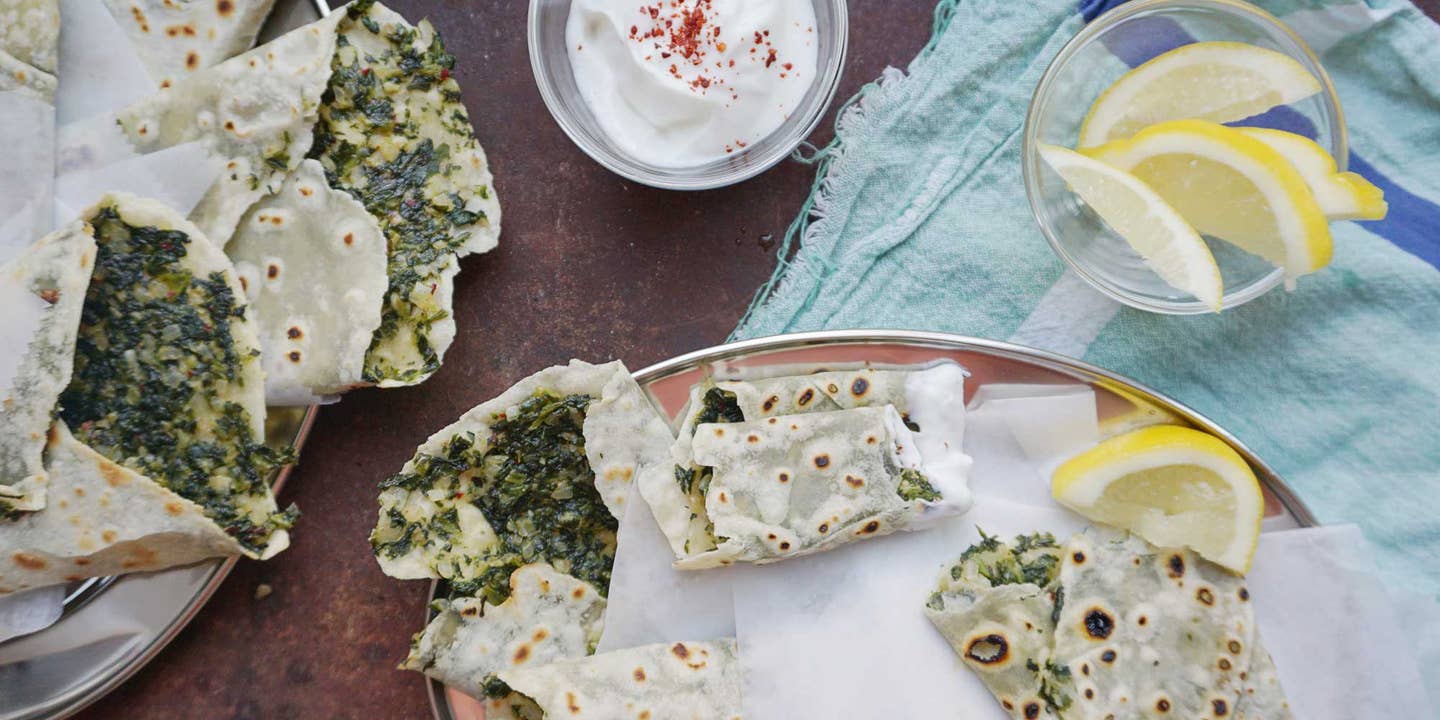 Culture
The Turkish Griddled Flatbread that Feeds a Village
Stuffed and grilled gözleme, beloved in its many versions across Anatolia, is keeping the seaside town of Kayaköy afloat
On a warm summer evening on the Mediterranean coast of Turkey, Mustafa and Ayse Bakar float their small skiff toward the side of a gulet, a traditional wooden sailing vessel. The ship's crew welcomes them with a tangible excitement—not so much to see Mustafa and Ayse, who have been welcoming the gulet's crew and other passengers to the coast of Kayaköy for the past 25 years, but rather for the sweet and savory scents that drift upward from their boat.
Aboard their small skiff, with traditional rugs covering the deck, the couple quickly splashes oil onto their gas-powered griddle while they roll, knead, and fill thin sheets of flatbread dough. Kasar peyniri, a Turkish cheese, melts over spinach, garlic, and onion, while on another flatbread, honey commingles with golden raisins and salty almonds. The filled crêpe, known as gözleme, (named after the dark brown gözleri, or "eyes," that appear on the bread as it fries), is served for breakfast, lunch, or as a snack in the Anatolian regions of central and eastern Turkey. Versions of gözleme vary across the country, but they're typically made from a hand-rolled dough that's brushed with egg and butter, then filled with various ingredients, like spinach and kasar peyniri, honey and almond, or minced meat and potato.
Husband and wife, Mustafa, 58, and Ayse, 55, prepare their gözleme a little differently than most Anatolian regions—traditionally, you'll see an older woman making gözleme while sitting at a sofra, a Turkish wooden table outside their home or in a street market. But Mustafa and Ayse aren't just preparing their gözleme while floating on the Mediterranean; "We grow our own onions, potatoes, parsley," Mustafa says, "and we make our own honey and cheese." They start their recipe by cultivating their own ingredients, nurturing them before hand-making the various breads for each individual customer. As Ayse lists off the crew's orders of the famous dish—"spinach and cheese, meat and cheese, banana, lemon, potato, onion…"—their eyes glaze over while watching the hypnotizing motion of Mustafa's hands expertly kneading the dough. The first bite of their gözleme sticks with you, not just for the flavor, but the care they put into each ingredient.
Gözleme, until recently, has been labeled as village food; it was viewed as a countryside dish for generations because it's both cost effective and filling. In the late 20th century, however, gözleme had started to become a cultural staple and a beloved dish by Turks and foreigners alike. It's easy to find it in restaurants, street markets, and in rural areas anywhere across Turkey. It may seem simple—dough made from flour and water rolled to a flat disc, fried, and filled—but it can be tricky to perfect. Ayse, who has been cooking gözleme since she was 16, expertly kneads the dough in a unique punch, lift, and twist motion. Then, she rips off a chunk of dough and rolls it out into an impossibly thin sheet before transferring it to the electric griddle in one perfectly intact sheet using nothing but a wooden dowel and her calloused hands. Ayse casually commented while rolling the dough, "[I have] no need for a recipe … I learned from my mother who learned from her mother and her mother and her mother. The 'recipe' is passed down without being written."
Ayse and Mustafa have spent the last 25 years making gözleme, they say, because it makes them happy, but also allows them to spend more time with their children. "Cooking gozleme is important to our marriage and our accomplishments in life," says Mustafa. "We are most proud of our children. Cooking gözleme lets us spend more time with them at home, and be a good example for them." But there is also a deeper need in this region of Turkey. "The fishermen rely on us to give them meals when they are out at sea for lunch and at night on bad fishing days," says Mustafa. When the fish aren't biting, it's up to Mustafa and Ayse to taxi around the Mediterranean to feed these desperate seafarers so they don't have to resort to consuming their livelihood.
But there are chartered vessels too, toting tourists around the ancient town's glittering blue waters, and Mustafa and Ayse often make sure to pay them a visit as well. "We feel happy that we can share a meal important to our country to so many different countries," Ayse says.
Perhaps it's the combination of salt in the air, sun on the skin, and the excitement of the locals that makes Mustafa and Ayse's gözleme so delicious, or maybe it's their home-grown ingredients and the love for their previous generation's culinary traditions. Whatever it is, our captain summed it up best: "When they are cooking gözleme, they are very happy and we can taste that joy."