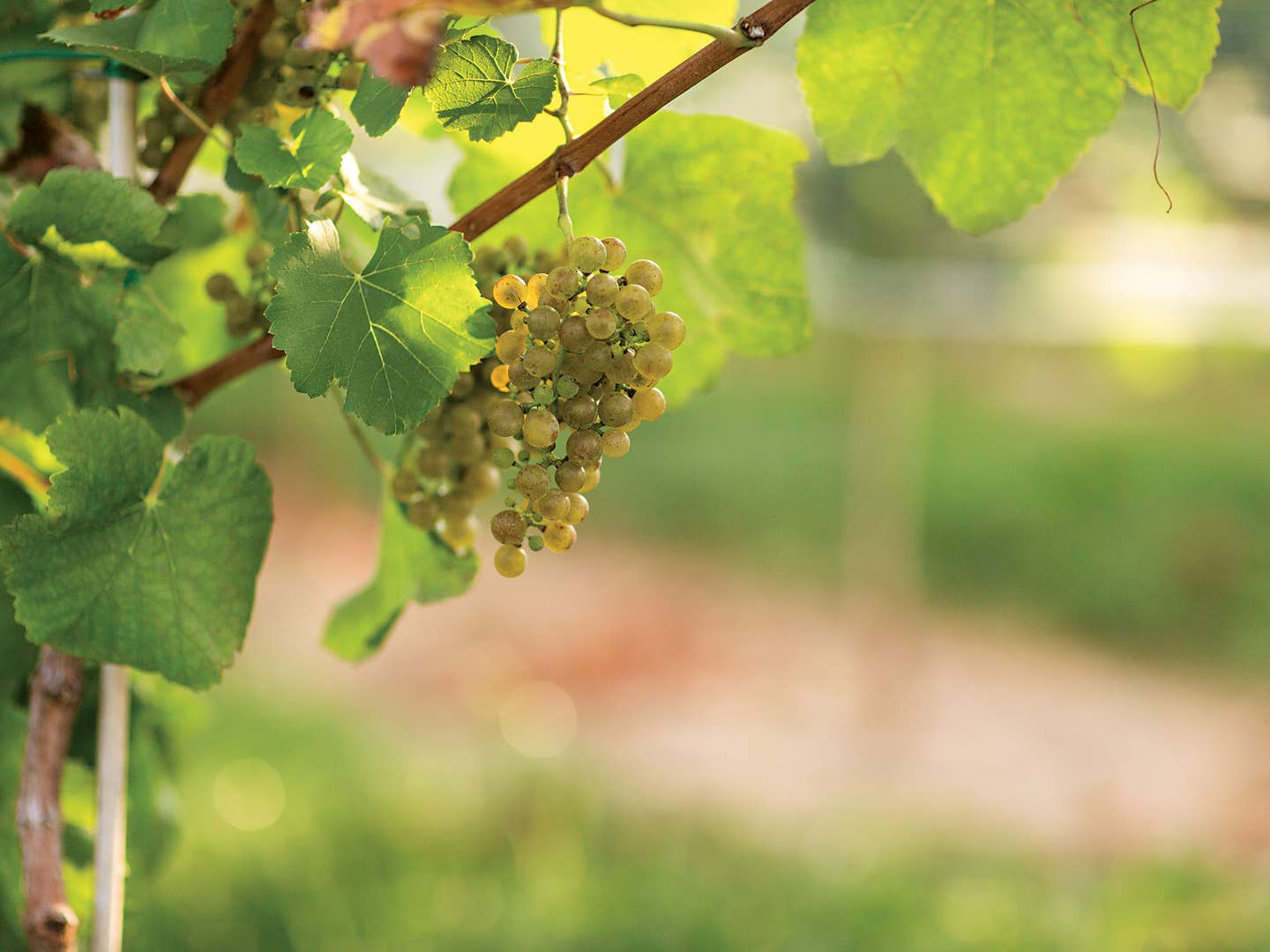 Drinks
The Obscure French Grape Making Amazing American Wine
Old World petit manseng thrives in Virginia
Nobody ever strolled into a winery looking to taste petit manseng. Merlot, chardonnay, even riesling, sure. Those varieties emerged as mainstays of Virginia's tourism-oriented wine industry in the 1970s, to be sold in tasting rooms alongside marginal concoctions like plum and blueberry wines. But an obscure grape from the French region of Jurançon, unknown even to most Frenchmen? You couldn't sell it. So why plant it?
Yet there comes a time in the maturation of every major viticultural region when its best producers segue from the grapes that everyone knows to those that thrive in the local conditions. For Michael Shaps, that meant petit manseng. Its tiny berries have high natural acidity, the attribute that can make wine thirst-quenching. They also have unusually thick skins, so they're more likely to stay disease-free in humid weather. What would never have worked in Napa or Oregon was perfect for America's Piedmont.
When Shaps, who had no ties to Virginia, returned to the U.S. from Burgundy, he declined various offers to serve as a cellar hand at West Coast properties in Oregon and Washington state because he wanted autonomy. After landing at Virginia's Jefferson Vineyards, he started the Michael Shaps brand in 2000. He dabbled in merlot and cabernet, but knew that for his adopted state to stake its claim as a great winemaking region, it needed to produce wine that tasted like nothing else.
When Shaps had his first glass of local petit manseng in 2006, its crispness intrigued him. "I knew that I had to try to make it," he says. If he could get the grapes ripe enough, he figured, all that acidity would work in his favor. Beginning in 2012, he started sourcing them from the Honah Lee Vineyard near Charlottesville. He made sure they stayed on the vines long enough to gain flavor and roundness, but not so long as to lose that signature tang.
The result is a uniquely American wine. The 2013 vintage, his second, is tasty but still broad and imprecise, like a crayon drawing. With the 2014, from a cooler season, it has come of age. Crackling with energy, with a flavor profile that hints at apricots and mangos with a squeeze of lime, it's versatile enough to work perfectly with as complex a blend of tastes as Thanksgiving dinner. "Our best yet," Shaps says.
He makes about 500 12-bottle cases of petit manseng annually and sells it as fast as he can get it in the bottle. When the Washington, D.C.-based chef and restaurateur José Andrés, a strong supporter of Virginia wines, tasted it, he tossed his credit card on the counter and asked to buy everything that remained. That consisted of a three-case stash of the 2012 that Shaps had earmarked for his own cellar. "I said, 'You don't understand, that's for me. That's all I have,'" Shaps recalls. Shaps wouldn't budge until Andrés told him he wanted it not for his restaurants, but to drink at home with his wife. "When I heard that," he says, "I sold him a case."
At his small facility near the city of Charlottesville, Shaps makes a wide range of wines. His petit verdot and cabernet franc, especially, show the potential of bordeaux varieties in the region. They're among the many bottlings, notably Barboursville Vineyards' Octagon blend and Jim Law's Linden Hardscrabble Chardonnay, that make Virginia worthy of consideration. But those are variations on a theme, wines so good that you'd almost identify them as French. This one is different. It could be nothing else.
Michael Shaps Petit Manseng 2014, $30 at michaelshapswines.com
Available at the winery and in selected restaurants. It can be shipped to Virginia, Maryland, New York, North Carolina, Florida, and the District of Columbia. If you live elsewhere, it's worth the trip.