Recipes
Cornbread Coffee Cake with Fresh Figs and Walnut Streusel
Serves

serves 8

Cook

1 hour 30 minutes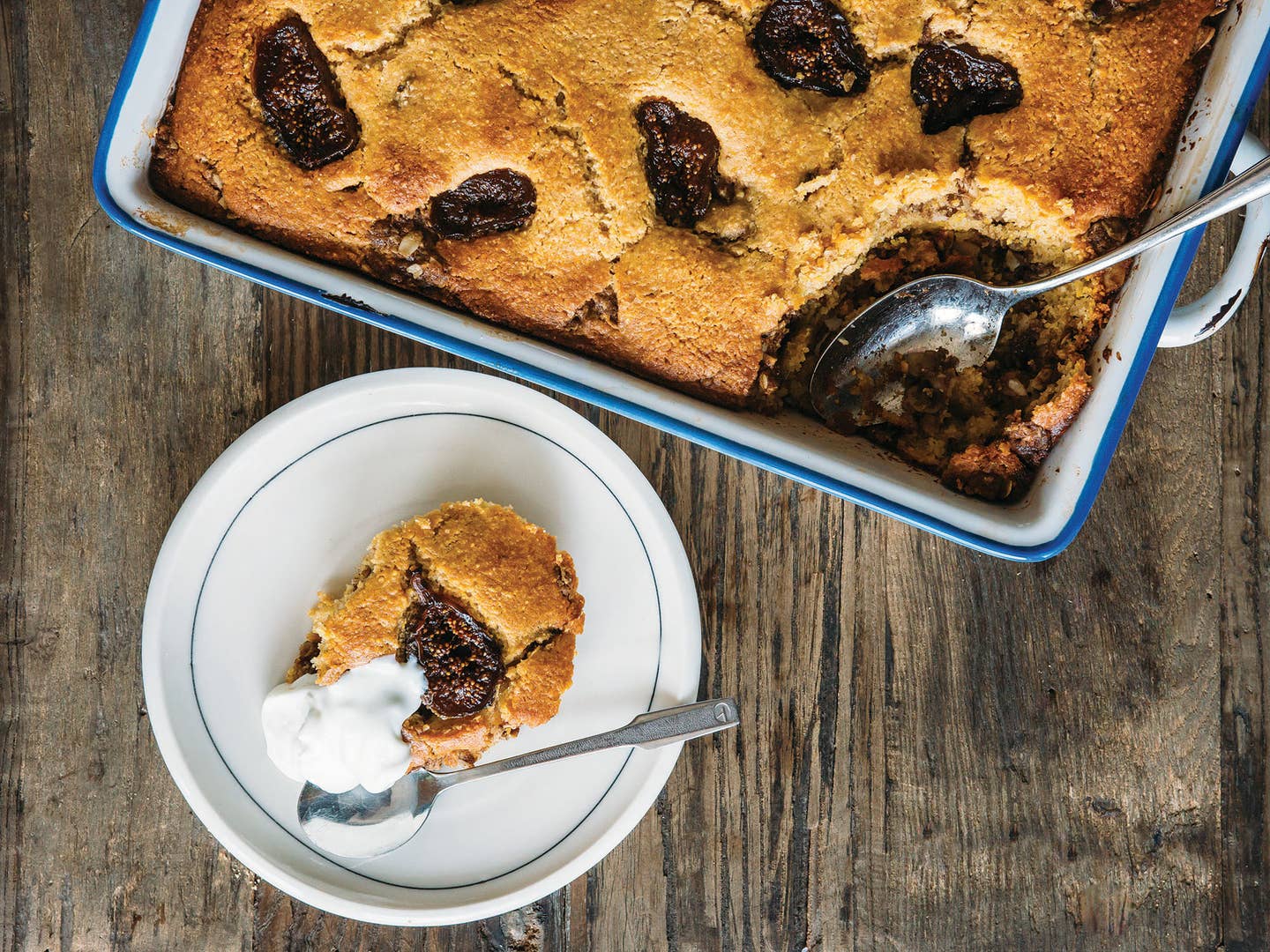 Southern chef Vivian Howard developed this cake with breakfast in mind, maybe something to share with family over coffee. But when she first made it, her kids named it corn-candy cake and called for it after supper. She obliged and put some whipped cream on top. Whenever you choose to eat it, feel good about baking it a day ahead. It keeps beautifully and is as satisfying at room temperature as it is warm.
Ingredients
For the walnut streusel
2⁄3 cup chopped walnuts (or any nut you like, really)
2⁄3 cup light brown sugar, packed
1⁄2 cup rolled oats
1⁄4 cup whole wheat flour
1 tbsp. cinnamon
1⁄2 tsp. salt
8 tbsp. cold unsalted butter, cut into pieces
For the cornbread cake
1⁄2 cup plus 2 tsp. room-temperature butter
3 cups figs, stems removed, divided
2⁄3 cup granulated sugar
2 large eggs
1 1⁄2 cups cornmeal
1 cup whole wheat flour
2 tsp. baking powder
1⁄2 tsp. baking soda
1⁄2 tsp. salt
1 1⁄2 cups buttermilk
1 tsp. vanilla paste or extract
1⁄2 cup sour cream
Whipped cream (optional)
Instructions
Step 1
Make the streusel: In a medium bowl, toss together all the ingredients but the butter, taking care to distribute them all evenly. Add the butter and pinch together with your fingers until it forms a wet crumb.
Step 2
Make the cake: Preheat your oven to 375° and butter a 12-inch cast-iron skillet with 2 teaspoons butter. Cut 1 cup of figs into eighths. Cut the remaining 2 cups in half lengthwise and set aside.
Step 3
In a mixer fitted with the paddle attachment, cream together 1⁄2 cup butter and the sugar until light and fluffy, about 4 minutes. Add the eggs one at a time, making sure the first egg is fully incorporated before adding the second. From this point forward, make sure you scrape down the sides of the bowl periodically with a spatula. Add the cornmeal, roughly 1⁄2 cup at a time, until it's just incorporated. In a medium bowl, sift the flour, baking powder, baking soda, and salt. In another smaller bowl, whisk the buttermilk and vanilla. With the mixer on low, add the sifted flour and buttermilk alternately in three batches, ending with the flour. Using your spatula, fold in the sour cream and the cup of figs cut into eighths.
Step 4
Spoon half the corn-cake mixture into the bottom of the skillet and spread it out with a spatula. Sprinkle the streusel evenly over the top and finish with the remaining batter. Press the halved figs into the top, pink-flesh-side up, taking care not to cluster them together at the center. Bake uncovered, in the middle of your oven, for 45 to 50 minutes. Cool completely and serve with whipped cream, if using.