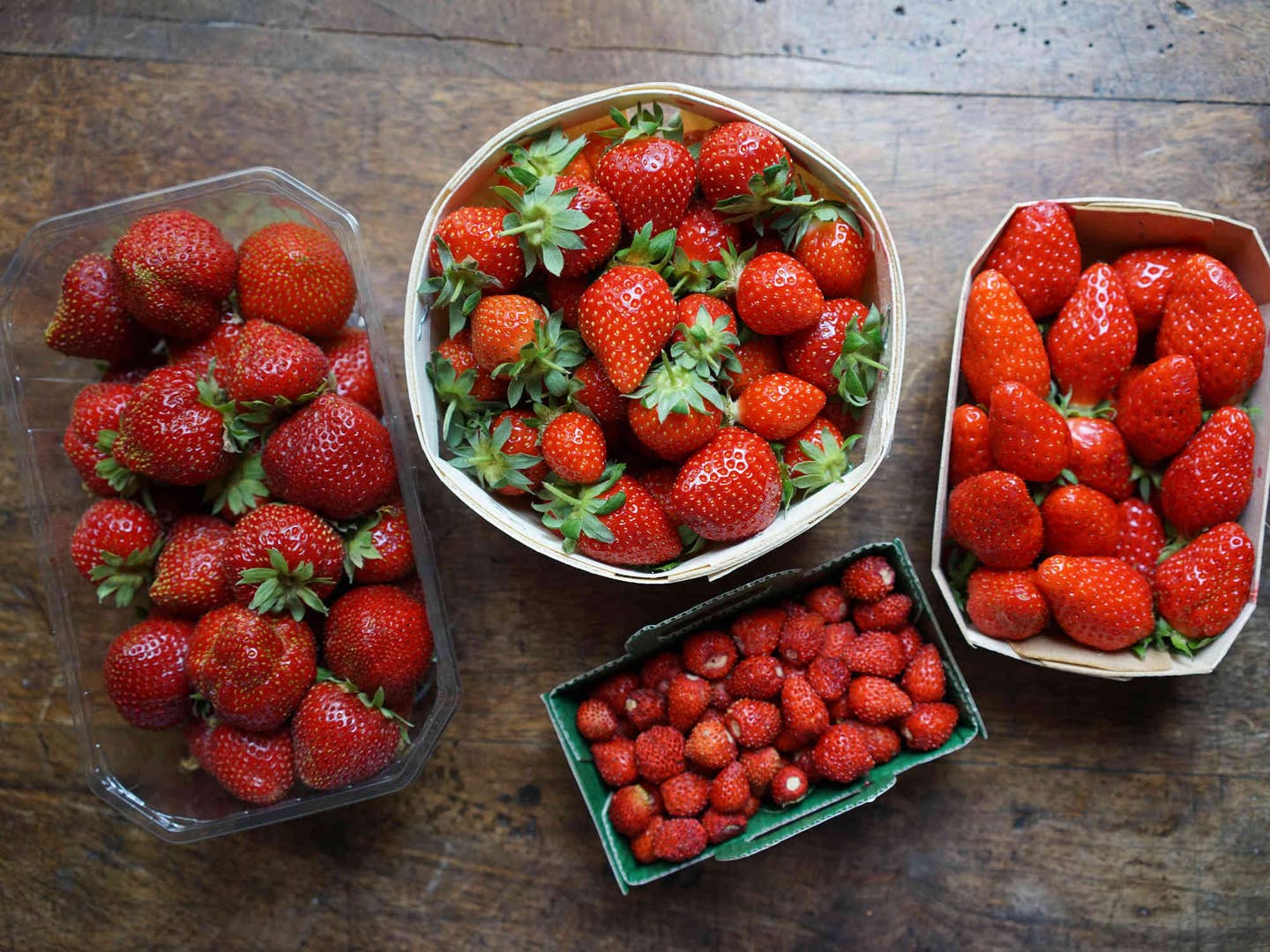 Techniques
What to Cook This Weekend: How to Make the Most of Berry Season
Why red is the color of summer
Red is the color of courage. And danger. And cherries. And strawberries. And thank the lord that they are here. After months of eating bitter white-centered faux-berries and frozen cherries, I keep a big bowl of both in the fridge and toss them back like candy. I don't care that cherries cost $10 a quart at the farmer's market. Or that strawberries cost $5 a pint. (Expensive produce is a cost of living in New York City—though I'm convinced that unlimited tri-star strawberries coming from Upstate should be included as a public amenity along with Central Park and the High Line.) If I'm willing to pay $15 for a glass of good wine, I can justify spending a few extra bucks on the fruit that farmers have worked so hard to produce and deliver.
Some nights I eat cherries—so darkly crimson they're almost purple—for dessert alongside cans of cool, crisp Una Lou rosé from Scribe winery in Sonoma. Other nights, I'll have La Guita manzanilla with tangy strawberries dipped in rich Colzani Sicilian pistachio paste. And I'll order either in any form they appear on a restaurant menu. This weekend I had a green strawberry tart at The Finch, a wonderful brownstone restaurant with a killer wine list, in Brooklyn. And just last night I had foie gras with cherries at The Modern in Manhattan. For something more composed—and when in possession of excess red fruits—I turn to traditional pies or their portable cousins. I also reach for SAVEUR test kitchen director Stacy Adimando's Short Stacks edition on cherries. It it, you'll find recipes for homemade maraschinos, cherry tortellini, and chocolate cherry milkshakes.
Spending a little more on an extra pile of red fruit is never a bad idea. Summer is fleeting, and its scarlet bounty temporarily provides a welcome fugue from the inevitable onslaught potatoes and pumpkin. Get it while it's hot.