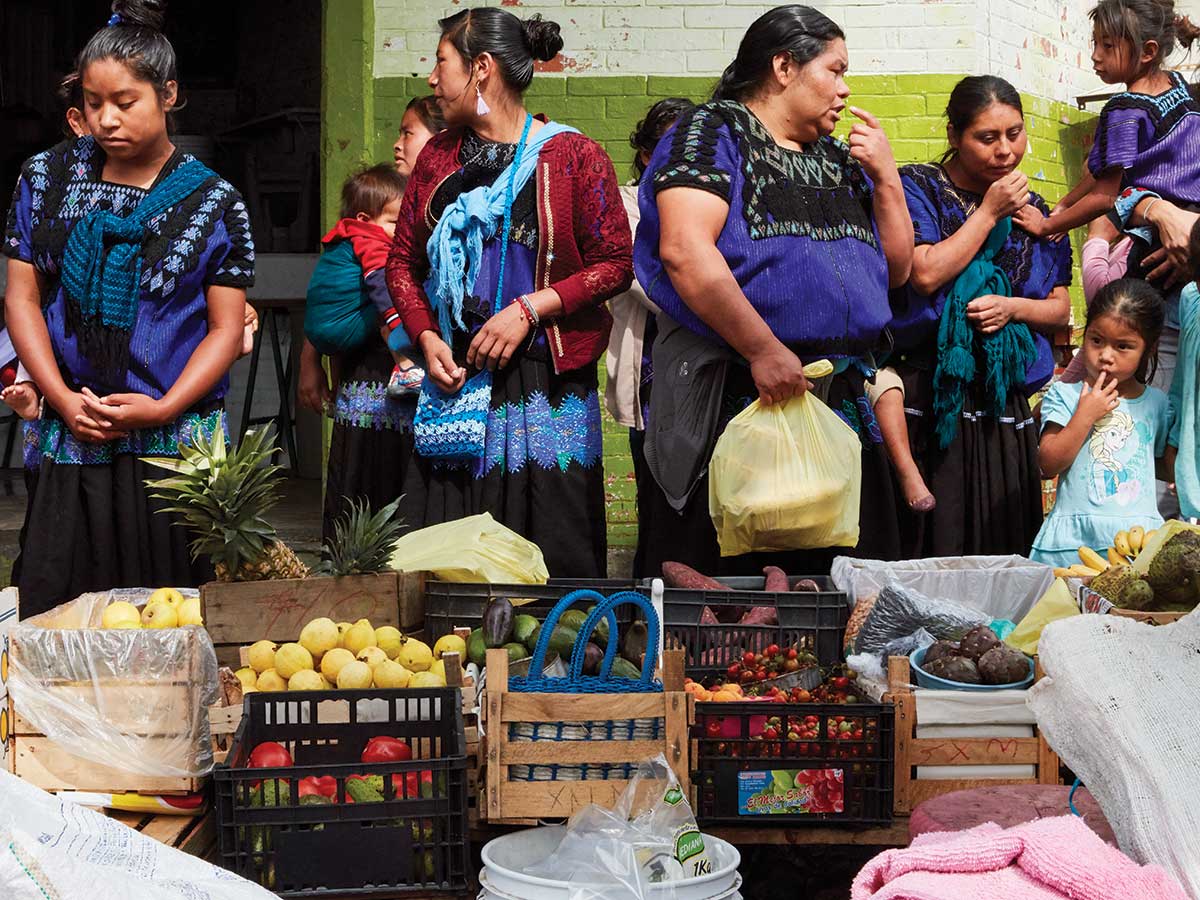 Travel
The "Women of the Corn" Share More than Maize at Yo'on Ixim
In the Mexican city of Puebla, indigenous women gather to cook and share food traditions
The Tsotsil Maya call themselves the people of the corn. It grows readily in their home, in the foggy cloud forests of Chiapas in southern Mexico, the lush highlands in which their ancestors grew the grain for thousands of years before the first Europeans arrived. According to Mayan creation beliefs, humans were made from corn itself—white corn for men, yellow for women.
Earlier this year, I visited a group of Tsotsil, far from their rural homeland, in the central city of Puebla, 65 miles southeast of Mexico City. They are an indigenous people who still speak their own language and maintain much of their rural way of life, but have come north temporarily with their families to work, perhaps to help pay medical bills or build a small cement-block house at home. When they make the 18-hour bus journey to this sprawling city of 3.5 million, they don't carry much, but they do bring their food traditions. Life is very different here, where the Tsotsil women must shop the local markets for fresh corn and find a local molinero, or grinder, to make fresh masa for tamales and tortillas.
I had come as a guest of Yo'on Ixim, a small school and community center on a side street in the Loma barrio, to work with the women and help them share their stories and food traditions in a small cookbook. Yo'on Ixim began as a collaboration between Rosalina Ordóñez, a Tsotsil woman, and Samantha Greiff, a Mexican-­American born in Puebla. When they met in 2013, Ordóñez was selling chewing gum on a busy street corner. She spoke little Spanish and could neither read nor write it. But soon, these two very different women with barely a common language were working together—Greiff teaching Ordóñez Spanish, Ordóñez teaching Greiff enough Tsotsil vocabulary to learn about their culture and life.
Five years later, Yo'on Ixim has become a real school, with blackboards and cubby holes, three salaried teachers, a handful of volunteers, and 60 students, from age 4 to 38. Located in the same poor neighborhood where the families live when they are in Puebla, it is also a community center and cooperative, where Tsotsil women—typically unschooled and married by 14—can study and work together on intricately hand-embroidered gifts and weavings to sell at the tourist markets and online. Yo'on Ixim means "heart of corn," a reminder that we are what we eat. My arrival coincided with an end-of-term celebration, and the schoolroom had been repurposed for an afternoon of making hundreds of blue corn tortillas on a coal-heated comal (griddle).
In Puebla, the men and boys easily blend in, with their modern clothes, but the Tsotsil women wear their native blusas—blouses of handwoven fabric, laboriously embellished with heavy black wool and fine, colorful metallic threads—over long black embroidered skirts, secured by woven cummerbunds, which are worn from the time the girls are very young. The extensive handiwork in a woman's clothes is her pride and often her most valuable possession. Outside Puebla these garments could be treasures, but here the bright colors are a tell that the wearer is a migrant worker, rendering her invisible in many situations. Not all locals are kind, or open to trying to communicate with women who struggle with Spanish. Taxi drivers refuse them rides. Even shopping for groceries can become a nuanced cross-cultural dance. But as a unit of blue and purple, with several children in tow, the women of Yo'on Ixim moved through the giant Mercado Hidalgo at the southern end of the neighborhood, inspecting stall after stall of avocados, chiles, pineapples, nopales, or cactus paddles, and the prized pollos rancheros, yellow-skinned long-necked farm chickens that hang with heads and feet intact. After the group conferred and carried out some mandatory haggling with the shopkeeper, they bought several chickens for soup. Then their shopping bags quickly grew heavy: 37 pounds of fresh ayocote beans for tamales, 11 pounds of tomatoes, 11 more of onions, a bag of green peppers and chiles for salsa, and a bulging sack of dark green chayotes—small, dense squash—also for the chicken soup.
Upon return to Yo'on Ixim, the women carried in a squat tin coal stove, and the school space became an impromptu kitchen. There was a casual grace to the way they worked together: one holding the pot for another, while a third shooed several toddlers away from the fire. An older woman taught a younger one how to wrap the bean and masa tamales in banana leaves; Ordóñez, the cofounder, handled a machete like a paring knife. This way of working together is not traditional for the Tsotsil. In village families, the mother-in-law usually rules, but here in the city, it is experience and confidence that determines who adds the salt and tastes for seasoning, who sets the rhythm pressing pale blue masa to make tortillas.
Caldo de pollo is at once the simplest chicken soup and a celebration of bounty and community. It is, like most shared dishes the Tsotsil make, really just a vehicle to eat masses of tortillas. Hundreds of the disks, charred from the comal, were kept warm in baskets and plastic wash tubs lined with clean kitchen towels. The ayocote beans studded a dense masa for tamales steaming over a tin stove. Pellizcadas, a sort of thick tortilla, featured pinched rims to hold in spoonfuls of a simple tomato salsa and crumbled fresh cheese. Each dish celebrated corn, that heart of Tsotsil culture that tethers these families to their homes in the cloud forest so far away.