Blue Corn Pellizcadas with Salsa and Queso Fresco
These cradles of masa hold the secret to your sopecito cravings.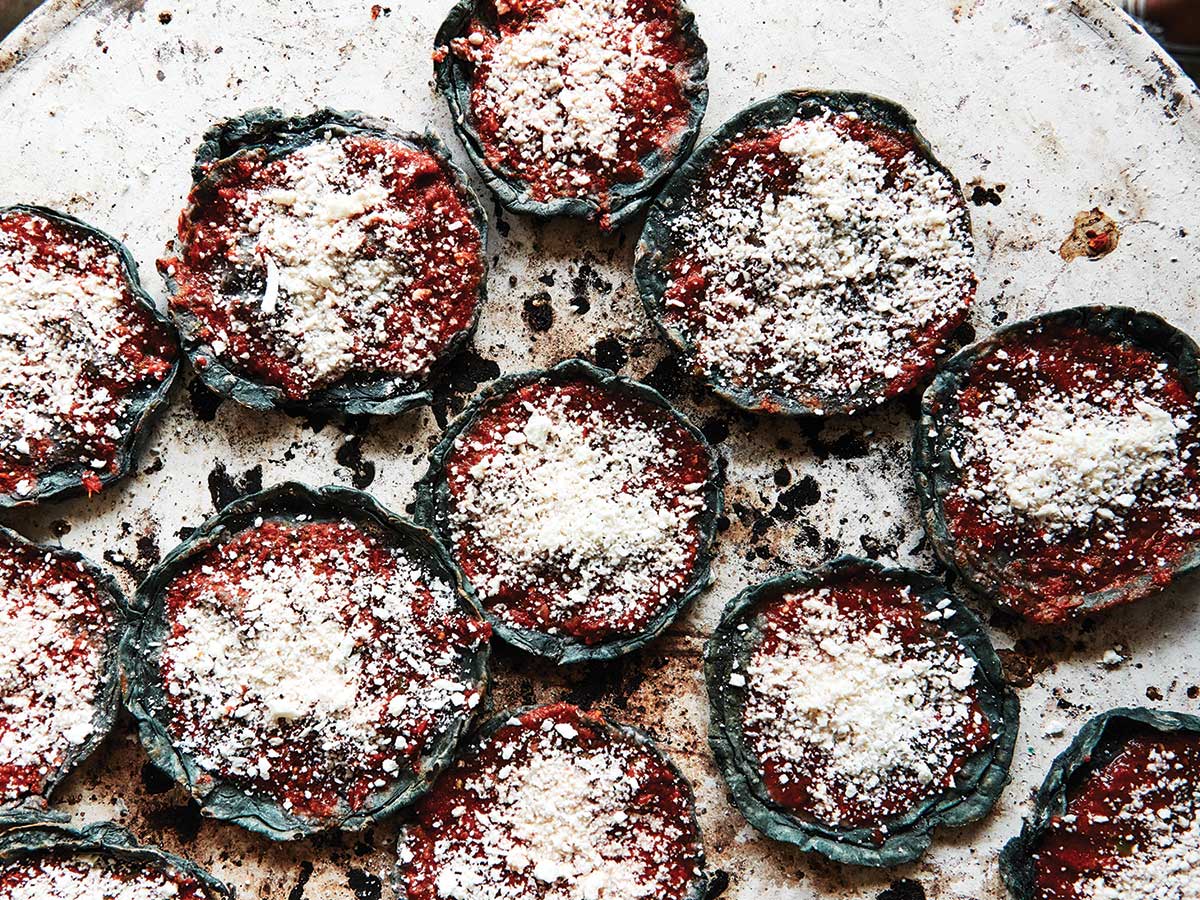 This pellizcada recipe comes from the women of Mexico's Yo'on Ixim, a Pueblan school and community center for indigenous Tzotzil Maya. To make the base, a thick disk of corn masa is griddled on a comal, then formed into a nest for saucy toppings—in this case salsa and cheese. When cooking on the stovetop, a dry cast-iron skillet works great as well.
Featured in: "The "Women of the Corn" Share More than Maize at Yo'on Ixim."
What You Will Need
Blue Corn Pellizcadas with Salsa and Quesco Fresco
At Yo'on Ixim, the women make these simple but substantial disks using masa pressed slightly thicker than tortillas, griddled, and pinched around the edges to make a place for the salsa and cheese to settle. You can top them with anything else you like—beans, fried pork skins, or a vegetable. If you can't find fresh chipilín (a pungent leafy green), then cilantro, watercress, or even radish leaves make a similar if untraditional substitute.
Ingredients
2 cups prepared blue corn masa
1 cup homemade or store-bought tomato and chile salsa
1⁄2 cup (4 oz.) crumbled queso fresco
Coarsely torn fresh chipilín, cilantro, watercress, or radish leaves, for serving
Lime wedges, for serving
Instructions
Divide the masa into 8 equal balls (about 2 ounces each). Using your hands, press and shape each into a 4-inch-wide round about twice the thickness of a tortilla.
Heat a large cast-iron skillet over medium-high heat then cook the pellizcadas in batches on one side, just until they begin to brown slightly, 1–2 minutes. Using a wide spatula, lift the pellizcadas out of the pan and flip them over onto the plate so the toasted side is facing up. Pinch the tortillas all around the edges to form a ridge like a pie crust; pinch some small ridges atop the center of the masa as well to form little ponds to hold the salsa.
Fill each pellizcada with 2 table – spoons of salsa, then sprinkle each evenly with 1 tablespoon of queso fresco. Return the pellizcadas to the skillet in batches to heat thoroughly and soften the cheese slightly. Transfer to a plate, finish each with some of the coarsely torn greens and a squeeze of lime juice, and serve immediately.