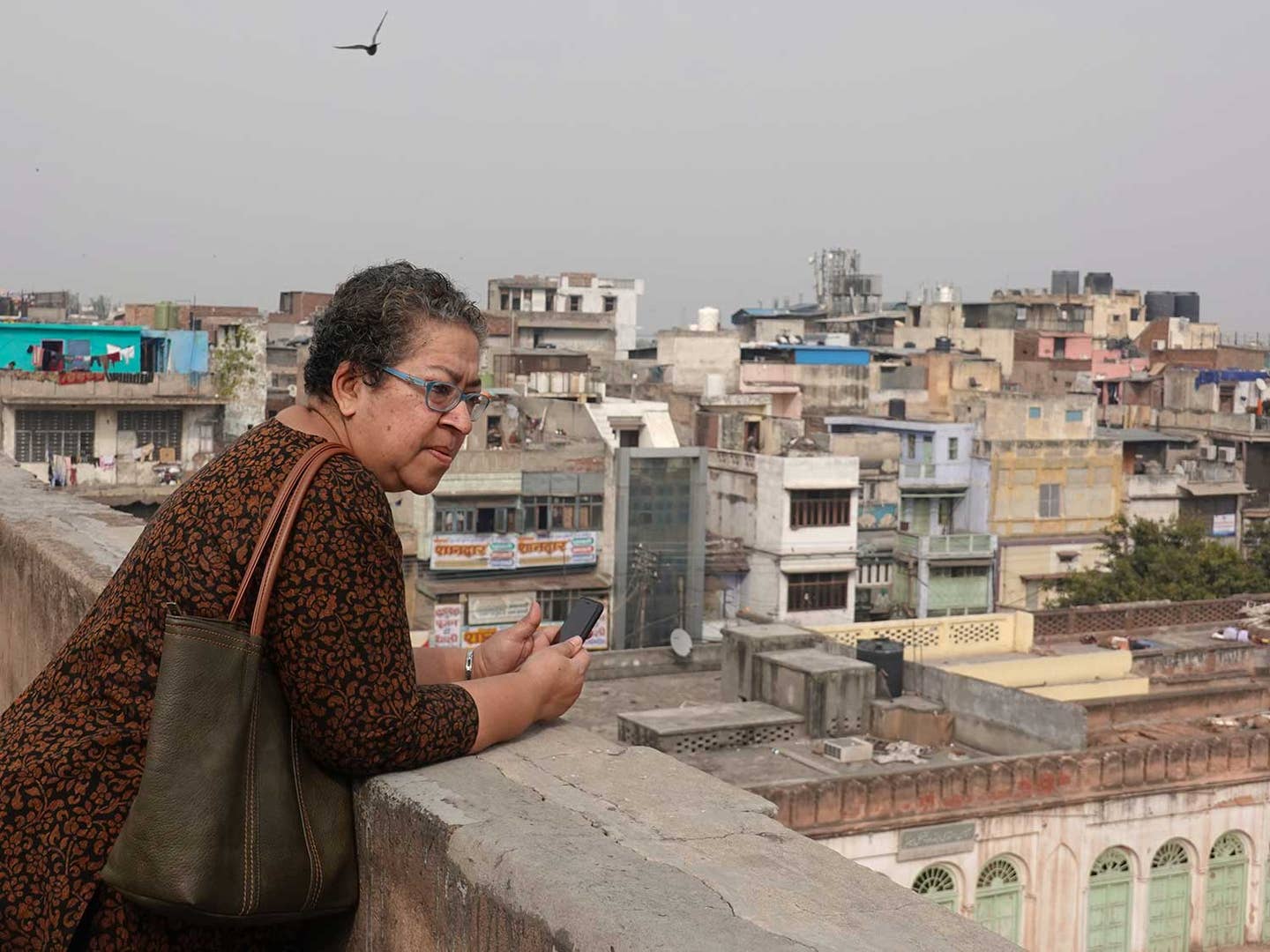 Travel
What It's Like to Dine with India's Most Famous Food Critic
New Delhi's widely followed critic Marryam H. Reshii has solid wisdom for reviewing restaurants—and eating out in general
"Avoid the center-of-the table stuff," Marryam H. Reshii says, referring to the basket of assorted flatbreads hot from the tandoor. "Eat what you are critiquing. If you aren't going to critique the bread, don't eat it."
While this is the professional advice from India's foremost food critic on reviewing restaurants, I take it as solid wisdom for eating dinner in general. We've come to New Delhi's vaunted Dum Pukht, and there's little reason to fill up on naan, no matter how delicious it looks. Thankfully it doesn't take long for a trio of substantial appetizers to arrive: marinated chicken in edible silver foil, lamb chops, and ground kebabs.
Reshii began writing for newspapers in 1985, and in 2007 joined the Times of India, the world's largest selling English-language daily, where she continues her long-running weekly dining column. She transformed the Times Food Guide into an enormous success and still puts together the Delhi edition. She is also a force in the Times Food Awards, India's Oscars of food. She is an engaging, down-to-earth, and endlessly curious dining companion but quiets once she begins to eat.
All this given her enormous influence. "Everyone knows I can't be bought," she says. In her colorful glasses she is an easily recognized figure. Restaurant staff hang in suspended animation to see her reaction to the food. "I take one bite and I know." So do they.
And so do I in her obvious delight in our appetizers. Marinated in a heady blend of ingredients—including black cumin, black pepper, fig paste, and malt vinegar—grilled, and then finished in a covered pot with a touch of steam to soften the meat, the lamb chops are superb, as are the kebabs, with their fine, almost pasty texture and notes of cloves, cinnamon, and saffron that pop through a veil of chile.
The elegant Dum Pukht in the ITC Maurya hotel specializes in "dum" cooking, a regal, centuries-old style that originated in Lucknow. Slow-cooked in a sealed pot on a charcoal fire (with more coals scattered across the lid), the meats have intense, complex flavors and succulent tenderness. We have specifically come for two dishes, and the waiter soon carries out a pot sealed with a braid of dough of the first, a bone-in lamb stew called nihari.
The name of this Mughal dish originates from the Arabic nahar, "morning," and is traditionally cooked overnight and eaten for breakfast. The marrow seeps into the generous sauce, giving it a silken richness.
When chef Ghulam Qureshi appears to see how we like his signature stew, I say with honesty that it is one of the best things I have eaten in my 25 years of visiting India. Hailing from a lineage of royal chefs, and having honed his skills over three decades at Dum Pukht, the chef blends the generous quantities of spices that form the backbone of the cuisine with impressive skill. This endears him to Reshii, who is a spice expert and connoisseur, and the author of The Flavour of Spice: Journeys, Recipes, Stories.
Reshii eats out more than 150 times a year for her job, covering everything from street food in the narrow lanes of Old Delhi to Japanese fusion. In the three months before the Times Food Guide is published, she eats out every day. She generally returns straight home to write her review.
With such frequent elaborate restaurant meals, at home Reshii often prepares rice and dal. "No onion, no garlic, just some cumin, turmeric, nigella seeds, and a pinch of asafetida," she says, referring to the polarizingly intense, stinky, onion-flavored resin used widely in Indian vegetarian cooking. "[That dish is] my idea of heaven."
Such simplicity is not to be had tonight. The waiter unseals a dish of biryani and aromas of mace (the seed covering of nutmeg), ittar (natural perfume), and kewra (a fragrant flower essence) immediately envelop the table. Saffron streaks the glistening rice that's studded with lush chunks of lamb.
We sink back into silence, and after our second plate of biryani, I ask Reshii what she would like to see in Delhi's dining scene.
"More originality." Many places are just copying menus, she says. "It's like the same opera being played across the city." Rather than be served dishes that simply follow trends, she is keen on learning something about eating over a meal. "Everyone has something to bring to the table to give the diner an original experience."
A handful of fine young chefs under 30 have deeply impressed her, she explains as I devour my kulfi, a rich, ice cream-like Mughal dessert made from buffalo milk and sugar. While none have their own restaurant yet, she writes down their names for me, as they are the ones to watch: Rahul Gomes Pereira, Shubham Thakur, Gurmehar Sethi, Dhruv Oberoi, and Jamsheed Bhote. They each offer a unique experience with their food and enough potential to keep Reshii crisscrossing the city to dine.
Yet Delhi's size and its notorious traffic are one of the largest challenges to her work. Reshii spends as much time in cars and three-wheelers as restaurants. She uses that travel time to post gorgeously-lit food photos on her social media accounts (and no, she is not above carrying plates over to a window for good light), or to engage with her 430,000 Twitter followers. Many of them are awaiting her thoughts, recommendations, and indeed reactions to what she has eaten—just as keenly as the restaurants themselves.
Jeff Koehler is the author of numerous books, including "Where the Wild Coffee Grows" (Bloomsbury, 2017) and the IACP award-winning "Darjeeling" (Bloomsbury, 2015).