Apple, Celery Root, and Carrot Salad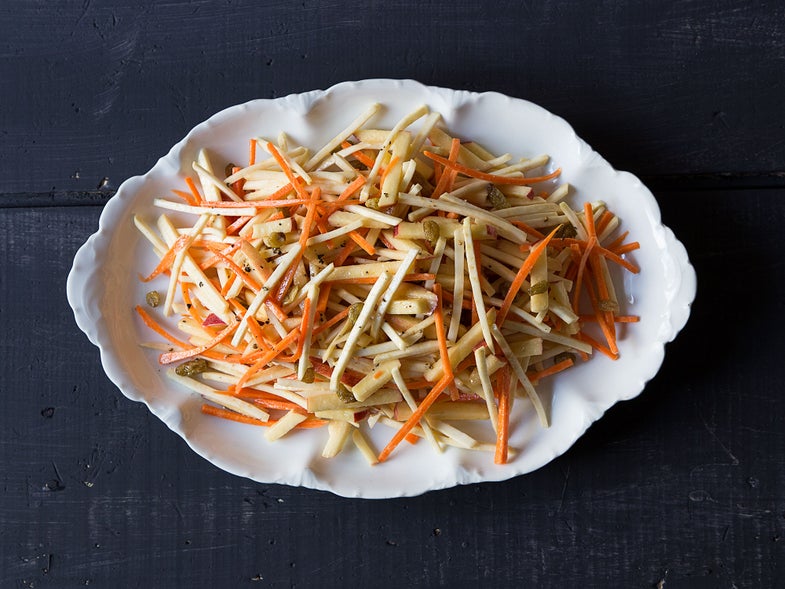 This simple salad is lighter and more modern compared to traditionally heavy Norman dishes. It pairs crisp celery root—a vegetable grown in abundance in the region—with raw apples.
Featured in: Apples and Calvados are the King and Queen of Normandy
Yield: serves 4
Time: 25 minutes
Ingredients
2 sweet-tart apples, such as Gala, Fuji, or Empire, cored and cut into 1/4-inch matchsticks
1 tbsp. fresh lemon juice
8 oz. peeled celeriac, cut into 1/8-inch matchsticks
3 tbsp. golden raisins
2 medium carrots, cut into 1/8-inch matchsticks
3 tbsp. vegetable oil
1 tbsp. apple cider vinegar
1 tbsp. Dijon mustard
Kosher salt and freshly ground pepper
Instructions
In a large bowl, toss the apples with the lemon juice and let stand for 5 minutes. Add the celeriac, raisins, and carrots, and toss to combine.
In a small bowl, whisk the oil with the vinegar and mustard until emulsified. Pour the vinaigrette over the apples and vegetables, season with salt and pepper, and toss until evenly combined. Let the salad stand for 10 minutes before serving.