Recipes
Apple & Sausage Macaroni and Cheese
Serves

serves 6

Cook

1 hour 30 minutes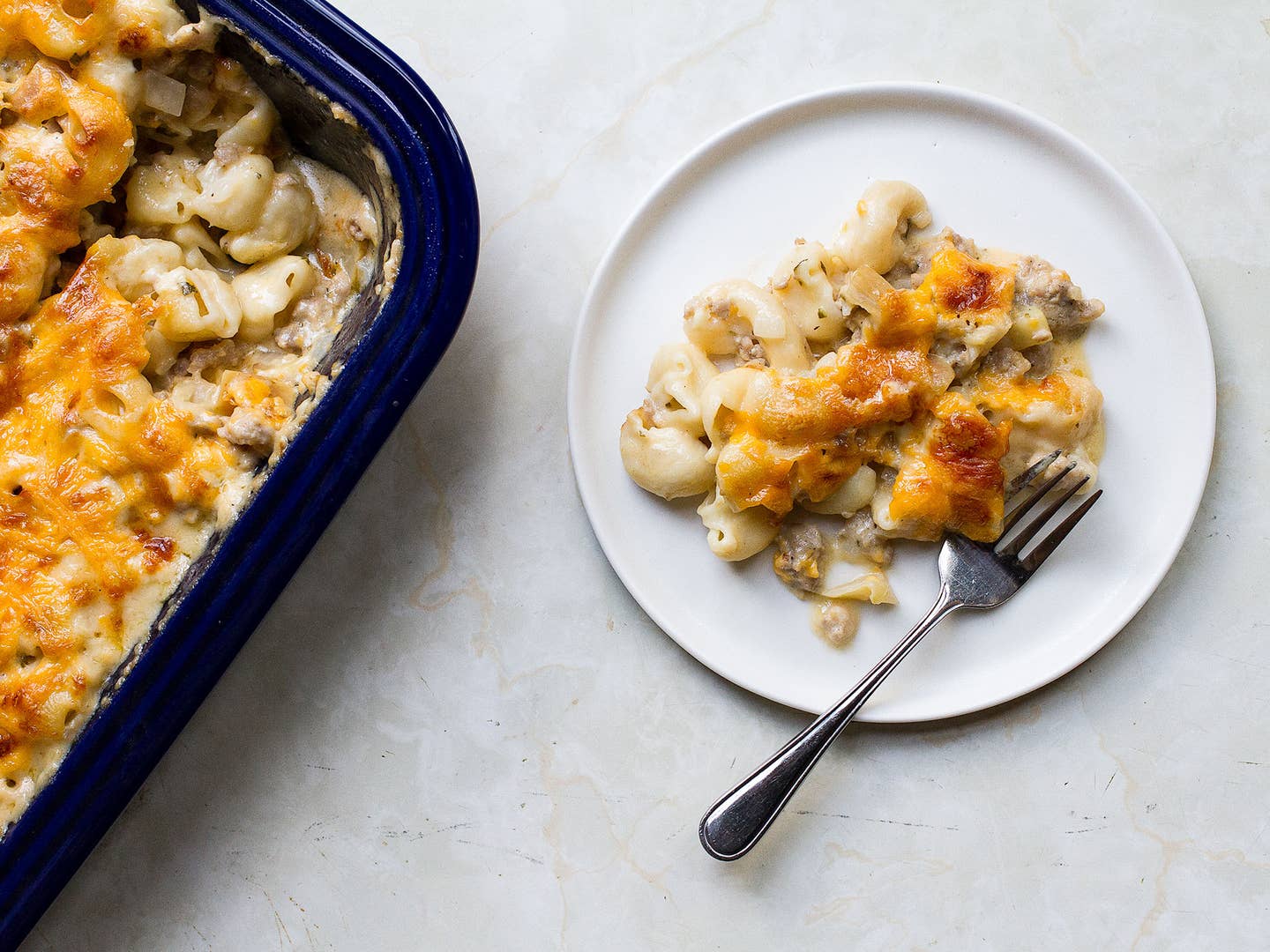 Fresh apples plus hard cider give this easy mac and cheese a double dose of fall flavors.
Ingredients
4 tbsp. unsalted butter
1 yellow onion, roughly chopped
1 lb. pork sausages (about 4), casings removed
1 1⁄2 tbsp. minced fresh sage
1 lb. red apples (about 3), cored and cut into 1-inch pieces
1⁄3 cup flour
1 cup Angry Orchard Stone Dry Apple Cider
2 1⁄2 cups milk
8 oz. mild cheddar cheese
8 oz. sharp cheddar cheese
Kosher salt and freshly ground black pepper
1 lb. Lumache pasta, or elbows
Instructions
Step 1
Heat oven to 375°. Melt butter in a 6-qt. saucepan over medium-high; add onion and cook 2 minutes. Add sausage and cook, using a wooden spoon to break up into small pieces until browned, 10-12 minutes. Add sage and apple and cook 5 minutes more; add flour and cook 2 minutes. Add cider and cook 2 minutes, then add milk. Cook, stirring occasionally, until thick, 8-10 minutes. Stir in half of the cheese, salt, and pepper and cook until cheese has melted.
Step 2
Meanwhile, bring a large pot of salted water to a boil. Add pasta and cook, stirring occasionally, until halfway cooked, about 5 minutes. Drain pasta, transfer to cheese sauce and stir well to coat. Spread pasta in a 9-inch by 13-inch baking dish and top with remaining cheese.
Step 3
Transfer baking dish to a baking sheet and bake until macaroni and cheese is golden brown and bubbly, about 45 minutes. Let cool for 10 minutes before serving.