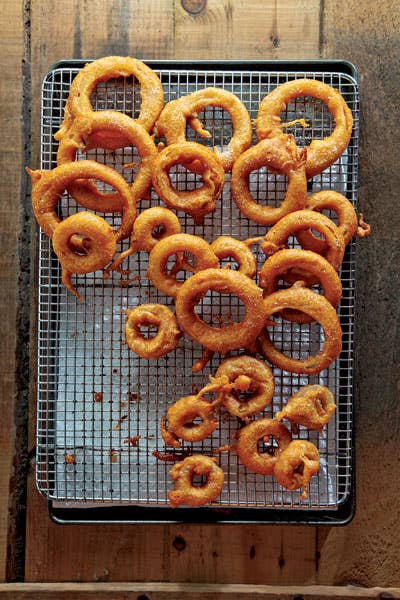 Recipes
French Fries and Onion Rings
These fried treats are surprisingly east to make at home
French fries and onion rings are classic, beloved sides. However, they tend to remain relegated to restaurants. Frying food can be intimidating to many home cooks, who worry about making a mess or needing to buy specialized equipment. The truth is that with a little practice, making perfect french fries and onion rings is easy to do at home with tools you probably already own. If you're ready to give it a shot, we've rounded up our favorite French fry and onion ring recipes.
The key to making French fries is the double fry technique. By first cooking the fries at a low temperature you cook them through and prime the exterior for crisping. It's the second, high-temperature fry that gives the spuds a beautiful, crackly crust. This technique is used in our bistro French fries, which are cooked in duck to give them a deep, meaty flavor, and our herbed fries topped with sage, rosemary, and parmesan.
Once you've mastered the potato French fry, you can try the sweet potato fry. They can be fried just like the traditional, but if you're still apprehensive about frying you can try our sweet potato oven fries, which are baked and served with a creamy curry-honey dipping sauce.
Onion rings—tender onion fried with a crispy batter—give French fries a run for their money. Using beer in the batter can make it extra airy, as in our flour-and-lager battered onion rings flavored with honey, paprika, and dry mustard.
Find all of these dishes in our collection of crispy french fry and onion ring recipes.