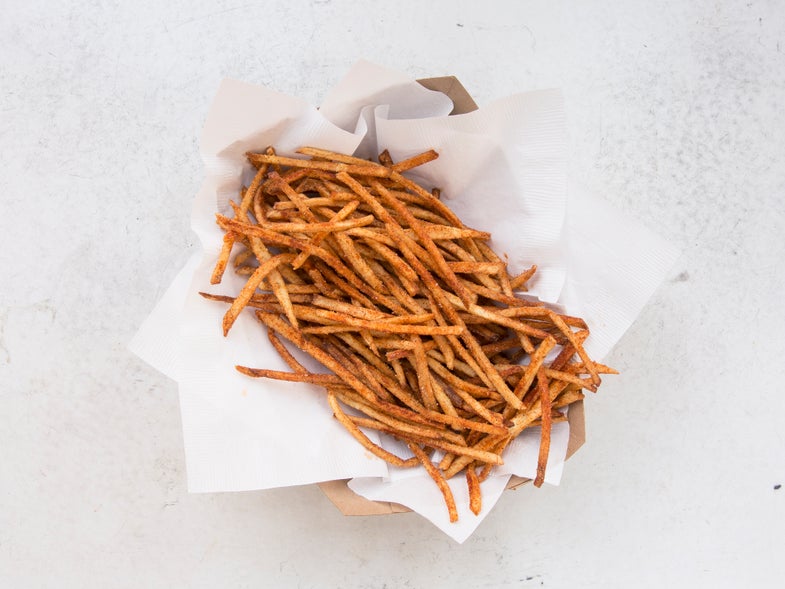 These spicy, crunchy fries are our take on the classic packaged snack.
Featured in: TBT: Hot Fries
Yield: serves 2-4
Time: 20 minutes
Ingredients
2 russet potatoes (about 1 1/2 lbs.), peeled and cut into 1/16-inch julienne
Vegetable oil, for frying
2 tbsp. cornstarch
1 tsp. cayenne pepper
1 tsp. garlic powder
1 tsp. sweet paprika
Kosher salt
Instructions
Place the potatoes to a colander and rinse under cold water until the water runs clear. Drain the potatoes, and then spread them out on a kitchen towel or paper towel and pat dry.
Pour oil to a depth of 2 inches in a 6-qt. saucepan and heat over medium-high until a deep-fry thermometer reads 375°. Add the cornstarch to the potatoes, and toss until evenly coated. Working in batches, fry the potatoes, stirring constantly with a slotted spoon and maintaining an oil temperature of at least 350°, until light golden brown and crisp, about 2 minutes.
Using a slotted spoon, transfer the fries to a rack set over a rimmed baking sheet to drain briefly. Transfer the fries to a large bowl along with the cayenne, garlic powder, and paprika, and toss until evenly coated. Season with salt and serve while hot.