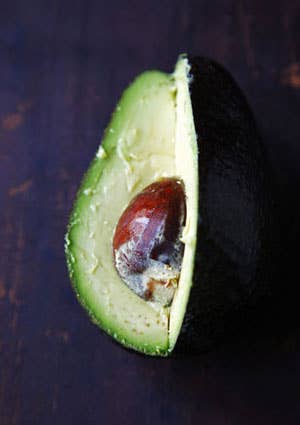 Whether smooth-skinned or bumpy, this green fruit offers nothing but creamy, rich flesh that's perfect as a garnish for tacos or sandwiches—or mixed, of course, into guacamole. The most abundant variety is the Hass avocado, reminiscent of a hunter green, knobby-skinned pear, but summer is also the season for smooth-skinned, lime-colored Bacon and Fuerte avocados. Despite the differences in appearance, all avocado varieties share to an extent the same silky texture. Avocados ripen only once they've been picked, so if you buy them when they're rock hard, let them sit on your kitchen counter or in a cabinet for a few days. Serve raw slices atop warm dishes like soups and chili for a refreshing twist, or toss some into your favorite salad.
Push into the skin with a fingertip to determine ripeness. At its ready-to-eat best, the fruit will yield to gentle pressure. If the avocado is still hard, let it ripen for two to six days at room temperature.
Softer avocados that retain a dent after pressing are best suited for mashing rather than slicing. Avoid overly soft avocados that dent very easily: these are overripe and the flesh will be brown and mealy.
Ripe avocados can be refrigerated for up to five days unpeeled and unsliced.
A squeeze of lemon or lime juice prevents discoloration of exposed avocado flesh, especially if the fruit is covered tightly with plastic wrap afterward.
You can find avocados in supermarkets year-round and at farmers' markets all summer long, especially in growing states like California and Florida. Avocados are also available online at Melissa's Produce.