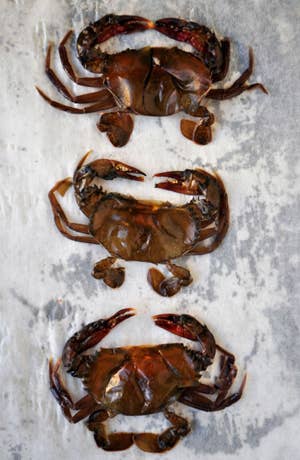 Culture
Coming Out of Their Shells
When Maryland's famed softshell crabs emerge, it's time to celebrate—and time to eat
Watermen along the Chesapeake Bay shoreline like to say that blue crabs start shedding their hard shells with the first full moon in May. It's an alluring legend, and it was enough to entice me, a few years ago, onto a crabber's boat leaving Crisfield, Maryland, around five o'clock on a dark morning with the windchill hovering at about 10 degrees. After six hours, having suffered a skipper whose response to empty traps was less than gracious, I had to acknowledge that the old stories might not always be the most reliable. Crabs may molt in May, but they definitely don't consult the calendar first.
Even so, I've always considered Maryland softshells just as sure a signal of spring as dollar-a-bunch daffodils. And when I spotted the first squirming specimens on display at seafood markets in my New York City neighborhood in mid-April last year, after one of the most brutal winters on record, I was seduced into making yet another pilgrimage to the tiny settlement, at the southernmost tip of the part of Maryland known as the Eastern Shore, that bills itself as the Softshell Crab Capital of the World.
Once again, I suffered freezer burn in the sun-beaten town of Crisfield. With nighttime temperatures in the 30s, most watermen (this decidedly regional term applies to all those who harvest food on the water) didn't even bother heading out in search of the softshell. "Till it warms up, they're stuck down in the mud," one said somewhat disgustedly.
The crabs' reluctance to surface had imposed an unaccustomed silence on Crisfield, a town literally built on oyster shells but now largely dependent on the crustacean that is depicted in bright red paint on the water tower along the main drag. By the 1930s, Crisfield's rail connection to Wilmington, Philadelphia, and New York had helped make this isolated town—at the very end of Maryland Highway 413—home to 25,000 people and a healthy array of thriving industries, from oystering to beef processing. By the end of World War II, all that had changed. Crisfield's importance as a hub disappeared as trucks replaced the railroad, now long gone. In the town today, only 2,500 people remain, many of whom eke out a living on the seasonal softshells. Since the war, crabbing has become Crisfield's leading industry, a trend accelerated by the devastation of Chesapeake Bay oysters by disease in the early 1980s (the parasite responsible, which first appeared in Delaware Bay, is now threatening shellfish as far north as Connecticut).
Most people who journey to Crisfield—aside from those visiting the two seafood festivals held there each year, in July and over the Labor Day weekend—are headed somewhere else, catching the ferry from the town dock to the more romantic destinations of Smith and Tangier islands, out in the bay. But the town still comes subtly to life in crab season. "Soft crabs are the heart and soul of this town," said Casey Todd, a partner in the Metompkin Oyster Company (a local processing plant founded when oysters were big in Crisfield) and a man whose family has been in seafood—as watermen or dealers—for ten generations.
What compels hard blue crabs—whose scientific name, Callinectes sapidus, means "tasty, beautiful swimmer"—to molt into soft, eat-it-all seasonal indulgences is simple: They outgrow their shells. Crabs burrow into the mud for the winter and remain there until the water reaches a balmy 68 degrees or so, which draws them out and begins the molting cycle. Over the course of a two-year lifetime, crabs of medium size may back out of their too-small shells 35 to 40 times, in a struggle that's like a cross between birth and regeneration. (The smaller the crab, the more often it sheds.) "It's like a hangover, a bad one, where you wake up and your skin is in the bed next to you," said one waterman.
Left to their own devices, basking in that warm, salty bay, soft crabs develop hard shells again within a matter of hours and turn into what are known as buckrums. But in each peeling period, crafty watermen lure them into either open-water wire traps (called peeler pots) or iron ones along the shore (called bank traps). Some watermen use scrapes, iron traps with netting that drag the seabed behind boats called crab scrapes. The catch is then ferried to holding tanks (called floats) on land, where the crabs are monitored about every four hours until they finish molting. Then they're plucked from the water and shipped off to market as delectable softshells.
Since there were no crabbers around on the bleak day of my visit, Cindy Merritt, a waterman's wife, left her desk job inside one processing plant to show me the natural markings—commonly called signs—on the paddle fins of the crabs that indicate the progress of the growth of each new shell. "Crabbers," Merritt explained, "arrange crabs in baskets according to their signs: Green sheds last; white signs are next, then pink or red signs, which are the first to shed. Busters are crabs that have cracked a bit and are just ready to shed. Crabbers look at the fin; I can't see it, but they can."
She carefully hoisted one crab that was about a quarter of the way free of its hard shell and emerging with a new, eerily soft exterior. "This one will be out in the next half hour," she predicted, gently laying it back into the water. Crabs fresh from their hard shells are too soft to eat, and too vulnerable to travel, she explained. "They get hard in four to five hours in cold water, but when it's really hot they turn bucky [as in buckrum] in three to four hours. Whole families have to work and check on them every four hours or so, and it's an around-the-clock job."
Once the crabs shed, most of them are sold to one of the processing houses in town—Metompkin, the John Handy Company, or one of the smaller operations. From there, they head either to urban markets for immediate sale or straight into the freezer. About 50-60 percent of all crabs processed in Crisfield each year are shipped frozen. As demand for fresh softshells has grown sharply over the last decade, states with earlier molting seasons—especially the Carolinas, Louisiana, Georgia, and Florida—have become more regular suppliers, stealing some of the seasonal appeal from the Chesapeake Bay. So how did I end up eating Maryland softshells in April? These days, it turns out, peelers from other states are often shipped to Crisfield for processing prior to being sold as "Maryland" crabs. And which state's catch is best? The one that gets to you first; fresh softshells are the tastiest.
Inside the Handy plant, company president Carol A. Haltaman briskly led me through the processing steps: Live crabs are placed on a scale with a computerized scanner that measures and sorts them according to size, from the smallest (mediums, which are 3.5 to 4 inches across the back) to the largest (whales, 5.5 inches or more). In between are hotels (4 to 4.5 inches), primes (4.5 to 5 inches), and jumbos (5 to 5.5 inches). There's no rhyme or reason to the names, according to Jack Paul, director of the Governor J. Millard Tawes Historical Museum. "Americans don't like small stuff," he said, "and the names reflect that." The opposite holds true, however, among crab connoisseurs, who agree that jumbos taste tougher. (Crabs under 3.5 inches cannot be legally harvested.) Crabs being shipped live are packed by size into cardboard cartons lined with paper toweling (a few small-scale processors still prefer the traditional straw to insulate and stabilize the crabs) and are then loaded into larger cases bound for Chicago, New York, and San Francisco.
In the next room, a line of women wearing mesh hair nets and armed with scissors sit alongside a conveyor belt, routinely grabbing crabs, snipping off their eyes and mouths, slicing out their gills, and cutting away the aprons on their bellies. The dressed crabs are then fitted into plastic pans, again by size, with extra claws tucked in to replace any that are missing, before being frozen.
Because I found myself in Crisfield when the crabs weren't cooperating, even the two decent restaurants in town, the Watermen's Inn and the Captain's Galley, could do no more than fry up the frozen specimens. So I made do with a sandwich, with the crab cushioned in soft bread and slathered with tartar sauce.
Of course, even fresh softshells emerge from the deep-fryer as crisp and crunchy as the frozen ones. Let city cooks grill them or saute them, drizzle them with sauces, or lay them on top of rice for sushi. In the Softshell Capital, as Casey Todd at Metompkin said, "You eat 'em fried." Everyone has a trick: Jack Paul fries them in peanut oil in a wok for just 30 seconds on each side; another local claims to have perfected a method by which she removes the fat and the top shell before cooking—but fried is still fried.