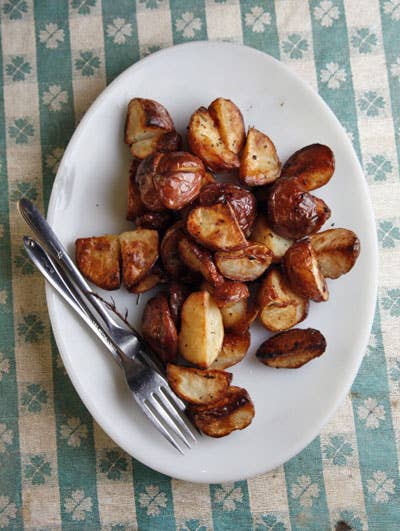 Culture
One Ingredient, Many Ways: Potatoes
The first potatoes of the season showed up in my CSA share about a month ago in mid-August. But until now, I've mostly ignored them. Sure, there's something great about summery potato salads tossed with a bright vinaigrette, or homemade French fries sitting alongside a burger. But in my mind, the potato's soul, and its best recipes, belong to the fall.
Perhaps that's because potatoes have been adding warming heft and starch to people's diets for more than 5,000 years. The Incas were the first people to cultivate the potato's orange-hued cousin, the sweet potato. The first potato that Christopher Columbus brought home to Spain was actually a sweet potato he discovered on his cross-Atlantic voyage. The white potato found its way to Europe almost a century later in the 1570s, and after a tough round of bad early press (people thought the knobby brown vegetable was unhealthy, and even poisonous), eventually became a fixture of European cuisine and beyond.
Potatoes can be broken down in two primary categories: high-starch, low moisture Russets, best used for mashing, frying and baking, and low-starch, high moisture waxy potatoes that hold their shape after being boiled. Within this spectrum exists an incredible range of potato shapes (from spindly to bulbous), colors (ranging from white, to pale yellow, to royal blue), and uses. The farmers' market is, not surprisingly, the best place to take advantage of the array of potato diversity. But even at the supermarket, you can regularly find more varieties of potatoes than any almost other type of produce (with perhaps the exception of apples).
As a whole, the potato's creamy texture and mild earthy flavor makes it the perfect base for comfort food dishes from fried latkes (potato pancakes) to pimento cheese potato gratin and tacos de papa (potato tacos). Sliced thinly, they make a killer topping on pizza and frizzle perfectly into crispy shoestring fried potatoes. White potatoes are typically limited to savory dishes. But once you add sweet potatoes to the mix, dishes like sweet potatoes in syrup with guava and sweet potato cheesecake massively up the sugar quotient. You end up with an ingredient that takes you gracefully - and cozily - from breakfast to dessert.
SWEET
Sweet Potatoes in Syrup with Guava
Sweet potato chunks are simmered in orange juice, sugarcane and guava in this syrup, citrus-scented dessert.
Sweet Potato Bread Pudding
This decadent bread pudding is spiked with sweet potato and covered in buttery praline sauce.
Homesick Texan: Sweet Potato Cheesecake
Sweet potato and tangy cream cheese pair perfectly in this rich twist on classic cheesecake.
SAVORY
Roasted Potato Salad with Sour Cream and Shallots
Roasted potatoes' caramelized sweetness is offset by a tangy dressing of sour cream, mustard, and shallots.
Pimento Cheese Potato Gratin
This cheesy gratin gets an extra boost of flavor from roasted red peppers and chile flakes.
Classic Latkes
Serve these crispy-creamy latkes topped with homemade applesauce or sour cream.
Potato Skordalia
This Greek side dish combines potatoes, olive oil, almonds and lots of fresh garlic.
Shoestring Fried Potatoes
A mandoline allows you to make this salty, fried ballpark classic at home.
Potato Tacos (Tacos de Papa)
These fried tacos are filled with cumin-spiced potatoes and crumbled cotija cheese.
Potato Fontina and Oregano Pizza
Thinly sliced potato makes a surprisingly delicious topping for homemade pizza.
DRINK
The Dalmatian
Potato vodka, grapefruit juice and black-pepper spiked simple syrup come together in a bright and spicy cocktail.
Washington Post: Sweet Potato Pie Cocktail
A sweet potato reduction is the secret ingredient in this creamy, boozy dessert drink.
Leah Koenig is a freelance writer and author of The Hadassah Everyday Cookbook: Daily Meals for the Contemporary Jewish Kitchen
.