Friday Cocktails: The Dalmatian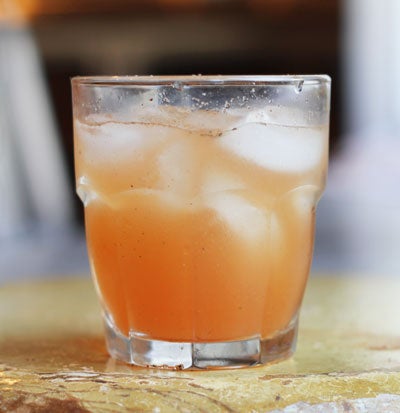 I left vodka behind after college. It was a self-conscious decision, one that was equal parts a recoil against too many plastic-cup screwdrivers, and an embrace of the thrillingly snobby anti-vodka trend that swept the spirits world in the later half of the last decade. For years I was a passionate crusader for gin and whiskey, happy to roundly dismiss the odorless, colorless vodka as nothing more than a vehicle for ethanol and marketing. But then, not too long ago, the French Culinary Institute's Alexis Kahn introduced the SAVEUR team to the wonders of American craft vodkas. That day, my resolve crumbled a little, but it took a trip to a potato field in rural Sweden to truly shepherd me back in to the vodka fold.
That potato field was a dark green strip beneath a cloudless June sky, dotted with bright white potato flowers nodding in the wind. It belongs to one of a dozen or so potato farmers who harvest their crop shockingly early in the growing season, while the potatoes are still "virgin," so new they have yet to form skins. Within hours of leaving the earth, they're sorted, scrubbed, and on their way to becoming bottles of the vodka that made me start to believe in vodka again: Karlsson's Gold, a relatively new Swedish spirit distilled from the products of a farmers' cooperative in the southeastern Bjare peninsula. I'd tried Karlsson's at dinner the night before and was mildly intrigued; that next afternoon, post-potato fields, I sipped it again and a door opened. Most vodkas go through multiple distillations to create smoothness and flavorlessness. This, distilled only once, had a loamy, vaguely alkaline flavor and a bright floral aroma; a liquid version of the farm where I'd stood just a few hours before.
Given its noticeable flavor, the folks at Karlsson's suggest drinking their vodka on the rocks with a grind of black pepper, the subtle heat an illuminating counterpoint to the spirit's clean notes. It's a lovely preparation, but I wanted to take the flavors even further, deepening the spice and picking up on some of the citrus notes in the vodka's finish. The result is the Dalmatian, a decidedly dark riff on the Salty Dog (that old college-party standby of vodka, grapefruit juice, and a salted rim). An ounce and a half of Karlsson's meets an equal part of fiery black pepper simple syrup; they're shaken with fresh grapefruit juice, and served over ice. Coral-pink and slightly opaque, the Dalmatian looks demure, but it packs serious heat: bitter and sweet, earthy and deep, with a slow, lingering burn from the vodka and pepper. It's one of those drinks that makes you look at the glass in wonderment after your first sip. The Dalmatian is a dog with bite.