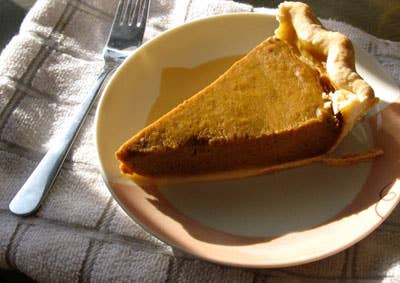 Culture
Pies for Your Thanksgiving Feasts
I tend to give thanks for dessert 365 days of the year. But on Thanksgiving, I reserve my thanks for a particular genre of sweets: pie. Only on the fourth Thursday of November is it plausible to have not one, but three, sensational pies grace the holiday table: pumpkin, pecan, and apple.
Usually I'm an advocate for new twists on old favorites, but this year I've decided to err on the side of tradition and whip up some of the finest, tastiest, and least adulterated slices I can find. No au courant flavor additions, shape changes, or newfangled techniques up my sleeve this Thanksgiving. First, I'm making this heavy-on-the-spices, smooth-as-silk pumpkin pie. Then, I might move on to this Texas-grandmother-approved pecan pie and breeze through to the homestretch with this straight up, no-fuss apple pie.
Any way you decide to play it, these pies will undoubtedly merit a cornucopia of thanks around the Thanksgiving table.