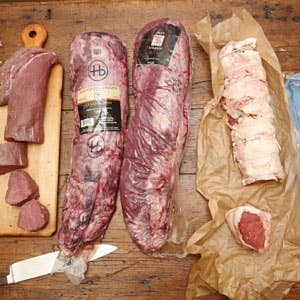 Techniques
Tenderness Delivered
We sampled tenderloins from a number of different mail-order sources—and found an impressive diversity of flavor and texture.
North Americans who don't live near a good butcher shop have more options than ever these days for buying a high-quality beef tenderloin (the three-to-six- pound, 15-to-20-inch-long cut from which filet mignon comes; see Easy Filets for butchering instructions). Many excellent purveyors will ship meat from an array of grades and breeds, from standard American crossbreeds to varieties like Angus and Wagyu, the breed Kobe beef comes from. We purchased tenderloins from a number of different mail-order sources and came up with the following list, which reflects the impressive diversity of flavor and texture available in this single coveted cut of meat.
1. Niman Ranch These five-to-six-pound tenderloins, cut from pasture-raised, grain-finished steer, come partially trimmed of fat and silver skin and are lean, with a delicately grassy flavor ($170 for USDA Choice; $200 for USDA Prime).
2. Allen Brothers The tenderloins from this venerable Chicago company, which come with the fat and silver skin removed, are made from corn-fed steer. It also sells juicy USDA Prime filets with a delicate flavor and a firm texture that pair well with a hearty peppercorn crust ($190 for a 3.5-pound whole USDA Prime tenderloin).
3. D'Artagnan This New Jersey-based supplier gets its grain-fed beef from Painted Hills Natural Beef in Fossil, Oregon (though it also offers Wagyu from Texas and Angus and Hereford from Australia); its domestic tenderloin, which comes with the fat, silver skin, and lobes still on it, has a comparatively strong beef flavor ($175 for a 6-pound USDA Choice tenderloin).
4. DeBragga and Spitler This New York City company offers certified Angus tenderloins as well as Australian corn-fed Wagyu; the Wagyu steaks are mouthwateringly tender and robustly flavored; a simple sprinkling of salt and pepper serves this beef well ($300 for a 3.5-pound Wagyu tenderloin).
5 O. Ottomanelli & Sons This New York butcher shop offers a whole tenderloin dry-aged and enrobed in a layer of beef fat that keeps it moist during roasting; this beef tastes closer to more-flavorful cuts like the rib eye and is best when roasted whole ($85-$95 for a 5-6-pound tenderloin, trimmed upon request).
6 Omaha Steaks These center-cut tenderloin roasts, cut from grain-fed cattle and trimmed of fat and silver skin, have a bold, meaty flavor and smooth, lightly marbled flesh, which remains juicy after cooking. It responds well to browning ($100 for a 4-pound center-cut roast).