Bear Paw Meat Handler Forks
These Wolverine-style meat handlers make shredding meat both easy and quick.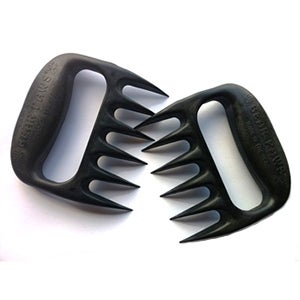 We may earn revenue from the products available on this page and participate in affiliate programs.
Smoking a pork shoulder to make pulled pork sandwiches is always fun—until it comes time to actually shred the meat. Ripping it apart with two forks is a monotonous waste of time that no one wants to deal with, and every Fourth of July, my brother-in-law Ed gets stuck with this unlucky task. So for Christmas this past year, he gifted me a pair of Bear Claws—Wolverine-style meat handlers equipped with widely-spaced, sharp tines embedded in stay-cool plastic handles. We tested them out the other day when I smoked an 8-pound pork shoulder—with the claws, Ed had the meat ready in about 47 seconds, to say nothing of his pretty decent Wolverine impersonation. This Independence Day, I'm going to make sure I get to pull the pork myself!
Bear Paw Meat Handler Forks, $15.95 at amazon.com