Salam Teapot by Guy Degrenne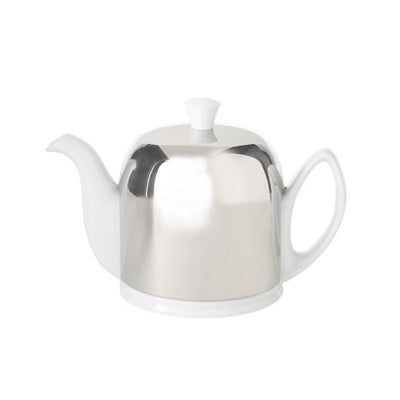 We may earn revenue from the products available on this page and participate in affiliate programs.
I grew up drinking tea — Earl Grey or English Breakfast with a splash of milk and a cookie or two after school, lovingly prepared by my mom. To this day, a cup of tea remains part of my daily routine, waking me up in the morning and warming me up on a cold winter's afternoon. So I'm always in search of the perfect teapot, one that's simple yet elegant, steeps looseleaf tea, and retains heat. When I was recently given a gift of this porcelain and stainless steel Guy Degrenne teapot, first produced in France in 1953, I found just that: a teapot that allows me to continue my teatime ritual with a dash of milk and an abundance of warmth.
Salam Teapot by Guy Degrenne, $80.00 at mightyleaf.com